My best avocado toast recipe is not like your typical avocado toast. Try this avocado toast benedict with lemon hollandaise the next time you are craving avocado toast. It raises the bar pretty high, my friends!
Are you a fan of eggs Benedict? What about avocado toast? Well, let's take those two delicious breakfasts and combine them into my best avocado toast recipe, shall we?
This Avocado Toast Benedict with Lemon Hollandaise will blow your mind!
Toasted bread topped with creamy avocado, crisp salty bacon, silky soft-boiled eggs, and luscious lemony hollandaise makes for the ultimate Saturday breakfast, my friends.
I am going to break down each component of this breakfast so you can make it perfectly at home. Let me answer some common questions, but as always, let me know if you have any questions. You can always email me at meg@moremomma.com.
The best bread to use for avocado toast:
Avocado toast needs a crispy, thick-cut bread. I love using either sourdough, a seeded wheat, or ciabatta.
Typically eggs Benedict is made with English muffins, but since we are combining avocado toast and eggs Benedict together, I prefer to use sourdough bread for this recipe.
Feel free to use any bread you like or prefer.
How to get crispy bacon without the mess:
Try cooking your bacon in the oven. Yes, in the oven!
Cover a sheet pan with foil, lay the bacon slices evenly on the sheet pan, and cook it at 400°F for 10-15 minutes or until crispy. Transfer the bacon to a paper towel-lined plate to drain the excess grease.
This method works so well and you can literally just throw away all the foil and grease for minimal clean-up. No more splattering grease all over the stove. Hallelujah!
How to make hollandaise sauce in a blender:
Hollandaise in the blender is so much easier than whisking and stirring by hand. It comes out creamy and silky every time and doesn't separate since we emulsify nicely.
You simply put the ingredients into the blender and then stream in hot butter. It can't be easier than that!
One thing to note about hollandaise is that it is made with raw eggs. If you are worried about the eggs cooking, you can use pasteurized eggs.
You guys, that's really all there is to it! I do like to add some sliced red onion, halved cherry tomatoes, chopped parsley, and some flaked maldon salt, but those are just delightful extras.
Serve this avocado toast with one of my favorites, Watermelon Agua Fresca, for a refreshing breakfast.
Ok, enough chatting…..let's make this baby!
My Best Avocado Toast Recipe: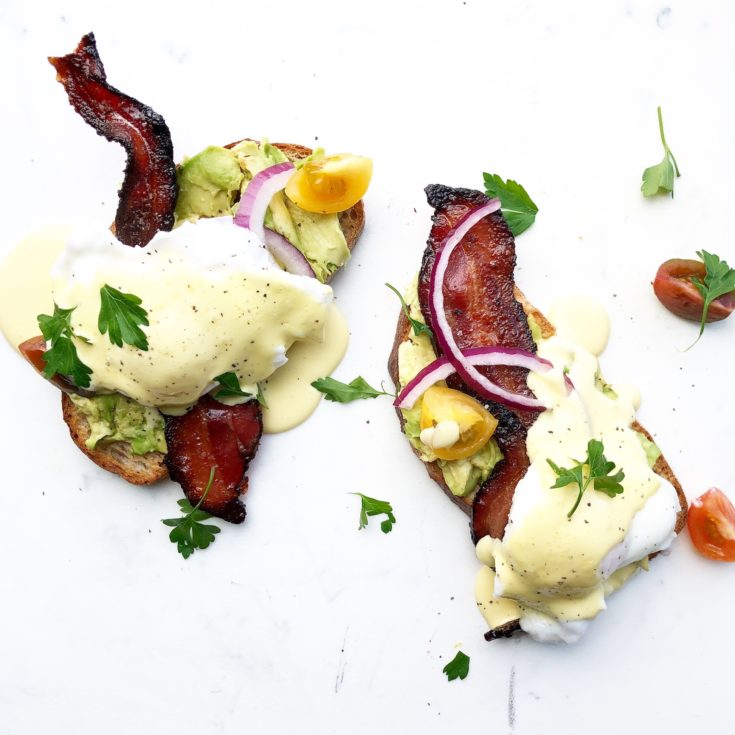 Yield:

Serves 4
Avocado Toast Benedict with Lemon Hollandaise
Creamy, lemony avocado toast will be your new favorite way to wake up on a Saturday morning.
Ingredients
Hollandaise:
3 Egg Yolks + 1 Whole Egg (if you are worried about raw eggs use pasteurized eggs)
1 Tablespoon Lemon Juice, Fresh
Zest of 1 Lemon
½ Teaspoon Real Salt
½ Cup Butter, Melted and Hot
Avocado Toast:
4 Eggs
1 Teaspoon White Balsamic Vinegar
4 Slices Black Forest or Applewood Smoked Bacon
4 Slices Good, Rustic Bread
2 Large Avocados, Sliced
Salt and Pepper, to Taste
Toppings (optional):
¼ Cup Red Onion, Sliced Thin
¼ Cup Cherry Tomatoes, Halved
Maldon Salt
Instructions
To Make Hollandaise:
1. Place the egg yolks and one whole egg in a small blender (such as the Magic Bullet. An immersion blender and a jar can also be used.)
2. Add the lemon juice, lemon zest, salt, and hot butter, and immediately blend on high for 2 minutes. Hollandaise should be thick and pale yellow in color. Set aside.
To Make Poached Eggs:
1. Fill a medium saucepan ⅓ of the way full with water and bring to a simmer (do not boil). Add 1 teaspoon white balsamic vinegar to the water.
2. Crack one egg into a small cup, then carefully place the cup down low to the water. Place the cup as close to the water as possible when adding the egg. (I submerge half of the cup into the water when placing the egg.) Finish adding the rest of the eggs and cook for 3-4 minutes or until egg whites are firm. Remove with a slotted spoon.
To Make Toasts:
1. Preheat the oven to 400°F. Set bacon on a foil-lined baking sheet and cook in the oven for 10-15 minutes or until crispy. Remove to a paper towel-lined plate to drain excess grease.
2. Toast bread in the oven until desired doneness is achieved. Remove from oven and top with avocado slices (approximately ½ avocado for each slice of bread).
3. Top with bacon, poached eggs, hollandaise, and optional toppings.