These Copy Cat Chick-Fil-A chicken tenders with sauce are going to change your life! No messy dredging is involved and they taste just as good!
Anyone else LOVE Chick-Fil-A? I think we go there once every week or two. I love it, but sometimes I want to stay home and try to not eat out as much. I can control the ingredients and it is overall healthier.
For the typical chick-fil-a chicken tender recipe you will see a three step dredging process. The process usually begins with dredging the chicken tenders into seasoned flour and then dipping them into an egg or buttermilk bath. Then they finally get dredged into another flour or bread crumb mixture. This means a big mess and breaded fingers. Who wants that?
Don't worry friends, I have another way to dredge chicken tenders!
I have had great luck with taking the chicken tenders, marinating them in pickle juice, and directly dredging them in whatever my coating is. Just make sure your crumbs are very fine to get the right texture. No messy egg step needed and no crumb coat fingers!
Just coat and place them straight into your pan. Then sear them as usual or fry them.
But honestly best part about making copy cat Chick-Fil-A tenders at home is that I have recreated the amazing Chick-Fil-A sauce. Does anyone else dip every single bite in this sauce? I do! Not to mention the sauce goes great on so many other things. I use it on burgers, dip my fries into it, heck you could drink this stuff. But seriously.
The most common question I get with this recipe is why the heck do I use pickle juice to marinate these chicken tenders?
Well, let me just tell you. Pickle juice works as a brine and can help create juicy little pieces of chicken while also giving it great flavor. I promise it works friends. Even if you have 10 minutes to marinate your chicken, try to do it! You won't be disappointed.
How to Make Chick-Fil-A Chicken Tenders:
Step 1: Marinate chicken tenders in pickle juice for a minimum of 10 minutes.
Step 2: Remove the chicken from the juice and dredge them into panko bread crumbs.
Step 3: Place in a pre-heated saute pan with oil and sear on both sides until cooked through.
Step 4: Serve with copy cat Chick-Fil-A sauce.
Yield:

Serves 4
Copy Cat Chick-Fil-A Chicken Tenders With Sauce And NO Messy Dredging!
Total Time:
2 hours
20 minutes
No more driving through Chick-Fil-A everyday. Try these Copy cat chicken nuggets that don't require a messy dredging process.
Ingredients
1 Pound Chicken Tenders
1/4 Cup Pickle Juice
1/2 Teaspoon Kosher Salt
2 Cups Panko Bread Crumbs
1/3 Cup Oil (peanut, avocado, vegetable or coconut)
Instructions
Marinate chicken tenders in the pickle juice for 2 hours or for as much time as you can.
Preheat a medium size saute pan or cast iron skillet on medium heat.
Place the panko bread crumbs on a plate.
Dredge the chicken tenders in the panko and coat on both sides. Press down to coat.
Add the oil to the pan.
Carefully place the chicken tenders into the hot oil and cook for 5 minutes on both sides or until cooked through. The crust should be golden brown. Remove from the pan and place on paper towels to drain excess grease. Sprinkle with kosher salt.
Serve with copy cat Chick-Fil-A Sauce (recipe follows).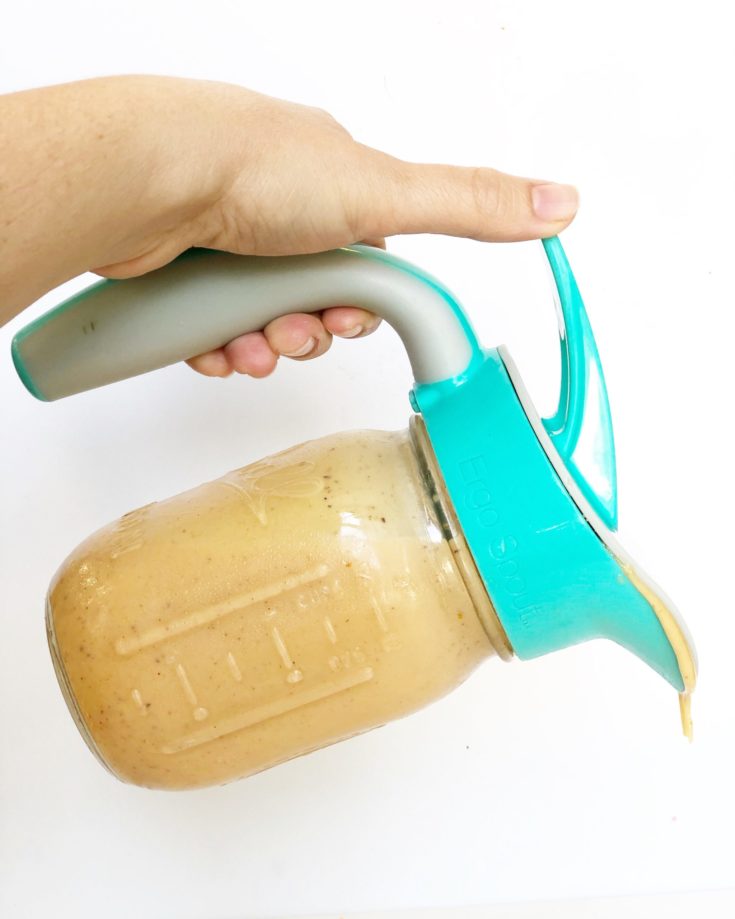 Yield: 1/2 Cup
Copy Cat Chick Fil A Sauce
Prep Time: 2 minutes

Total Time: 2 minutes

Copycat Chick-Fil-A sauce goes good on just about anything! Great for dipping nuggets or fries or a sauce for burgers.
Ingredients
½ Cup Mayonnaise
1 Tablespoon BBQ Sauce (I like Sweet Baby Ray's for this recipe)
1 Teaspoon Yellow Mustard
1 Teaspoon Honey
Instructions
Combine all the ingredients in a small bowl.
Serve with chicken nuggets or fries.
Notes
You can store in plastic containers or a mason jar fitted with an ergo spout attachment for up to one week.
Recommended Products
As an Amazon Associate and member of other affiliate programs, I earn from qualifying purchases.

If you loved this recipe try out my other nugget recipe Veggie Packed Homemade Chicken Nuggets.