Traditional honey baked ham gets a mini-makeover with a semi-sweet glaze and notes of orange.
Say hello to your next holiday ham.
Nothing says "Happy (insert holiday)" like a honey glazed ham. I'm going to go out on a limb and guess that you and I probably grew up eating honey baked ham for several holiday dinners.
Whether purchased directly from a Honey Baked Ham store or from your grocer, it was on your dinner table ready to be part of your holiday memories.
Okay, so that last part might be a stretch.
But food is such a huge part of our lives, culture, and traditions, that I'm sure whatever you grew up eating for the holidays has made an appearance in your own holiday dinner at some point in your adult life.
I am not ashamed to admit that I haven't veered away from a honey baked ham on most holidays.
You know, I could always count on it being served at Christmas and Easter when I was a child. I even remember dipping it in yellow mustard.
That doesn't make me strange, right? Okay, thanks for confirming I'm just fine!
I'm sharing my love for glazed ham with all generations, but I'm taking it a step further with two things that will blow your mind!
First, cooking it in the Instant Pot! Friends, I love using my Instant Pot whenever I get a chance.
It's recipes like this one, a whole boneless ham, when I'm most thankful I have an Instant Pot.
The Instant Pot cooks a whole, boneless ham in just 20 minutes (plus pressurizing time)! Simply amazing.
(If you can't find a boneless ham, that's okay. The cooking time will need to be adjusted some, and you might need a smaller sized ham to fit in your Instant Pot.)
I like to toss the ham in the oven (figuratively, not literally) for just a few minutes after cooking so the glaze caramelizes and the flavors become richer and even more aromatic.
Second, this recipe is not your typical honey baked ham. Nope! This ham is glazed with the most delicious combination of flavors: honey, whole grain mustard, and orange.
Sometimes I make a second batch of sauce to reduce on the stovetop to make a thick glaze (for dipping—I'm noticing a trend here).
This, my friends, is what I hope my kids will be making for their own family holidays.
Enjoy this upgraded honey baked ham at your next holiday meal!
xoxo,
Meg
P.S. — If you feel like upgrading your salad, try this Roasted Butternut Squash Salad. Then finish your meal with Salted Caramel Apple Cookies!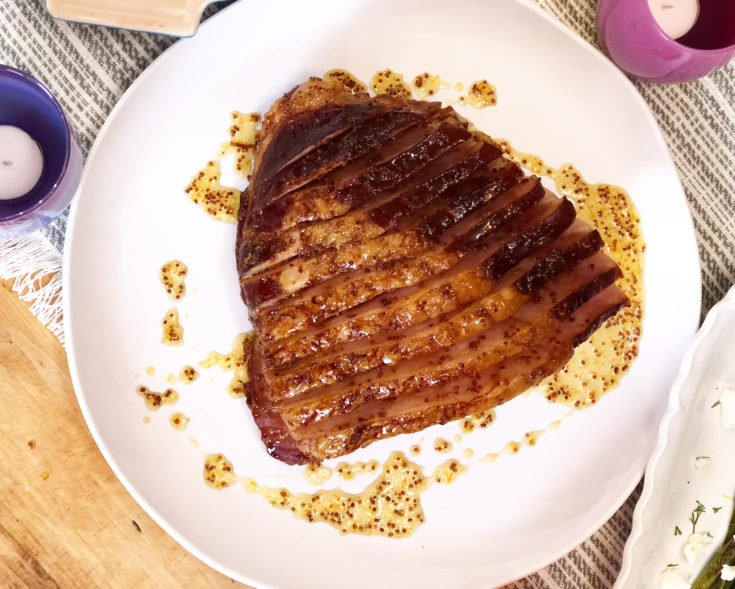 Yield:

Serves 8-10
Instant Pot Honey Mustard Orange Glazed Ham
With the help of the Instant Pot, Honey Baked Ham has never been more easy or quick to make.
Ingredients
Glaze:
¼ Cup Brown Sugar
½ Cup Honey
¼ Cup Whole Grain Mustard
1 Tablespoon Orange Zest (about 2 oranges)
¼ Cup Orange Juice
Instructions
Starting on one end of the ham, cut ¼ inch slices until you have sliced three-fourths of the ham. Do not cut all the way through to the bottom.
Place the ham on a 12-inch piece of foil and place on a trivet in the Instant Pot. The foil should not be covering the top of the ham, but should come up the sides of the ham to form a "pan" for the liquid that will be released to be caught.
Combine the glaze ingredients, reserving half for serving.
Liberally brush glaze onto the ham and between slices.
Cover with the lid and turn the valve to the sealing position.
Cook on high pressure for 20 minutes.
Perform a quick release by carefully moving the valve to vent (being careful of the steam that will release from the valve).
Remove the ham and the excess liquid in the foil and place the ham on a foil-lined baking sheet. Liberally brush with more glaze and place under the broiler for 5 minutes to caramelize.
Remove from the oven and place on your serving dish.
Serve with remaining glaze.
Notes
If the ham is too large to fit into the Instant Pot, you can cut the ham to a size that will fit.
Recommended Products
As an Amazon Associate and member of other affiliate programs, I earn from qualifying purchases.