These easy breakfast ideas are great to make while you have your family any time of the year.
Being in quarantine can get monotonous am I right? These easy breakfast ideas can be made into a fun cooking lesson for kids while you are stuck inside. The best part is they are all really easy to make and use ingredients that you probably have on hand. If you don't have a specific ingredient don't be afraid to substitute for ingredients you do have.
For example the pina colada pancake can easily be made into a banana nut pancake by switching the vanilla pudding mix to banana pudding mix or adding a smashed banana. The peanut butter and jelly oatmeal can be made with cashew butter or sunflower butter instead.
I hope you love these recipes as much as I do!
Pina Colada Pancakes:
The best pancakes I think I have ever eaten! Seriously. All the amazing flavors of a pina colada collide with an easy breakfast. These pancakes can be made gluten free by using gluten free pancake mix. And you may want to make extra coconut sauce. This stuff is drinkable!
If you have trouble finding coconut extract at your grocery store try getting it on Amazon. I have had great luck there.
And remember if you can't find fresh pineapple use canned. If you don't have coconut milk use regular mix. Get creative!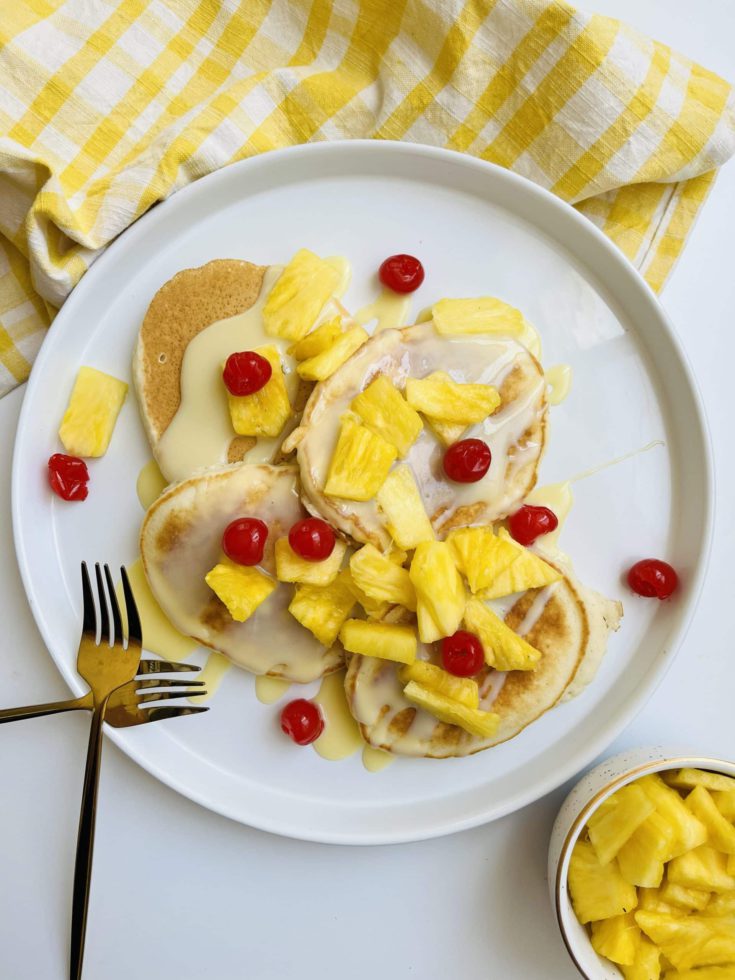 Yield: Makes 6
Piña Colada Pancakes
Prep Time: 5 minutes

Cook Time: 5 minutes

Total Time: 10 minutes

Piña Colada meets pancakes!
Ingredients
1 ½ Cups Pancake Mix or Gluten Free Pancake Mix (I like to use Bisquick for this recipe)
½ Cup Dry Instant Vanilla Pudding Mix
2 Eggs
¼ Cup Vegetable Oil or Coconut Oil
2 Cups Canned Coconut Milk
Cooking Spray
1 Cup Fresh Pineapple, Sliced ⅛ Inch
Optional Toppings:
½ Cup Fresh Pineapple, Cubed ¼ Inch
Maraschino Cherries
2 Tablespoons Shredded Coconut, Sweetened and Toasted
Coconut Syrup (Recipe Follows)
Instructions
Preheat a nonstick sauté pan over medium heat.
Combine the pancake mix and dry pudding in a mixing bowl. Add eggs, vegetable oil, and coconut milk and stir to combine.
Spray the pan and add ¼ cup of the pancake batter.
Cook for about 2-4 minutes or until the pancakes start to form bubbles on top..
Flip the pancakes with a spatula and cook on the other side for 1-2 minutes.
Make the coconut syrup (recipe follows).
Remove from the heat and top with syrup and optional toppings.
Recommended Products
As an Amazon Associate and member of other affiliate programs, I earn from qualifying purchases.
Nutrition Information:
Yield:
6
Serving Size:
1 Amount Per Serving: Calories: 577Total Fat: 35gSaturated Fat: 22gTrans Fat: 0gUnsaturated Fat: 11gCholesterol: 63mgSodium: 601mgCarbohydrates: 61gFiber: 3gSugar: 25gProtein: 9g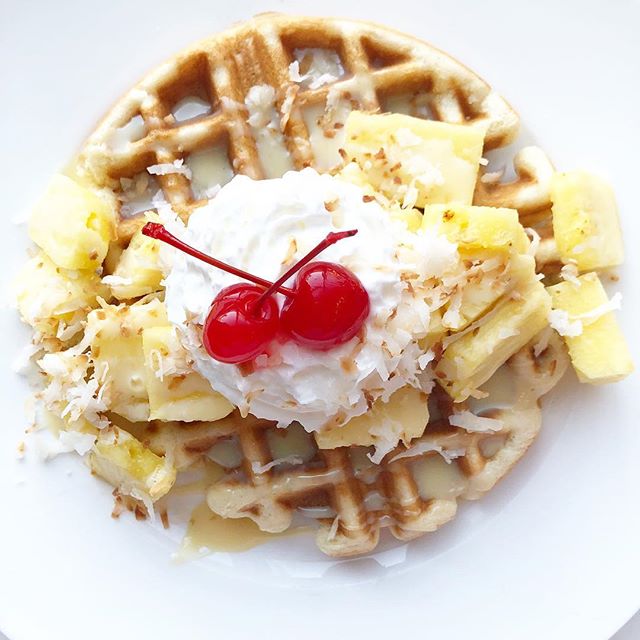 Yield: 10 Servings
Homemade Coconut Syrup
Prep Time: 2 minutes

Cook Time: 3 minutes

Total Time: 5 minutes

A great syrup option for any pancake or waffle bar.
Ingredients
4 (14 ounce) Cans Sweetened Condensed Milk
1 Tablespoon + 1 Teaspoon Pure Coconut Extract
1 Teaspoon Butter Extract
Pinch of Salt
Instructions
Place the ingredients in a small saucepan and heat on low until warmed through.
Place the syrup in syrup containers or mason jars.
Notes
Keep refrigerated after use. Just reheat when ready to serve.
Recommended Products
As an Amazon Associate and member of other affiliate programs, I earn from qualifying purchases.
Microwave Omelet:
One of my favorite breakfasts that the kids can make themselves and get creative is a microwave omelet. You don't have to worry about them working the stove and they love getting to use their favorite omelet toppings to make their own individual serving.
I also like adding leftover roasted vegetables or hash browns to the mix. Remember use whatever you have on hand.
Yield:

Serves 1
Microwave Omelet
Single serving omelets are cooks in seconds in the microwave.
Ingredients
2 eggs
1 slice deli ham, cut into small pieces
1 tablespoon cheddar cheese, shredded
kosher salt, to taste
ground black pepper, to taste
Optional:
Instructions
Spray a mug with cooking spray.
Place the eggs, ham, and cheddar cheese into the mug. Mix with a fork to scramble the eggs.
Microwave for 1 minute, or until eggs are cooked through. Carefully remove with a pot holder. Season with salt and pepper, and hot sauce.
Notes
Add whatever omelet fillings you like.
Easy Cinnamon Rolls:
One of my all time favorite breakfasts! These easy cinnamon rolls have been a family tradition since I was born. My mom made them for Christmas and New Year's every year and I have continued the fun tradition with my own family. They are so easy and use minimal ingredients which makes them perfect for an easy quarantine breakfast.
The best part is these canned biscuits last for months in the fridge. So you can stock up on these and have this breakfast more than once!
Yield:

Makes 8 Rolls
Easy Cinnamon Rolls
We make these every Christmas morning and for special occasions. The best part is they are so easy to make!
Ingredients
1 can biscuits
1/2 cup unsalted butter, melted in a bowl
1 1/2 cups granulated sugar
1 tablespoon ground cinnamon
Instructions
Preheat the oven to 350 degrees F.
Mix together sugar and cinnamon in a bowl.
Place one biscuit on a fork and submerge it completely in the melted butter. Then toss in cinnamon sugar on both sides.
Place the biscuit in an 8 inch cake pan.
Continue with the remaining biscuits and slightly overlap them in the pan. Bake for 15-20 minutes or until cooked.
Peanut Butter and Jelly Oatmeal:
Chances are you probably have some oats and some coffee creamer on hand. I love making this peanut butter and jelly oatmeal since it's filling and kid friendly. You can use any nut butter or jam that you have on hand.
If you have frozen berries this is a great way to add some extra fiber and mix them in with the jam. You can also use fresh if you have access to them.
Coffee creamer is my go to liquid when making oatmeal because it creates a thick and flavorful oatmeal that is amazing! And if you can't find milk use up that coffee creamer you probably have on hand.
Yield: Serves 1
PB &J Oatmeal
A great way to start the day!
Ingredients
1 Cup Quick-Cooking Oats
1 Cup Vanilla Almond Milk
1 Tablespoon Chunky Peanut  Butter
2 Tablespoons Boysenberry  Jam or Jam of Choice
1/4 Cup Fresh Boysenberries  or Berry of Choice
Instructions
Place the oats in your serving dish.
In a small saucepan over medium heat, warm the almond milk until simmering.
Add the hot almond milk to the oats and stir to combine.
Add the peanut butter and jelly and stir to combine.
Top with berries.
Notes
You can use different nut butter and jams as well.

If you love these breakfast recipes try out these 15 Recipe Ideas With only Pantry Ingredients.