Grilled corn with jalapeño cheddar butter is perfect for a Sunday BBQ or a quick summer side dish.
Anyone else love grilled corn in the summer months? It's the perfect side dish for summer BBQ's or potlucks. This grilled corn with jalapeño cheddar butter offers a fun and tasty variation that your guests will love.
I am going to share some of my easy tips and tricks to get the perfect corn on the cob every time.
How to clean corn:
Corn on the cob is covered by a husk and stringy silk, that if not cleaned, can end up stuck in your teeth! We all don't want corn stuck in our teeth, am I right? Don't worry, there is a quick fix! Here is one way I like to clean corn.
Another quick and easy way to remove the silk is with kitchen liners. Yes, you heard right, kitchen liners. These rubbery liners help to easily remove the silk just by simply rubbing them along the corn cob. If you have a couple strings left on the corn, it will likely burn off while cooking, so don't stress. But if you need more help with this, check out my friends post all about it!
Can I use frozen shucked corn?
Yes, you can! You can roast frozen corn with some oil and salt at 450°F for 15 minutes and then top it with seasoning and sauce. It makes for a great side for those who don't like to eat corn on the cob.
How to grill corn:
There are a variety of ways you can grill corn. You can grill corn in the husk over low to medium heat, in foil, or directly on the grill.
For this recipe I prefer to brush the corn with oil, season with salt and pepper, and then cook directly on the grill.
How to grill corn in foil:
To grill corn in foil, clean the corn from the husk and silk. Place the corn in the center of a 12-inch piece of foil.
Add 1 tablespoon butter and season with salt and pepper. Seal the corn in the foil.
Grill for 10-15 minutes over medium-high heat, rotating corn every 2-3 minutes.
Compound Butter to Top Corn:
Compound butter is the perfect way to top corn. I love making different compound butters full of citrus zests, seasonings, spices, or chilis.
This jalapeño cheddar compound butter is perfect for topping corn. I also love it on my famous pretzel roll recipe.
Just wrap the butter in Saran wrap and store in the freezer for a later use. I hope you enjoy this seasonal corn recipe as much as I do!
Grilled Corn With Jalapeno Cheddar Butter Recipe: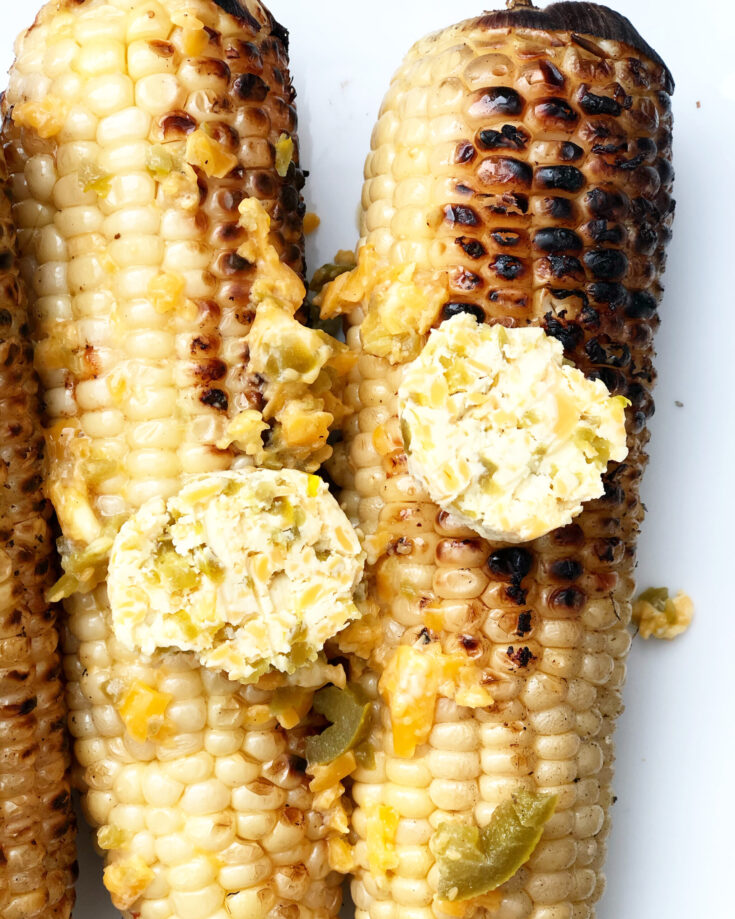 Yield:

4 servings
Grilled Corn with Jalapeño Cheddar Butter
This grilled corn is perfect for a summer BBQ.
Ingredients
Jalapeño Cheddar Butter
1/2 cup Unsalted Butter, Softened
1/4 cup Tamed Pickled Jalapeños, Drained
1/4 cup Cheddar Cheese, Shredded
1/2 teaspoon Kosher Salt
Grilled Corn
4 ears Corn on the Cob, Cleaned and Husks Removed
1 tablespoon Avocado Oil
Kosher Salt and Black Pepper, to Taste
Instructions
Preheat your grill.
Place the butter, jalapeños, cheddar, and salt in a mini food processor and pulse until the jalapeños are finely chopped. (If you don't have a food processor, just cut the jalapeños and cheese very fine and mix together).
Place the butter in the center of a 12 inch piece of Saran wrap and roll to form a log.
Store in the fridge until ready to use.
Brush the corn with oil and season with salt and pepper.
Grill the corn for 10 minutes, rotating the corn every 2-3 minutes.
Remove the corn and place 1 tablespoon of the butter on the corn to melt.
Notes
Freeze the leftover butter mixture for a later use.
Nutrition Information:
Yield:
6
Serving Size:
1
Amount Per Serving:
Calories:

228
Total Fat:

20g
Saturated Fat:

11g
Trans Fat:

0g
Unsaturated Fat:

8g
Cholesterol:

45mg
Sodium:

523mg
Carbohydrates:

12g
Fiber:

1g
Sugar:

3g
Protein:

3g