S'mores are the ultimate Summer treat and these peanut butter s'mores cookie bars are quick and easy to make and only consist of 5 ingredients. 
If I had to pick one Summer dessert it would have to be anything with s'mores. And it would be these s'mores cookie bars!
I love the crunchy graham cracker, melted chocolate and toasted, gooey marshmallow. I even used to make gourmet s'mores on the stove!
Heck if you need other inspiration I love my nutella s'mores gelato as well. But I have to say these peanut butter s'mores cookie bars take the cake.
I love s'mores, but sometimes I just don't want to have to spend all the time sitting around a fire pit to make them. In keeping with tradition I have been thinking of other ways that I can make s'mores to feed the masses.
This got my creative juices flowing and I thought of a s'more bar! I looked in my pantry and didn't have graham crackers, so I looked at what else I could find and found peanut butter cookie mix.
The cookie mix was perfect because it emulated a graham cracker crust. So that is what I used and they came out phenomenal!
These peanut butter s'mores cookie bars have a rich peanut butter cookie crust, molten chocolate filling and a gooey toasted marshmallow topping.
I like to use dark chocolate, but you can use milk chocolate or even Reese's peanut butter cups.
You can even change up the crust by doing a brownie crust or chocolate chop cookie crust.
Another fun tip with these s'mores cookie bar recipe is to use a kitchen torch to toast the marshmallows. If you are particular about how toasty your marshmallows get, this is the best trick to have the most control. I like to use this kitchen torch which also works great for my Instant Pot Creme Brulee
S'mores cookie bar recipe: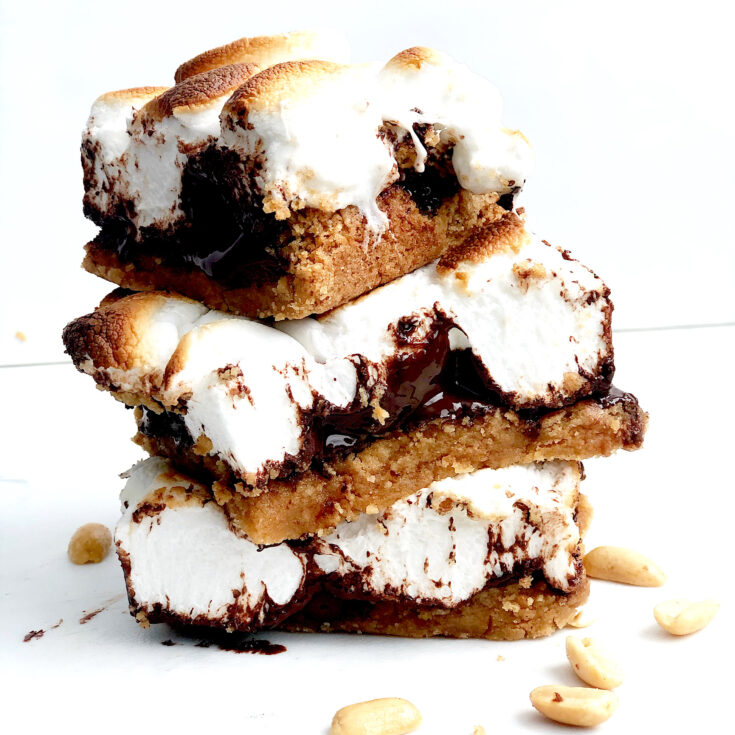 Yield:

Serves 9
Peanut Butter S'more Cookie Bars
These cookie bars have a rich peanut butter cookie crust, molten chocolate center, and a gooey toasted marshmallow topping.
Ingredients
1 bag peanut butter cookie mix (I use betty crocker brand)
3 tablespoons oil
1 tablespoon water
1 egg
8 ounces dark or milk chocolate, chopped fine
1 (10 ounce) bag large marshmallows
Instructions
Make the cookie base by combining the cookie mix with the egg, oil and water. Stir to combine.
Line a 9 x 9 cake pan with parchment paper (making sure the paper comes up the sides of the dish).
Spray the pan and paper with cooking spray. Add the cookie dough and spread out evenly into one layer.
Bake at 350 F for 12 minutes.
Remove from the oven and add the chocolate. Let sit for 3 minutes to melt.
Take the back of a spoon and smear the chocolate into one even layer.
Top with a layer of marshmallows and broil for 2 minutes or until the marshmallows are toasted.
Let the bars cool and then slice carefully with a plastic knife. The bars can be a little sticky and delicate so be gentle.