Salad dressing doesn't have to be complicated. Making your own homemade salad dressings are quick, easy and are a healthy alternative to bottled dressings.
The great thing is salad dressing can be made easily at home and most dressings can be stored in the fridge for up to a week. Did you know most salad dressings are filled with unwanted additives and preservatives? Some common salad dressing ingredients are MSG, gums, cheap oil, EDTA and sugar!
No more bottled salad dressings! Making your own dressing is much easier than you may think. Let's dive into it!
What is a dressing:
Typically dressings consist of a proportion of an oil and an acid. I like to use the ratio of 1/2 oil and 1/2 acid for most of my dressings, but you can play around with the ratios to find what you like best.
Another thing about dressings is they are prone to separating because oil and vinegar don't usually mix. You can solve this by using an emulsifier such as dijon mustard, honey or a variety of other options. We will talk about emulsions in a little bit.
Lastly dressings are where the flavor is at! You want your dressings to be strong in flavor. Always taste for salt and pepper and don't be shy of seasonings. The flavors will become diluted when you toss your salad together so the stronger the flavor, the better. Here are some common FAQ's along with some of my favorite dressing recipes.
What acids are good for salad dressings:
I like my dressings to pack a punch and have a strong flavor which is what you get when adding an acid. Here is a list of the most common acids I use to make dressings.
White Balsamic Vinegar: This one is my favorite
Red Wine Vinegar
Balsamic Vinegar
Champagne Vinegar
Apple Cider Vinegar
Lemon Juice
Lime Juice
Orange Juice
If you like a really acidic dressing try my lemon dressing below.
Ingredients
1/3 Cup Lemon Juice
1 Teaspoon Lemon Zest
1 Teaspoon Honey
1/3 Cup Olive Oil
1/2 Teaspoon Kosher Salt
1/8 Teaspoon Black Pepper
Instructions
1. Place the dressing ingredients into a mason jar, seal and shake to combine. Remove the lid and secure your Ergo Spout®.
What types of oils are good for salad dressings:
The most important thing with oil is that it's good quality. This is where you want to use your extra virgin olive oil. It has amazing health properties which you can read about here.
A side note. I DO NOT cook with extra virgin olive oil as it burns very quickly and has a low smoke point.
Once the oil burns it creates toxins and free radicals.
Extra Virgin Olive Oil: I love this one.
Avocado Oil
Sesame Oil
Liquid Coconut Oil
I love the liquid coconut oil for my Strawberry Vinaigrette that goes perfectly with Nuts About Berry Salad.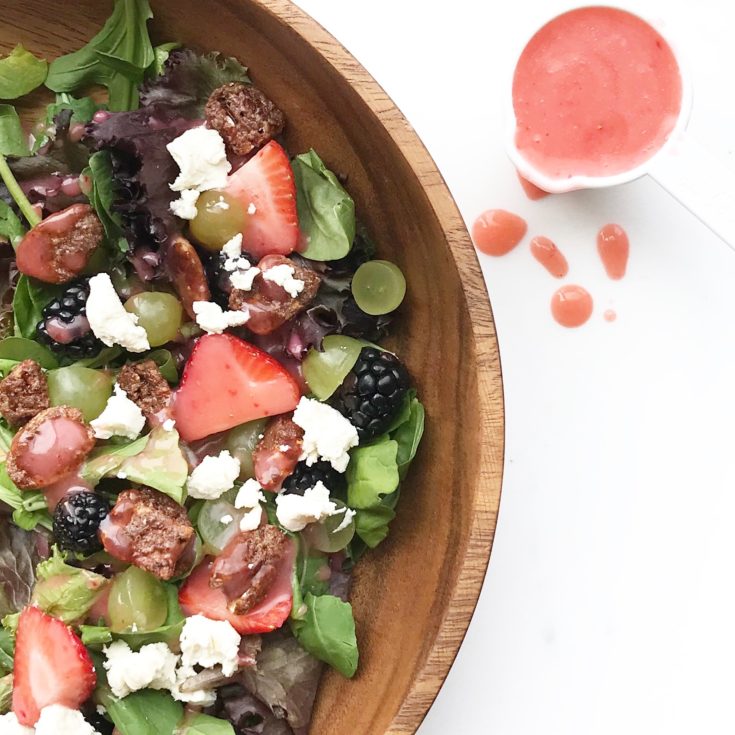 Yield:

1 1/2 Cups
Strawberry Vinaigrette
This dressing is perfect for a Summer salad.
Ingredients
1/2 Cup Strawberries, Sliced
1 Tablespoon Honey
1/4 Cup White Balsamic Vinegar
1/4 Cup Liquid Coconut Oil
1/4 Teaspoon Kosher Salt
Instructions
1. Place ingredients into a large mason jar and take an immersion blender to blend the ingredients together until smooth. (If you don't have an immersion blender you can also use a regular blender).

2. Secure your Ergo Spout® and pour over salad.
Recommended Products
As an Amazon Associate and member of other affiliate programs, I earn from qualifying purchases.
What other flavorings can I put in dressings:
Dressings are meant to add flavor. Here is what I love to use for an extra flavor blast:
herbs: chives, cilantro, parsley, rosemary, tarragon, thyme, sage
spices: Herbs De Provence, Italian seasoning, chili powder, cumin, garlic powder, spice blends
aromatics: garlic, ginger, onion, shallot
zest: lemon, lime, orange
Try out this amazing homemade healthy ranch if you love herbs!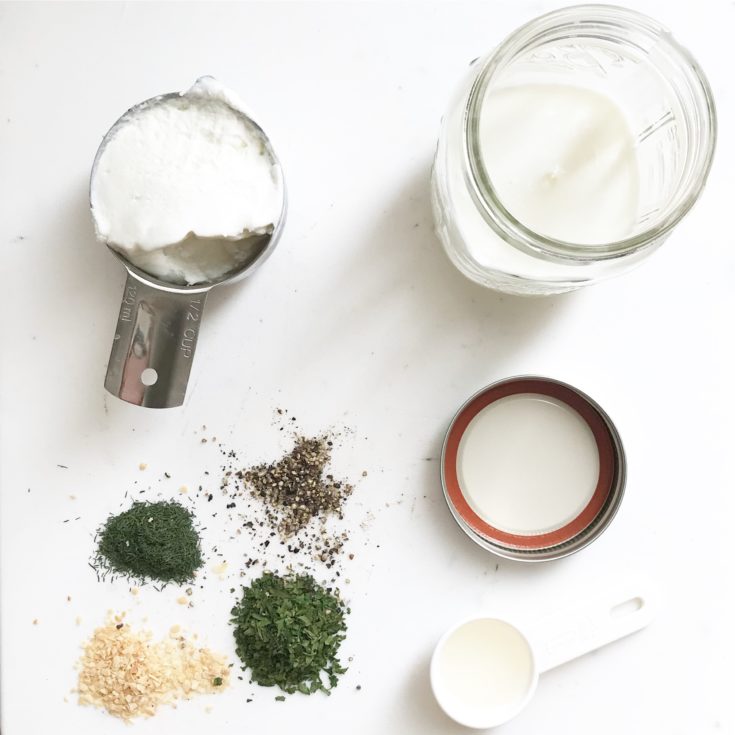 Yield:

Makes 1 Cup
Homemade Healthy Ranch
Make ahead dressing is perfect for a quick and easy meal prep item to have on hand all week. It's a healthier alternative to the store bought ranch.
Ingredients
1/2 Cup Non-fat Greek Yogurt
1/2 Cup Buttermilk
1/4 Teaspoon Dried Dill
1 Teaspoon Dried Parsley
1 Teaspoon Garlic Salt
1/2 Teaspoon Black Pepper
1 Tablespoon White Balsamic Vinegar
Instructions
1. Place the dressing ingredients into a mason jar, seal and shake to combine. Remove the lid and secure your Ergo Spout®.
Recommended Products
As an Amazon Associate and member of other affiliate programs, I earn from qualifying purchases.
How do I create a creamy dressing:
Creamy dressings can be made through a process called emulsification.
What is an emulsion?
An emulsion is a mixture of ingredients that are normally un-mixable by the means of an emulsifier. The emulsifier acts to disperse the droplets evenly between the liquids. Basically it just means your dressing won't separate and will be well mixed and the ingredients will be well dispersed on your greens.
Emulsifiers:
honey
dijon mustard
mayo
tahini
buttermilk
You can easily make a vinaigrette into a creamy dressing by adding ingredients like sour cream, yogurt, mayo, nut butters, tahini, or buttermilk.
What types of lettuce should I use for my salad:
Believe it or not the lettuce matters! If you serve a thick blue cheese dressing on a tender arugula leaf it is not going to hold up very well. That is why it's important to think about what dressings work the best for certain lettuce types.
Typically heartier lettuces like kale, iceberg and romaine are the best for the thicker, creamy dressings.
Lettuces like butter lettuce, arugula, and mixed greens are great for vinaigrettes.
Ways to store dressings:
My favorite way to store dressings are in mason jars. I love using them because you can make the dressing straight in the jar and then seal it up and store it in the fridge. When you are ready to use remove the lid and secure your Ergo Spout for easy pouring.
How long do homemade dressings last in the fridge:
Typically dressings last for 4-7 days in the fridge. Vinaigrettes last the longest and creamy based dressings will last around 4 days.
Whether you want to make your own dressings for convenience for health purposes these dressings are easy to make and are a great way to add delicious flavor to your salads. Check out my Wedge Salad With Light Blue Cheese Dressing for a great salad recipe.