Quick, whole wheat bread is the perfect easy bread to make for your family. Warm, earthy tones complement the most tender chew, resulting in delicious homemade bread. Get your butter softened, cause this loaf of bread will be ready in no time!
One of my favorite smells ever is homemade bread. Just thinking about it makes me hungry! I love knowing I can provide my family, friends, and neighbors a fresh loaf of wholesome bread. Such a simple act of service — gifting a fresh loaf of bread — shows how much you care.
This homemade wheat bread recipe will change your life. Making homemade wheat bread is not as hard as you may think, I promise! The hardest part is making sure your yeast activates so that the bread will rise properly. Yeast that has gone bad is such a disappointment. So, other than activating the yeast, the rest of the work is up to the stand mixer!
Perhaps you're used to making bread that requires a double rising time or extensive kneading.
Not anymore friends!
This whole wheat bread takes a fraction of the time to prepare and is perfect to eat plain, with some softened butter, used as sandwich bread, or made into delicious french toast. Yum!
Tips for bread making:
Make sure your yeast has not expired.
Expired yeast equals bread dough that won't rise well, if at all. When properly stored, yeast will usually last up to one year. 
How do I store yeast?
Store the yeast in the freezer or refrigerator. Yeast is a living organism, so storing it in the freezer or fridge will help prolong the shelf-life.
Use warm water or milk to activate your yeast. 
If your water or milk is too hot, it will kill the yeast. On the flip side, if the liquid is too cold it will not activate properly. The happy medium is warm liquid. Think of what you would use for a baby's bath water. About 105°F-110°F should be just right.
Feed your yeast.
Yeast feeds on sugars and starches. When activating the yeast, put a little sugar or honey into the mixture to help the yeast activate quicker. 
Which yeast should I use? Instant Yeast vs Active Dry Yeast:
While both types of yeast can be used interchangeably and produce the same end result, their processes are drastically different.
Active dry yeast needs to be dissolved before using. Instant yeast can be mixed right into your dough. I love how Serious Eats breaks down the basics of yeast.
I use instant yeast for this recipe since it seems to cut down on some of the rising time, but you can use active dry yeast as well by following the directions according to the package. Still make sure the dough has doubled in size before baking to achieve the right texture.
How to make quick homemade wheat bread:
How to make quick homemade wheat bread:
This quick and easy whole wheat bread is perfect for sandwich bread, french toast, or one of my favorites, cinnamon toast. For another one of my favorite bread recipes try out my famous pretzel roll recipe.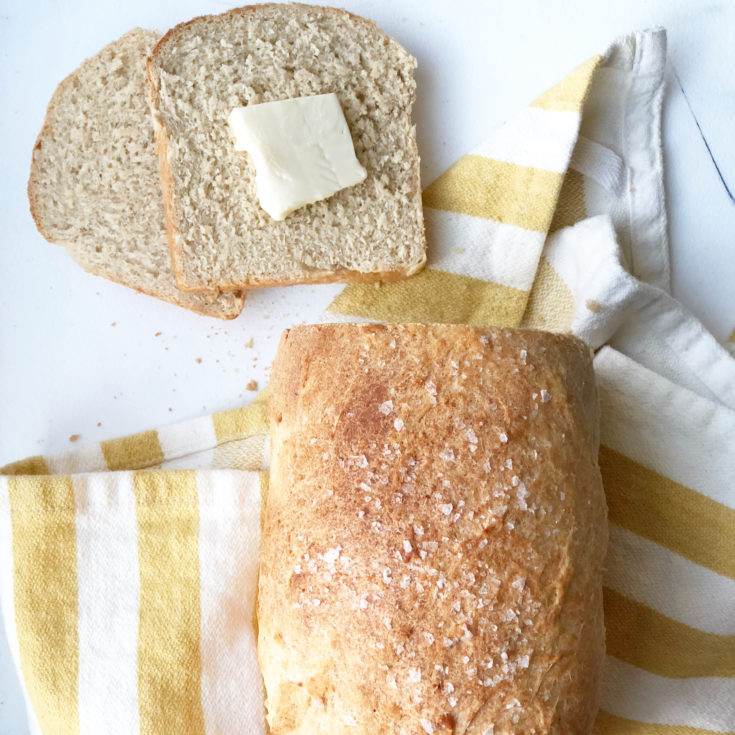 Yield:

1 Loaf
Whole Wheat Bread
Prep Time:
1 hour
10 minutes
Total Time:
1 hour
50 minutes
Nothing is better than warm, fresh, homemade bread. This quick, whole wheat bread is perfect for sandwiches or as a side for soup or salad.
Ingredients
2 Cups Bread Flour
1 Cup Whole Wheat Flour
2 Tablespoons Brown Sugar
2 ½ Teaspoons Dry Instant Yeast
2 Teaspoons Salt
1 Cup Warm Water
2 Tablespoons Butter, Softened
Instructions
Place 1 cup bread flour, 1 cup whole wheat flour, and salt into a mixing bowl fitted with a dough hook.
Add the brown sugar, yeast, and warm water into the bowl and mix on low speed for 1 minute. (If using active dry yeast, you will need to let this mixture sit for 5-7 minutes to ensure activation of the yeast).
Add 1 more cup bread flour (¼ cup at a time) until the dough is moist, but not sticky.
Knead for 10 minutes on low speed.
Transfer the dough to an oiled bowl and oil the top of the dough. Cover the dough with a kitchen towel and place in a warm place for 30 minutes.
Once the dough has risen for 30 minutes, punch the dough down with your hand and form it into a loaf.
Place the dough into a greased 9x5 inch loaf pan, oil the top again, and cover with a towel to rise a second time for 30 minutes.
Preheat the oven to 450°F. When the dough is ready, sprinkle with course salt and place in the oven for 10 minutes.
Lower the temperature to 350°F and cook for an additional 25-30 minutes, or until golden brown. Let cool slightly, slice, and serve with butter.
Notes
You can also use all white flour for a white bread.
Recommended Products
As an Amazon Associate and member of other affiliate programs, I earn from qualifying purchases.
Nutrition Information:
Yield:
10
Serving Size:
1
Amount Per Serving:
Calories:

172
Total Fat:

3g
Saturated Fat:

2g
Trans Fat:

0g
Unsaturated Fat:

1g
Cholesterol:

6mg
Sodium:

444mg
Carbohydrates:

31g
Fiber:

2g
Sugar:

2g
Protein:

5g