There is nothing better than freshly baked, warm, jalapeño cheese bread slathered with butter and topped with some finishing Maldon salt. This bread is not too spicy, but packed with flavor!
My all-time favorite bread is jalapeño cheese bread! I love to make sandwiches with it or simply eat it with some butter and a sprinkling of sea salt. It goes great with eggs in the morning or as croutons in a salad. I also love making it for the holidays to give to neighbors, family, or friends. Everyone loves it because it's not too spicy.
This bread will quickly become your new favorite. It is so easy to make and doesn't have any complicated bread-making steps or techniques.
What ingredients do you need for Jalapeño Cheese Bread?
Dry Active Yeast

Sugar

Warm Milk

All-Purpose Flour

Kosher Salt

Pickled Jalapeños

Eggs

Pepper Jack Cheese

Cheddar Cheese

Olive Oil

Coarse Sea Salt
How to activate yeast:
Most bread recipes will require yeast. To activate yeast, you will need to combine the dry yeast with warm water. I also like to add a little sugar. Sugar helps feed the yeast and helps it to activate quicker.
It is very important to use warm water, not hot or cold water. The water should be like a baby's bath water. If the water is too hot it will kill your yeast.
Is this bread spicy?
This particular recipe is not very spicy because it uses tamed pickled jalapeños. If you would like it spicier, untamed pickled jalapeños can be used. Feel free to enjoy it less spicy by substituting the pepper jack cheese with extra cheddar cheese.
How to make Jalapeño Cheese Bread:
Jalapeño Cheese Bread is so easy to make with just 5 quick steps:
Activate the yeast in a warm milk and sugar solution.

Add flour and salt, as well as the eggs! Mix slowly until combined and knead (the kids love this part!)

Then add the cheese. A combination of cheese makes this extra good.

Unlike traditional bread recipe, divide dough into two before rising.

Once doubled in size, brush with olive oil and sea salt, and enjoy!
This recipe makes two loaves. A loaf can easily be wrapped in foil and frozen for a later use. I also like to cut the bread into slices to use for sandwich bread.
What goes good with Jalapeño Cheese Bread?
I love making this bread and love even more when I get to use it for recipes like BLT's with Jalapeno Brown Sugar Bacon or to serve with my morning egg sandwich.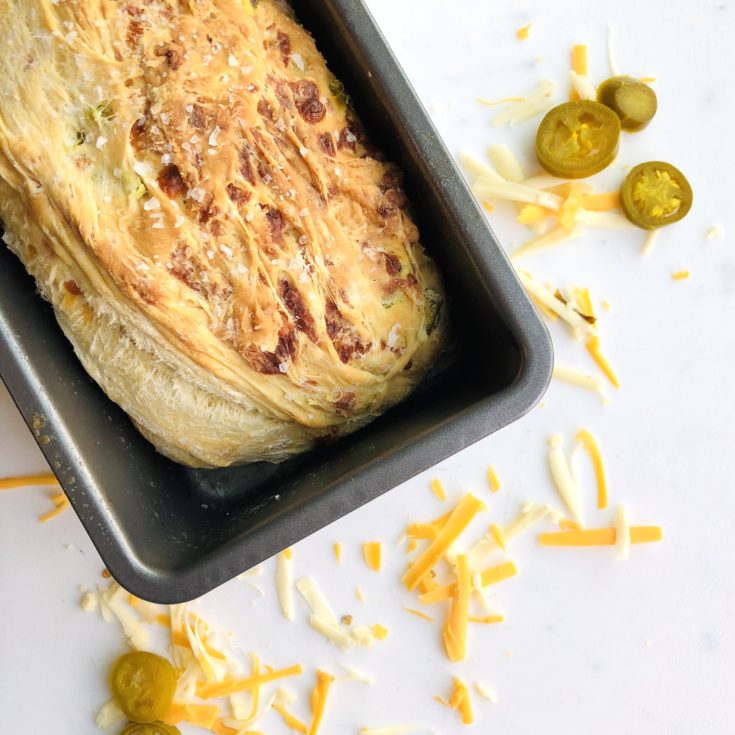 Yield: 2 Loaves
Jalapeño Cheese Bread
Prep Time: 2 hours

Cook Time: 30 minutes

Additional Time: 30 minutes

Total Time: 3 hours

Cheesy bread with a little kick!
Ingredients
2 Tablespoons Dry Active Yeast
1 Tablespoon Sugar
1 ¾ Cup Warm Milk
4 Cups All-Purpose Flour or Bread Flour
1 ½ Teaspoons Kosher Salt
1 Cup Pickled Tamed Jalapeños, Roughly Chopped
2 Eggs
1 Cup Pepper Jack Cheese, Shredded
1 Cup Cheddar Cheese, Shredded
Olive Oil
Coarse Sea Salt
Instructions
In the bowl of a stand mixer, mix together yeast, sugar, and milk and let sit for 10 minutes.
Add the flour, salt, jalapeños, and eggs.
Mix on low until a dough ball forms. Add additional flour if it is too sticky.
Knead on low for 10 minutes. Add the cheese at the very end.
Remove the dough and divide in half. Place each dough into a greased loaf pan. Cover with a clean kitchen towel and let rise for 2 hours.
Brush tops of the bread dough with olive oil and sprinkle with coarse sea salt.
Bake at 375°F for 30 minutes or until lightly browned on top.
Let sit for 20 minutes, slice, and serve with fresh butter.
Notes
If you want it slightly spicier use untamed pickled jalapenos.
Recommended Products
As an Amazon Associate and member of other affiliate programs, I earn from qualifying purchases.

For a nice pairing, try this recipe alongside my Chicken Tortilla Soup!