Maple glazed carrots are the perfect side dish for any dinner. They are sweet, and savory and go perfectly with just about anything.
These maple glazed carrots are always a favorite side dish around here. They are quick and easy to make with a few culinary techniques.
Everytime I see a carrot I think of Anne of Green Gables. I'm sure you know exactly what scene I'm referring to that triggers this thought!
(If you're feeling a little clueless, you need to watch Anne of Green Gables right this second — but only the original 1980s series. But I take zero responsibility if you spend hours consumed by this classic show!)
Anyway, a little smirk may have crept upon my face while writing this post.
Why do I have a post about carrots? Only because they're an unassuming vegetable that can be consumed in a variety of methods — raw, steamed, roasted, in salads and soups, cooked with roasts, and baked in cakes, to name a few — and one of my most favorite vegetables!
In my opinion, there is no better way to eat a carrot than braising it in a rich maple syrup.
What is braising?
Braising is a method when food is first sautéed and then baked in a flavorful liquid.
Did you know that carrots are the most common vegetable to be braised, and can be braised with a meat or on their own?
True fact!
We are braising all on the stove top with this recipe!
In this recipe, we are sautéing the sliced carrots in butter and then braising them in maple syrup. It may sound difficult, but this recipe is as easy as pie. Ack! Now I'm thinking about pie!
Please don't feel intimidated by braising if it is a new cooking method for you. You guys will be pleasantly surprised by how much flavor these carrots have thanks to their cooking method.
This is a must-have recipe you should put on your Easter menu for this weekend. Speaking of Easter menus, I haven't finished putting together mine. I know, I know, I'm totally running out of time. One thing I do know, however, is that these little guys will definitely be making an appearance!
Hope you smile and think of Anne Shirley (and me!) when you see a carrot!
xoxo,
Meg
P.S. — If you like this easy recipe, then you'll love these other easy recipes: Maple Salmon and Instant Pot Crème Brûlée.
Maple Glazed Carrot Recipe: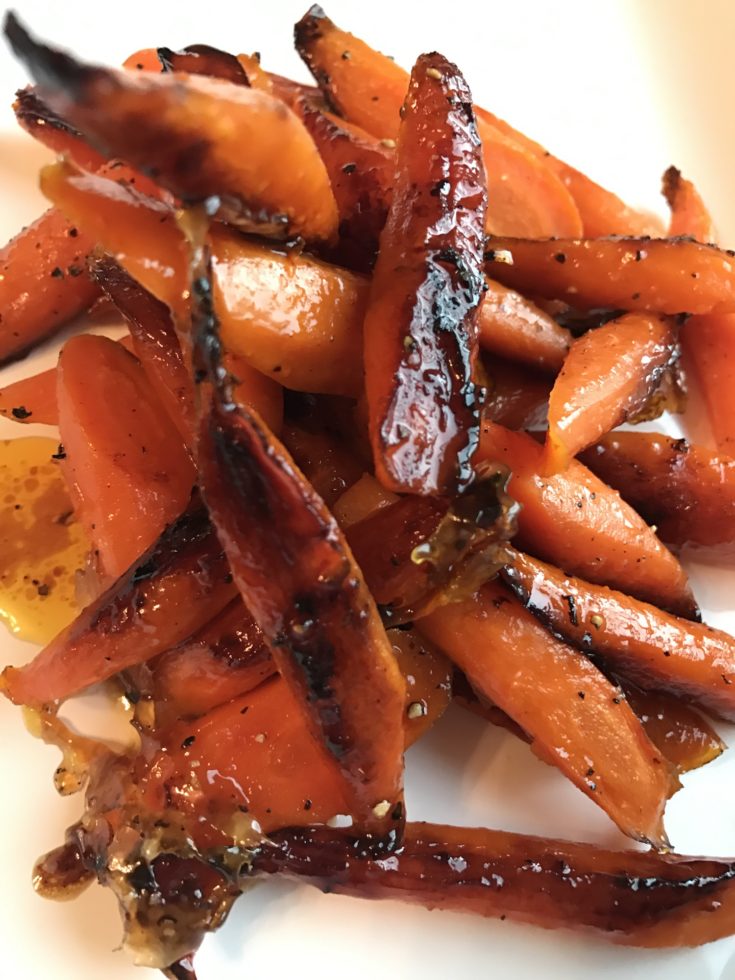 Yield:

Serves 5
Maple Glazed Carrots
Sweet and tender caramelized carrots are the perfect side dish.
Ingredients
2 Tablespoons Butter
2 Pounds Carrots, Peeled and Sliced on a bias, ½ Inch
2 Tablespoons Maple Syrup
1 Teaspoon Salt
Black Pepper, to Taste
Instructions
Place the butter in a cast iron stockpot over medium heat.
Sauté the carrots for 5 minutes. Add maple syrup, salt and pepper, then cover and continue cooking for an additional 10 minutes.
Remove lid and serve.
Notes
Optional: Add dried cranberries and orange zest for a different combination.
Recommended Products
As an Amazon Associate and member of other affiliate programs, I earn from qualifying purchases.