Warm, buttery peach upside down buttercake will be your new favorite way to use up peaches this Summer.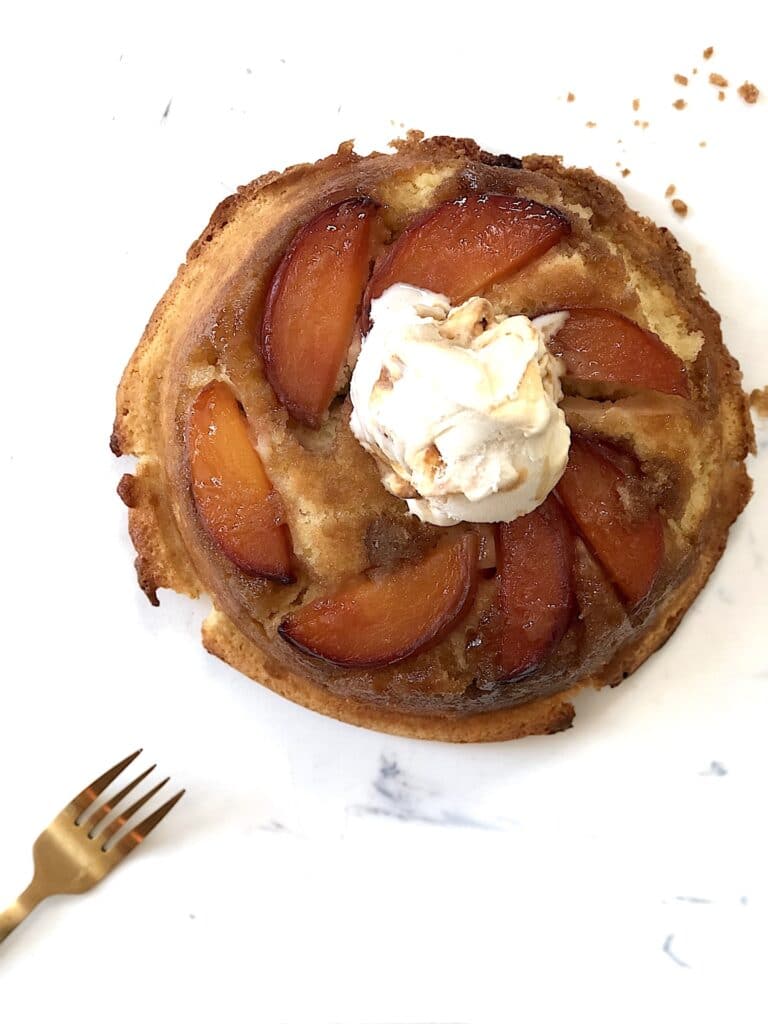 Peach Upside Down Buttercake…. enough said! Oh MAN! This one is a keeper.
We wanted to make a cake for my husband's birthday the other day and I couldn't figure out what to make him. He usually loves pudding, but that's so boring for a birthday celebration so I decided to mesh two of the things he loves, buttercake and peaches and make a dessert out of it and from that came my Peach Upside Down Cake Recipe!
It turned out fabulous and I can't wait for you to try it out.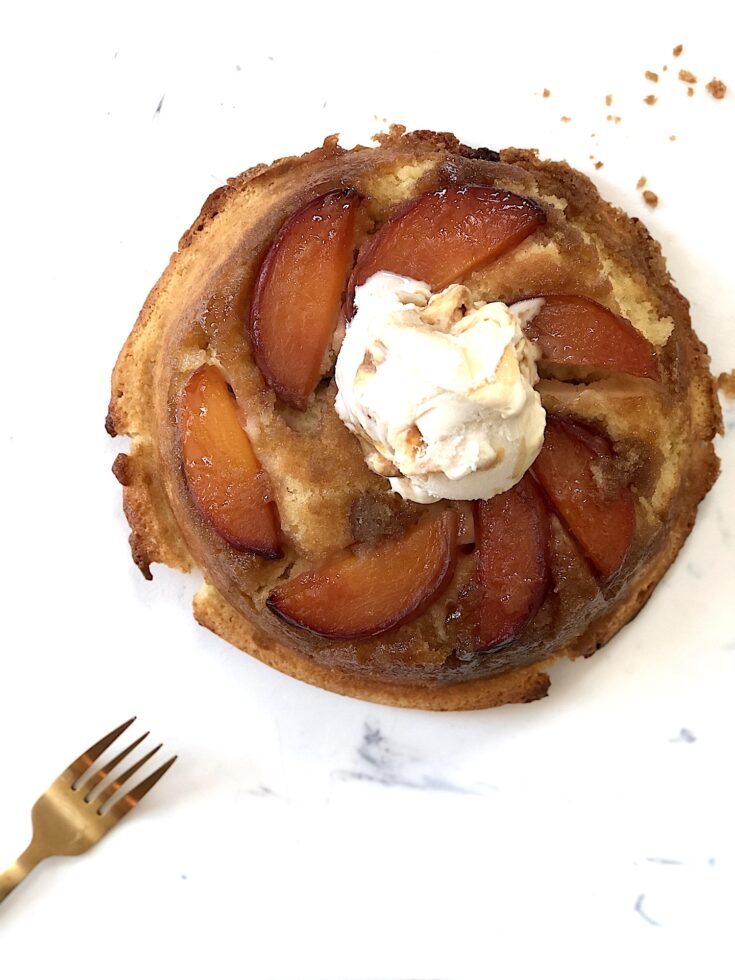 Yield:

Serves 8
Peach Upside Down Buttercake
Additional Time:
10 minutes
Warm, buttery peach upside down buttercake will be your new favorite way to use up those Summer peaches.
Ingredients
1/2 Cup Buttered Flavored Crisco
3/4 Cups Granulated Sugar
1 Egg
3/4 Cup Milk
1 Teaspoon Vanilla Extract or Vanilla Bean Paste
1 1/2 Cups All Purpose Flour
2 Teaspoons Baking Powder
1/2 Teaspoon Salt
2 Tablespoons Butter
4 Tablespoons Brown Sugar
1 Ripe Peach, Sliced 1/8 Inch Wedges or 1 Cup Canned Peaches
To Top:
Vanilla Ice Cream- Check out my homemade ice cream recipe!
Instructions
Preheat the oven to 350 degrees F.
Add the Crisco and granulated sugar to a Kitchen-Aid mixer bowl. Using a paddle attachment, mix to combine (you can also do this by hand).
While the mixer is on low speed add the egg. Then add the milk and vanilla.
Combine flour, baking powder and salt in another bowl.
Add the flour mixture to the mixer and mix to combine. Be sure to scrape down the sides of the mixing bowl with a rubber spatula half way through. Set batter aside.
In a 6-8 inch cast iron skillet or oven proof saute pan, melt 2 tablespoons butter over low heat.
Add the brown sugar and make sure the mixture is coating the whole surface area of the bottom of the pan.
Arrange the peaches around the pan in a circular pattern.
Pour batter over the mixture and place in the oven for 25-30 minutes.
Let cool for 10 minutes and then invert the cake by placing the plate on top of the skillet and quickly flipping the pan over so the cake is on your plate.
Top with vanilla ice cream. Serve immediately.
Recommended Products
As an Amazon Associate and member of other affiliate programs, I earn from qualifying purchases.