There is nothing better than a quick and easy English scone recipe to lather with salted butter and fruity jam. These are the perfect scones to serve with tea or make them mini for a fun tea party recipe.
This english scone recipe holds so many amazing memories for me. I have so many fond memories having scones and tea with my momma and it's been such a fun tradition for us to go to high tea every year.
These memories mean so much to me that I tried to recreate our high tea memories with a Mother's Day at home this last year. You can check out the full Mother's Day Tea post here.
If you are looking for some other great recipes to serve alongside this scone recipe, try these recipes:
Easy 3-Ingredient Homemade Lemon Bars with Fresh Berries
Easy Classic Chewy Chocolate Chip Cookies
How to Make The Perfect Scone:
It is important to know some simple tips and tricks to ensure you get perfect tender scones every time you make this recipe. Here are my top tips:
Make sure your butter is cold. I freeze my butter ahead of time and cut into cubes before you put it in the food processor. If you don't have a food processor you can freeze the butter and grate it using a cheese grater and that works great as well.
Don't overmix the batter.  The dough won't be completely combined like a cookie dough and that is how you want it. Mix just until the dough comes together.
After you cut your scones you can freeze them and bake later. Yes, I said that right! You can make these ahead of time and freeze the uncooked scones for a warm, delicious breakfast or afternoon treat instead of heading to the coffee shop.
What do you serve with english scones?
I love a good clotted cream, butter, jam or marmalade. They are one of my favorite things to make for a Sunday breakfast or for a fun afternoon tea party with friends.
Different Flavored Scone Ideas:
This recipe is so versatile.  Here are some of my favorite flavor combinations:
Lemon Poppyseed:
Add 1 tablespoon poppy seeds and 2 teaspoons lemon zest
Cranberry Orange:
Add 1/4 cup dried cranberries and 1 teaspoon orange zest
Wild Blueberry:
Add 1/2 cup frozen blueberries and 1/2 teaspoon almond extract
Chocolate:
Add 1/2 cup chocolate chips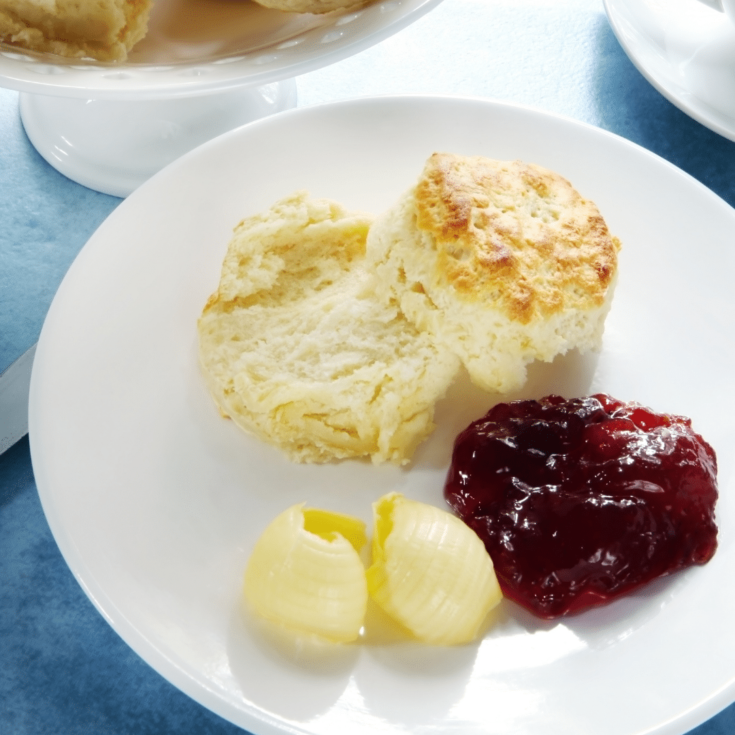 Yield:

Makes 6
Easy English Scones
The perfect English scones to serve at your next tea party.
Ingredients
3 Cups All Purpose Flour
1/3 Cup Granulated Sugar
1/2 Teaspoon Kosher Salt
1 Teaspoon Baking Powder
1/2 Cup Butter, Cut into Cubes
1 Cup Heavy Cream or Buttermilk (you can also use Whole Milk but cream is desired)
2 Eggs
Topping:
2 Tablespoons Milk
2 Tablespoons Raw Sugar
Serve with:
Whipped Cream of Butter
Jam Of Your Choice
Instructions
Preheat your oven to 425 degrees F. In a food processor add flour, sugar, salt and baking powder and pulse 1-2 times to combine.
Add the butter and pulse 10 times until butter becomes the size of peas. Transfer to a mixing bowl.
Add cream and eggs and stir to combine. The dough should be slightly sticky. Be careful not to over mix.
Sprinkle a working surface with flour and roll out dough about 1 inch thick.
Dip a cup or a 2 1/2 inch cutter into flour to prevent the dough from sticking. Then stamp out the dough.
Once you have cut as many scones out as possible, combine left over dough pieces, roll out again and stamp the remaining scones.
Place the scones on a parchment lined baking sheet.
Brush the scones with milk and sprinkle with raw sugar.
Place in the oven for 12-15 minutes until lightly golden. Remove from the oven and serve with whipped cream or butter and jam.
Recommended Products
As an Amazon Associate and member of other affiliate programs, I earn from qualifying purchases.