These easy gluten free pumpkin cookies full of chocolate chips are the perfect recipe to take to any Fall gathering. It's even great for an easy gluten free Thanksgiving dessert. 
No joke these are the best gluten free cookies you will ever taste.  I promise you, you won't even know they are gluten free! If you are not gluten free you can make these with regular flour and they will work just as well.
So here is the thing… I am going to fill you in on a little secret. The trick to making anything gluten free taste good with this little secret ingredient. 
Gluten-Free Secret Ingredient:
Sometimes, regardless of the recipe and ingredients, gluten-free baked goods can have a weird aftertaste, gritty texture or even taste like cardboard! This can happen even when using aluminum-free baking powder or a good gluten free flour.
To combat that, I like to add a little secret ingredient.  Drum roll please…… The secret ingredient is to add a box of dry instant pudding mix to the recipe. Yes you heard that right! The dry pudding mix is my secret ingredient! You'll be surprised to find out that it doesn't negatively affect the flavor of the baked goods and removes any weird aftertaste from gluten free baking.
You can add this to cookies, cakes and even pancakes! This trick also works great for adding extra flavor to your baked goods like in my Pina Colada Pancakes with Gluten Free Option. 
Is Baking Powder Gluten-Free?
Generally speaking, yes, baking powder is gluten-free. However, not all manufacturers make it as such. Baking powder is a mixture of baking soda, an acid (like cream of tartar), and a starch (to absorb moisture). Depending on the manufacturer, the starch will either be gluten-free (corn starch) or not gluten-free (wheat starch).
Some baking powders contain aluminum, which might give the food a slight metallic taste. To avoid that, I always use an aluminum-free baking powder.
As always, double check the ingredients to ensure it is safe for you.
Is Baking Soda Gluten-Free?
Baking soda is naturally gluten-free because it's not made from one of the four types of grains that have the protein (wheat, rye, barley, or triticale).
What is the Best Gluten-Free Flour for Baking Cookies?
There are lots of decent gluten-free flours available at the grocers; however, I have found Bob's Red Mill 1-to-1 Flour to produce the most consistent and excellent results.
What I love about this flour is that the ratio is 1:1, meaning use 1 cup gluten-free flour for every 1 cup All-Purpose flour.
Other Thanksgiving desserts to try:
I love experimenting and creating the perfect Thanksgiving dessert!
Pumpkin Gingersnap Gluten Free Ice Cream Cake and Easy Gluten Free Pumpkin Trifle Thanksgiving Dessert are two of my favorite gluten free desserts!
If you want to see what I'm cooking up in real time for this year's holiday, join the More Momma Cooking School! We have a full blown Thanksgiving cooking class for you to make your Thanksgiving dinner seamless and delicious. 
How to make gluten free pumpkin cookies:
Gluten Free Pumpkin Cookie Recipe: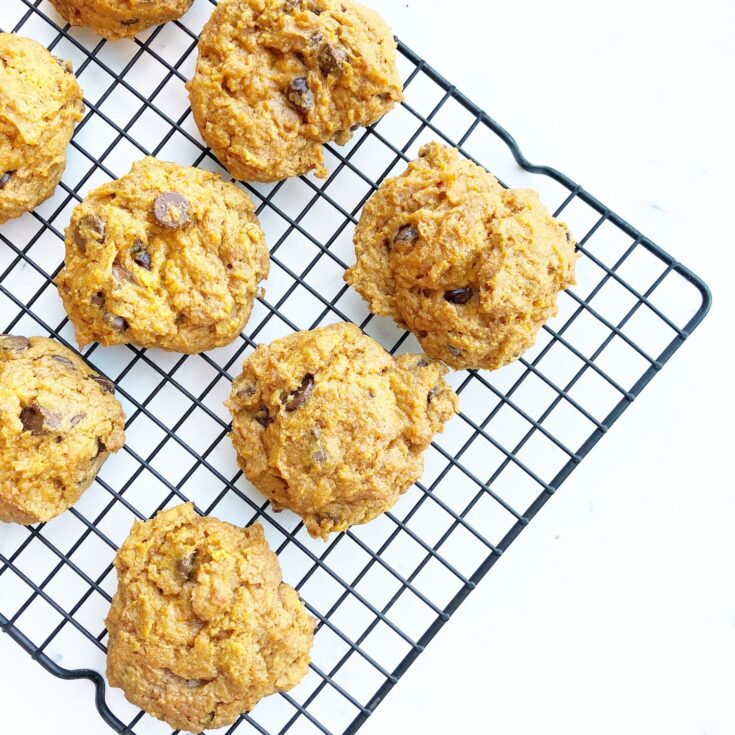 Yield:

24
Gluten Free Pumpkin Cookies
Delicious pumpkin chocolate chip cookies are perfect for any Fall get-together.
Ingredients
1 Cup Buttered Flavored Crisco
1 Cup Brown Sugar
1/2 Cup Granulated Sugar
1 Teaspoon Vanilla Bean Paste or Vanilla Extract
1 (15 ounce) Can Pumpkin Puree
1 (3.4 ounce) Package Dry Vanilla Pudding Mix
2 Teaspoons Ground Cinnamon
1 Teaspoon Salt
1 Teaspoon Baking Powder
1 Teaspoon Baking Soda
1 1/2 Cup Gluten Free 1-1 Flour or All Purpose Flour
1 Cup Chocolate Chips
Instructions
Preheat the oven to 350 degrees F.
In a mixing bowl cream together the crisco and sugars with a spatula. You can also use an electric mixer as well.
Add the vanilla and pumpkin puree and mix to combine.
Add the pudding mix, cinnamon, salt, baking powder, baking soda and flour and stir to combine.
Stir in the chocolate chips and place in the fridge for 20 minutes.
Using an ice cream scoop or a spoon, grab a golf ball size amount of batter and place on a parchment lined baking sheet. You can fit 9 cookies on each sheet.
Bake the cookies for 12 minutes. Remove from the oven and let cool slightly.
Notes
Gluten Free Option: Substitute the flour for Bob's Red Mill 1-1 Flour Blend or your favorite 1-1 gluten free flour.
Using Crisco will give you a fluffier cookie. You can also use butter, but the cookies may be flat.
Recommended Products
As an Amazon Associate and member of other affiliate programs, I earn from qualifying purchases.