I just have to warn you these air fryer cinnamon rolls are like little bombs of gooey cinnamon roll goodness. They are soft and pillowy on the inside with a delicious cinnamon roll filling and then crispy and caramelized on the outside with a cinnamon sugar crust.
Air fryer recipe testing week at More Momma just hit a high note. These air fryer cinnamon roll bombs have been coined the best thing I have ever made in the air fryer by my family. 
I was so excited when I was testing this recipe because I had one bite and knew it would be a huge hit. Theses cinnamon roll bites were the perfect combination of textures and flavors. 
Air Fryer Cinnamon Roll Bombs:
These cinnamon roll bombs have a gooey cinnamon filling, a soft, fluffy interior and a crisp caramelized cinnamon sugar coated exterior. Then we drizzle them with a delicious, velvety vanilla bean glaze.
The best part about this recipe is it's so much easier than regular cinnamon rolls. These air fryer cinnamon rolls also take a fraction of the time to make. And they are fun for kids!
No rising time, no rolling; just a simple assembly of a few ingredients and you can have warm, fluffy cinnamon rolls in a matter of minutes. 
And if you don't feel like the stereotypical cinnamon roll flavors you can change these up with different fillings. Don't worry, I will give you all my best filling recommendations too! 
What is a Cinnamon Roll Bomb:
So what is a cinnamon roll bomb? It is basically a delicious fluffy roll stuffed with cinnamon and melted butter filling. They resemble a cinnamon roll in flavor and texture, but are so much easier to make and take a fraction of the time. 
With the help of the air fryer they get a crispy crust on the exterior as the sugar caramelizes, but stay soft and fluffy on the inside.  
Filling Options:
What I love about the recipe is you can make these in a variety of ways. If you don't feel like cinnamon roll filling change it up with one of these fun, flavorful filling ideas. Make air fryer apple pie bombs or try an Oreo cookie bomb.
Peach: Peach pie filling
Cookies and Cream: Blend Oreo cookies and combine with cream cheese
Nutella: Nutella
PB & J: Peanut Butter and Jelly
Almond: Almond paste filling
Boysenberry: Boysenberry pie filling
Blueberry Lemon: Blueberry pie filling with lemon glaze
Strawberry: Strawberry pie filling
Salted Caramel: Caramel candy melts
Apple: Apple pie filling
How do I know my cinnamon rolls are done?
When I tested the recipe this was the only snag I ran into. I wanted the exterior to be golden brown, but didn't want the cinnamon rolls to overcook. Finally, I landed on the perfect time and temperature! 
Cook the cinnamon rolls at 350 F on air fry mode for 12 minutes. Remove the air fryer basket and finish them off with the glaze. They with be perfectly cooked! 
Cinnamon Roll Icing:
I was debating wether to add a glaze or an icing to these rolls and I am so glad I went with the glaze. It added another delicious element to these air fryer cinnamon rolls. If you like a thicker icing try a cream cheese frosting like I make in my no rise cinnamon roll recipe. 
This recipe is made with a quick and easy powdered sugar glaze.
Simple Ingredients:
You may already have all the ingredients to make these rolls! Here are the simple ingredients you will need. Keep in mind that if you want to fill your air fryer cinnamon roll bombs with different fillings, adjust the ingredients accordingly.
Refrigerated Canned Biscuits: I like to grab a good quality canned biscuit. I would NOT recommend the flaky biscuit brands for this recipe. I grabbed my canned biscuits from Trader Joe's, but I also really like Annie's canned biscuits or Pillsbury Grand Buttermilk.
Butter: Grab a good quality butter. It really makes the difference in flavor. I only buy Kerrygold butter now. It actually tastes like butter! And Walmart sells it for the cheapest price.
Brown Sugar: Use light brown sugar for this recipe.
Ground Cinnamon: I love buying my ground cinnamon in bulk at Costco. I go through it so quickly and it's good quality.
Granulated Sugar: Regular granulated sugar, nothing special. 
Vanilla Bean Paste: I know I talk about vanilla bean paste a lot, but it really is my favorite ingredient! If you don't know what vanilla bean paste is, it is basically a concentrated form of vanilla extract that has beautiful vanilla beans running through it. You use it exactly how you would use vanilla extract and you can substitute 1 for 1. If you don't have vanilla bean paste you can use vanilla extract instead.
Powdered Sugar: Nothing special about powdered sugar. We will be using it to make our glaze.
Milk: I like to use whole milk for our glaze. It gives the glaze a beautiful richness.
How To Make Air Fryer Cinnamon Rolls: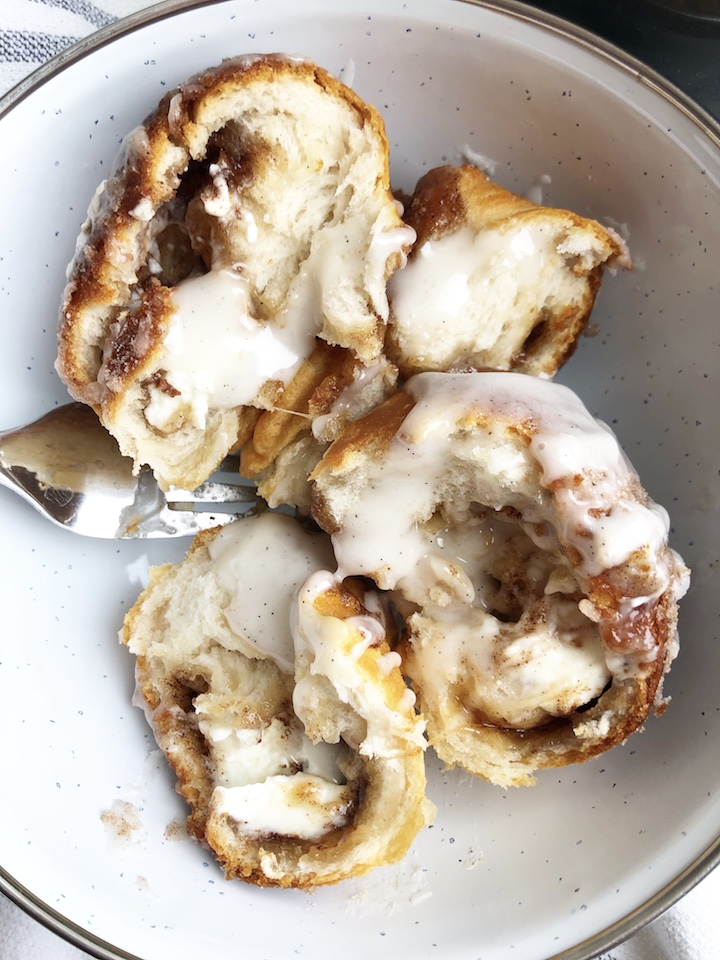 Yield:

Serves 8
Air Fryer Cinnamon Rolls Bombs
Gooey cinnamon rolls make in the air fryer! These little air fryer cinnamon rolls bombs have a little surprise inside.
Ingredients
6 tablespoons butter, softened
1/2 cup brown sugar
2 teaspoons ground cinnamon
1 can refrigerator canned biscuits
(optional) 8 teaspoons cream cheese
Topping:
1/4 cup butter, melted
1/4 cup cinnamon sugar
Vanilla Bean Glaze:
1 cup powdered sugar
1/2 teaspoon vanilla bean paste
2-3 teaspoons milk
Instructions
Combine the butter, brown sugar and cinnamon in a small bowl.
Remove the biscuits from the packaging and place them on a clean work surface.
Flatten the biscuits slightly and fill with 1 tablespoon of the cinnamon roll filling.
Top with 1 teaspoon cream cheese (optional).
Fold the dough to seal. Then form into a ball. Make sure the ball is completely sealed.
Place the dough balls into the air fryer on top of the crisper plate. Brush with melted butter.
Cook at 350 F on air fry mode for 6 minutes.
Remove the basket and then brush with more melted butter. Sprinkle with cinnamon sugar. Cook for another 6 minutes at 350 F on air fry.
Remove the cinnamon buns. Make the glaze by combining the powdered sugar, vanilla bean paste and milk.
Drizzle the glaze over the rolls.
Enjoy immediately.
Recommended Products
As an Amazon Associate and member of other affiliate programs, I earn from qualifying purchases.
Nutrition Information:
Yield:
8
Serving Size:
1
Amount Per Serving:
Calories:

290
Total Fat:

17g
Saturated Fat:

10g
Trans Fat:

1g
Unsaturated Fat:

6g
Cholesterol:

43mg
Sodium:

176mg
Carbohydrates:

35g
Fiber:

1g
Sugar:

30g
Protein:

1g
This post may contain affiliate links where I can earn a small commission. Thank you for supporting the blog and our family.