This is by far the best sourdough french toast you will find! You can use homemade sourdough bread or store bought. It's a great way to use up stale bread.
I have tested so many french toast recipes in my life time. This sourdough french toast recipe is honestly the best french toast I have ever had. I could literally eat this every day!
The sourdough slices of bread are soaked in a creamy egg mixture of vanilla and cinnamon. It's then cooked to perfection in melted butter. Finally it is topped with fresh whipped cream, maple syrup and fresh berries.
This recipe can be made with homemade sourdough bread or store bought sourdough bread. It's a great way to use up stale or day old bread as well. The stale bread can soak up even more of that flavorful custard so don't ever let stale bread go to waste.
If you do go the homemade sourdough route I love this recipe. And if you want to learn more about sourdough bread making check out this post. Or take the More Momma sourdough bread class in the More Momma Cooking School.
In the Sourdough Bread Class chef Eva covers everything from how to make your own starter, to all the common troubleshooting questions. Plus there are a ton of delicious sourdough recipes in the school as well. And she host a live Q and A every month if you need any help with your sourdough.
Whatever sourdough you choose to use, this french toast will be your new favorite breakfast of choice! Let's get into how to make this delicious sourdough french toast.
Bread For French Toast:
Sourdough bread works so well for this recipe because it is hearty enough to hold up to the soaking process and has a great existing flavor.
Many french toast recipes call for sweeter, lighter and more fluffy breads like brioche, or Hawaiian bread. I find that these breads become more soggy in the cooking process. Sourdough bread can hold it's structure and texture much better than these other bread options. And it's a healthier option too.
Homemade sourdough has so many great nutrients and gut boosting bacteria. It is also a great option for gluten intolerant people. Homemade sourdough uses the fermentation process, which can help to break down gluten in the bread and make it more easily digestible. 
French Toast Custard:
What makes this french toast extra special is the custard that we make for dipping. Normally a french toast custard would be made with sugar, vanilla, cinnamon, nutmeg, eggs, milk or heavy cream.
We make it a little different and use a secret ingredient- coffee creamer! It adds a rich, thick creaminess to the custard and is full of flavor already. I like to specifically use Calafia Farms Vanilla Creamer, but you can change up the brand and the flavors too. I prefer the Calafia because it is a healthier option and its super creamy.
Ingredients For Sourdough French Toast:
Sourdough Bread (homemade or store bought)
Eggs
Vanilla Coffee Creamer
Ground Cinnamon
Salt
Butter
Maple Syrup
Store Bought Whipped Cream or Heavy Cream, Powdered Sugar and Vanilla Extract if making homemade whipped cream
Flavor Variatons:
Change up the flavors of this french toast by using a different flavored coffee creamer. Or change up the toppings by using different flavored syrups like my coconut syrup or boysenberry syrup.
You can even get really creative and coat the exterior of your french toast in shredded coconut, frosted flakes or crushed macadamia nuts.
Lastly, use whatever fresh fruit you can find in season. Some fun seasonal fruits would be pineapple, mango, peaches or berries.
Can I Freeze French Toast?
French toast is the perfect freezer meal. You can make a large batch of this sourdough french toast and then freeze for a later use.
How To Freeze French Toast:
To freeze the french toast
Cook the french toast as the recipe directions state.
Then lay flat the pieces on a parchment lined baking dish in one single layer, leaving room in between each piece.
Flash freeze the french toast for 2 hours.
Finally, transfer the french toast to a ziplock baggie for a quick and easy breakfast.
How Do You Make Sourdough From Scratch?
First start off with good quality sourdough bread cut into thick slices.
Next make the custard by combining the eggs, vanilla coffee creamer and ground cinnamon. Whisk to combine.
Dip the bread slices completely into the custard on both sides.
Preheat a skillet over medium heat and melt the butter.
Cook the french toast for 2-3 minutes or until golden brown. Transfer the cooked french toast to a baking sheet and keep warm in a preheated oven at 250 F.
Continue cooking the remaining french toasts.
Top the cooked french toasts with maple syrup, whipped cream and fresh berries.
More Sourdough Breakfast Recipes:
Try out these other delicious sourdough recipes that are the perfect way to start your day. 
Sourdough Donuts With 4 Flavor Options
The Best Chocolate Sourdough Bread
Sourdough French Toast Recipe: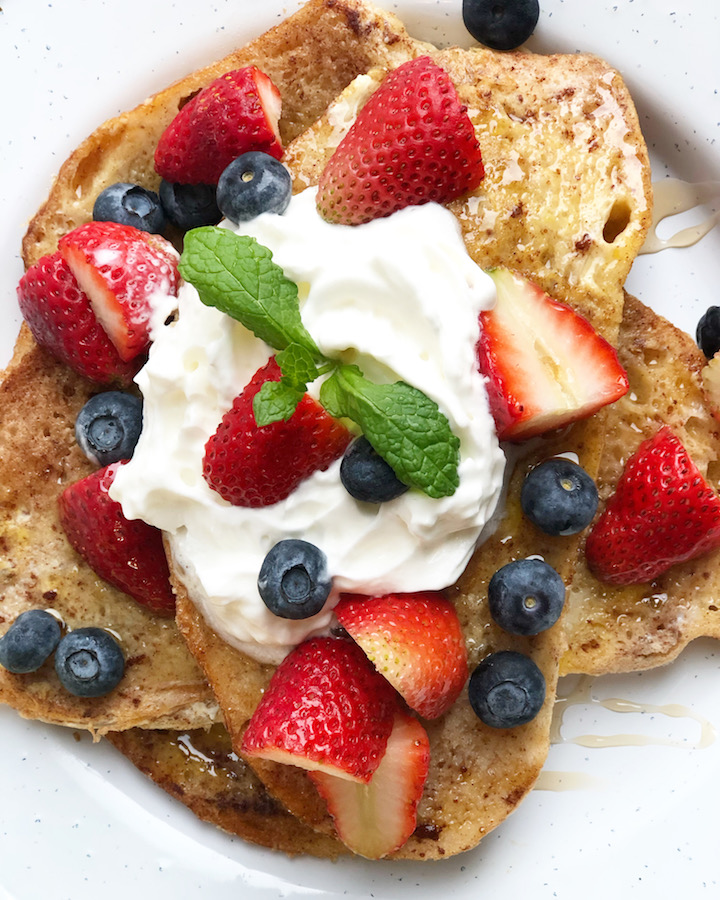 Yield:

Serves 4
Sourdough French Toast
The best french toast you will ever have!
Ingredients
2 eggs
1/2 cup vanilla coffee creamer (I like Calafia Farms)
1 teaspoon ground cinnamon
1/8 teaspoon salt
4 slices sourdough bread
1 tablespoon butter
To Top:
fresh berries
whipped cream
syrup
Instructions
Add 2 eggs to a plate.
Add the coffee creamer.
Add ground cinnamon.
Add the salt.
Stir everything to combine well.
Dip your sourdough bread into the egg mixture on both sides.
Melt the butter into a nonstick skillet heated over medium heat. Add the bread to the pan. Cook for 1-2 minutes per side.
Top with fresh berries, whipped cream and syrup.
Notes
Keep your french toast warm in a preheated 250 F oven on a baking sheet until you are ready to serve.