Crispy air fryer potato wedges get a flavor boost with this delicious garlic browned butter. These potato wedges are perfect for a quick and easy side dish or appetizer. 
Air Fryer potato wedges go well with just about anything! The air fryer is a great and healthier alternative to deep frying. And they create perfectly crisp potato wedges! 
We love our air fryer and have used it on repeat for the last month. If you need help with how to use this machine check out this post on how to use an air fryer.
And if you are a fan of it like we are check out these other air fryer vegetable recipes:
Easy, Crispy Air Fryer Broccoli
Easy Air Fryer Brussels Sprouts
What Potatoes To Use?
You want to use russet potatoes for this recipe. Russet potatoes are perfect for potato wedges because they are normally large enough to create wedges and can crisp up perfectly. These are also the preferred potatoes for french fries.
If you really can't find Russet potatoes you can also use Yukon gold potatoes.
How Do I Cut Wedges?
To cut the potatoes into wedges you will want to grab a clean cutting board.
Wash and dry the potatoes thoroughly and then cut the potatoes in half lengthwise.
Then place each half cut side down on the cutting board and cut in half lengthwise again at a 45 degree angle.
Take each half and cut in half lengthwise again at a 45 degree angle.
After you have cut the potatoes place in a bowl of water before the potatoes start oxidizing.
Oxidizing takes place when the potatoes are exposed to air for a period of time. It is not bag, it will just discolor your potatoes and make them turn brown. Although they aren't as pretty, they still taste great. So don't worry if you potatoes oxidize a little.
How To Make Potatoes Extra Crispy:
To make your potatoes extra crispy you can soak them in a large bowl of ice water for 10-15 minutes.
The water will remove some of the excess starch in the potatoes and can help them get even more crispy when cooked in the air fryer.
The trick is to soak them and then dry very well. It is very important to remove all excess moisture to ensure the potatoes fry instead of steam. Any excess water will result in steaming.
Seasoning Ideas:
These air fried potato wedges are a perfect blank canvas for herbs and spices. Here are some delicious ways to season these potato wedges. 
Simple: Salt and pepper, melted butter or olive oil
Truffle: Truffle salt, melted salted butter, Italian parsley
Chili Brown Sugar: Chili powder, brown sugar, melted butter
Chinese Five Spice: Chinese five spice, melted butter
Chili Lime: Chili powder, lime zest, coarse salt, olive oil
Parmesan Black Pepper: Grated parmesan cheese, smoked black pepper or cracked black pepper
Truffle Honey: Truffle honey drizzle, coarse salt
Herbs De Provence: Browned butter, herbs de Provence, coarse salt
Mesquite Bacon: Mesquite seasoning, crispy bacon, melted butter
Steakhouse: Paprika, garlic powder, salt, olive oil
Rosemary: Rosemary, garlic, coarse salt, olive oil
How to Make Browned Butter:
As you can tell these potato wedges are tossed in a delicious garlicky browned butter. Browned butter adds so much richness and a distinct toasty flavor to these potatoes.
Browned butter is notable for it's nutty, rich flavor. It is made by slowly toasting the milk solids in butter. You can make browned butter easily by melting a stick of butter over medium heat in a sauce pan.
The butter will start to sizzle and bubble. Once the butter has turned from a bright yellow to a golden brown color you can remove it from the stove. You want to be sure to toast the milk solids slowly to prevent burning.
How to Make These In The Oven:
Follow the recipe until you get to the cooking part. Instead of placing the potatoes into the air fryer basket place the potato wedges on a baking sheet.
Spread out evenly. Make sure they have plenty of room in between. You may need to use more than one baking sheet.
Toss with oil and salt and cook in a 450 degrees preheated oven for 25 minutes or until golden brown. Flip half way through.
What to Serve With Potato Wedges:
Copy Cat Chick-Fil-A Chicken Tenders With Sauce And NO Messy Dredging!
Cedar Plank Salmon In The Oven
How To Make Air Fryer Potato Wedges: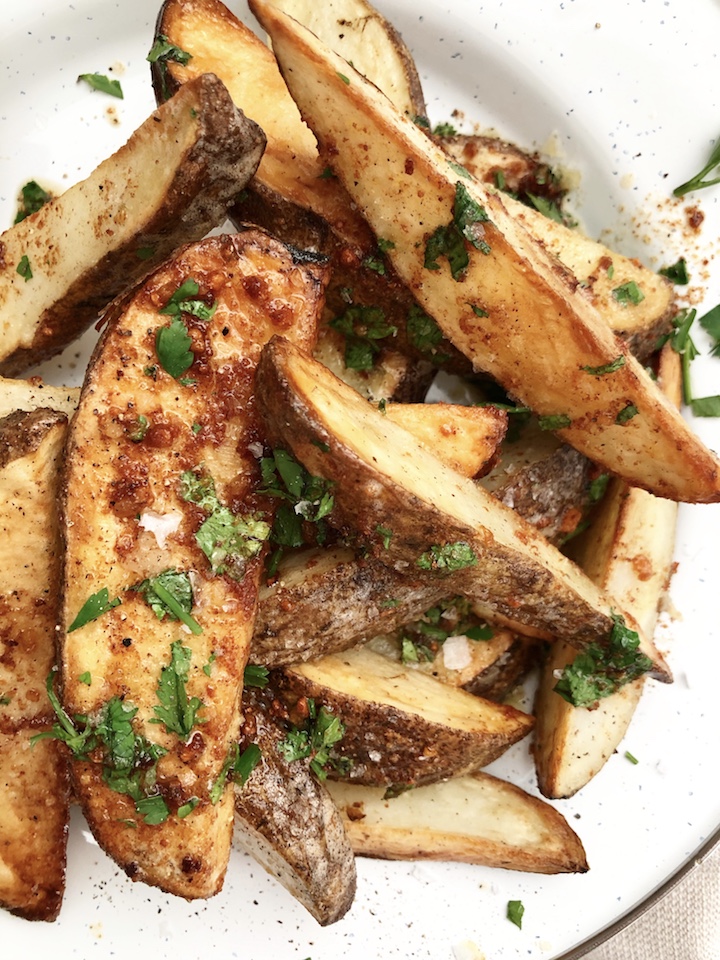 Yield:

Serves 5
Air Fryer Potato Wedges
Crispy potato wedges are made in the air fryer and tossed in a garlic browned butter. Perfect for game day or a side dish.
Ingredients
2 Russet potatoes
1 tablespoon olive oil
1/2 teaspoon kosher salt
6 tablespoons butter
2 cloves garlic, minced
1 tablespoon Italian parsley, roughly chopped
Maldon finishing salt or coarse salt
Instructions
Wash and dry the russet potatoes. Cut the potatoes into wedges.
soak the potatoes in ice water for 10 minutes.
Dry the potatoes completely and then place in a mixing bowl and drizzle with olive oil and sprinkle with Kosher salt. Toss to coat evenly.
Place the potato wedges into the air fryer basket with the crisper plate.
Turn on air fryer mode at 390 F and cook for 20 minutes.
Shake the basket half way through.
To make the garlic browned butter add the butter and garlic to a small saucepan.
Cook over medium heat until the butter turns golden brown. Remove from the heat.
Add half of the parsley to the butter and stir to combine.
Add the fried into the browned butter and gently toss. Being careful not to break the potatoes.
Sprinkle with remaining parsley and coarse Maldon salt. Serve immediately.
Recommended Products
As an Amazon Associate and member of other affiliate programs, I earn from qualifying purchases.
Nutrition Information:
Yield:
5
Serving Size:
1
Amount Per Serving:
Calories:

215
Total Fat:

17g
Saturated Fat:

9g
Trans Fat:

1g
Unsaturated Fat:

6g
Cholesterol:

37mg
Sodium:

564mg
Carbohydrates:

15g
Fiber:

2g
Sugar:

1g
Protein:

2g