This chocolate sourdough bread is a real winner! It's studded with gooey milk chocolate and is made with a homemade sourdough starter. 
Chocolate sourdough bread is full of delicious melted milk chocolate and rich dark chocolate cocoa powder. It is made with a sourdough starter and full of goodness! 
Back when I was in college down in San Diego, I used to eat at a bakery called Con Panne once a week. They made all their bread homemade and had the most delicious pastries. On the weekends they would make a chocolate bread that was to die for! 
They would import a special Belgian milk chocolate just for the bread. It was one of the best breads I have ever tasted! And you know when I am in love with something I have to re-create it so I can have it whenever I want. Especially since they are now closed indefinitely. 
So recipe testing began and that's when this chocolate sourdough bread was born! I have tested it a couple times with different variations of chocolate and this recipe is the winner. It's rich, decadent and full of delicious chocolate. It's not too sweet and can be used for some many different things. 
Sourdough Bread:
Homemade sourdough bread is made with a sourdough starter. It has great health benefits and is packed full of healthy prebiotics that are great for your gut. Because it is fermented, it has lower phytate levels which makes the bread more digestible than normal white or wheat breads.
If you are interested in learning more about sourdough check out the sourdough class in the More Momma Cooking School. Chef Eva goes through everything you need to know about sourdough including how to make your own starter, troubleshooting and delicious recipes.
If you love sourdough as much as I do check out some of these other delicious sourdough recipes:
Ingredients You Will Need:
Active Bubbly Starter: If you need help knowing how to feed your starter correctly check out this post. The starter should be bubbly and active. 
Bread Flour: Bread flour is important as it is higher in protein and helps the bread structure. I would stick with bread flour for this recipe to get the desired consistency.
Granulated Sugar: For a richer bread you can also use brown sugar.
Coconut Oil: Use a fractionated coconut oil or melt the coconut oil so that you are measuring it in liquid form. You can throw some coconut oil in the microwave for 10-20 seconds to melt if needed. 
Dark Cocoa Powder: I love the rich dark chocolate color. If you want a lighter loaf try a regular unsweetened cocoa powder. I am using Hershey's specialty dark cocoa powder. 
Instant Dry Milk: This is also a must in this recipe. You can't really substitute the powdered milk.
Good Quality Milk Chocolate Bar: You can also use dark chocolate for this recipe. I love Trader Joe's bulk chocolate. It melts beautifully and is great quality. I wouldn't recommend chocolate chips for this recipe as they can burn easily.
Salt: I love Redmonds Real Salt for cooking. It is packed with minerals and is a healthier option than table salt. 
Variations:
You can make many variations of this chocolate sourdough bread. Some of my favorites are:
chopped almonds
heath chips
peanut butter chips
What To Serve With Chocolate Sourdough Bread:
I love serving this deliciously decadent bread with simple toppings. Keep it simple with some melted peanut butter, chocolate shavings and coarse salt. Or you can make chocolate toasts by topping a slice with chocolate hazelnut spread, fresh cut strawberries and chopped hazelnuts.
You could use this sourdough chocolate bread for a panini too! Chocolate and cheese may sound like a weird combination, but it's fantastic with a good brie cheese or Monterey Jack.
Another great option is to use this for a kicked up peanut butter and jelly. Toast the chocolate bread and spread a good quality peanut butter and homemade strawberry or raspberry jelly on top.
This bread is amazing slathered in some butter and served with a cup of hot chocolate too! It's really delicious any way you decide to serve it. So don't be afraid to be creative and change it up.
How To Make Chocolate Sourdough Bread:
Make The Poolish The Night Before:
First start out by making the poolish. A poolish is a sourdough pre-ferment. It is also known as a mother dough.
In the sourdough class, this poolish can be morphed into 5 plus recipes. It's a great way to extend the life of your dough. 
After the poolish has been fermenting for 8-12 hours (usually overnight) it is time to finish the chocolate sourdough.
Finish The Dough The Next Morning:
Add the poolish to a stand mixer bowl fitted with a dough hook. Then add the salt, powdered milk, cocoa powder, coconut oil, bread flour and knead the dough for 5 minutes.
Lastly knead in the chocolate and form the dough ball. Place seam side down in a bowl.
Let it Rise:
Let the dough rise for 2 hours in a warm, draft free place at room temperature.
Stretch and Fold:
Place the dough on a clean work surface and perform a stretch and fold every quarter turn. Lifting the dough over itself each time. 
Second Rise:
Place the dough on a piece of parchment paper. Let the dough rise for 30 minutes while you preheat the oven and your dutch oven.
Score and Cook:
Score the top of the dough with a sharp knife. Carefully place the dough (with the parchment paper) in the dutch oven and bake covered for 30 minutes. Then cook for an additional 15 minutes uncovered.
Let the bread cool for at least 30 minutes before cutting into it. It will continue to cook as it cools.
Chocolate Sourdough Bread Recipe: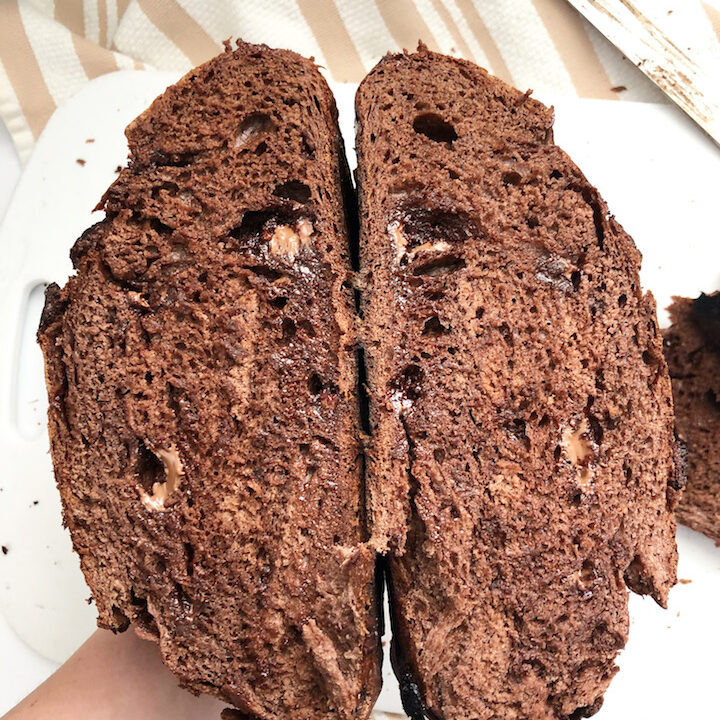 Chocolate Sourdough Bread
Additional Time:
30 minutes
Total Time:
9 hours
15 minutes
The best sourdough chocolate bread that is studded with melted chocolate and not too sweet!
Ingredients
The Night Before:
1/2 cup bubbly active sourdough starter
1 1/2 cup water
2 cups bread flour
1/4 cup granulated sugar
The Morning Of:
2 tablespoons coconut oil
3 tablespoons dark cocoa powder
1/4 cup powdered milk
4 ounces milk chocolate, cut into small chunks
1 1/2 cups bread flour
Instructions
Make the poolish by adding the sourdough starter, water, bread flour and sugar. Let sit out overnight for 8-12 hours.
The next morning add the poolish to a stand mixer.
Add the coconut oil, dark cocoa powder and powdered milk.
Cut the milk chocolate into small chunks.
Add the flour in batches while the mixer is on low speed.
Add the remaining flour.
Knead on low for 3 minutes. Then add the chocolate and mix to combine.
Dust your hands with flour and remove the bread dough from the mixer. Form a dough ball. Cover with a towel and let rise for 2 hours.
When the dough is ready it should spring back when you stick your finger in it.
Remove the dough to a piece of parchment paper. Stretch and fold four times and place the seam side down. Let rise for 30 min while the oven and dutch oven preheats to 400 F. (make sure the rack is in the middle of the oven)
Score the loaf with a sharp knife.
Place the bread into the preheated dutch oven on the parchment paper. Cover with the lid and cook for 30 minutes. Remove the lid and cook for an additional 15 minutes.
Remove from the oven and let cool for 30 minutes.
Slice and serve.
Recommended Products
As an Amazon Associate and member of other affiliate programs, I earn from qualifying purchases.
Nutrition Information:
Yield:

10
Serving Size:

1
Amount Per Serving:
Calories:

311
Total Fat:

7g
Saturated Fat:

4g
Trans Fat:

0g
Unsaturated Fat:

2g
Cholesterol:

3mg
Sodium:

20mg
Carbohydrates:

53g
Fiber:

2g
Sugar:

12g
Protein:

8g