I had my first pitaya bowl 5 years ago at a Banzai bowl restaurant in Newport Beach. I normally get an acai bowl, but I was so mesmerized by pitaya's beautiful pink color that I just had to try it. And let me tell you I fell in love with this delicious and healthy bowl right away.
Pitaya bowls are a refreshing way to pack in some healthy antioxidants. You don't feel heavy or bloated after eating the whole bowl!
It's the perfect breakfast, lunch or even snack in my book! Especially when you are trying to eat gluten free and dairy free.
These bowls can be adjusted for almost any food allergy. And you can pack them with superfoods to give you an extra immune boost.
The best part about these pitaya bowls is they are perfect for meal prepping. You can make them into smoothie packs just like my DIY Daily Harvest Smoothie Packs. That way you can have dragon fruit smoothie bowls in a matter of minutes.
What is Pitaya?
Pink pitaya is the tropical fruit from the cactus plant. There are many varieties of this delicious fruit.
Some may know this fruit by the name "dragon fruit". This fruit is nutrient dense and is a good source of fiber, iron and magnesium. And it is a good source of antioxidants which can reduce the risk of chronic diseases.
It is also a low calorie and low carb tropical fruit. This makes it a great fruit to use for healthy tropical smoothie bowls like the one we are making today or the additional 5 variations!
What is Pitaya Bowl?
A pitaya bowl is a fruit smoothie that is made into a thicker consistency.
It is served in a bowl as opposed to a cup and typically topped with fresh fruit, granola, coconut and honey. However you can top pitaya bowls with a variety of toppings.
Some of my favorites are nut butters, bee pollen, or cacao nibs.
What is Pitaya Bowl Made Of?
Pitaya bowls can be made with many different frozen fruits, liquid and any add ins you like.
The main ingredients are frozen pitaya and usually a combination of other fruits like frozen mango, pineapple or banana.
Typically pitaya bowls have some form of liquid like coconut milk, coconut water or a fruit juice to add sweetness.
With the help of the grocery store you can now buy pitaya smoothie packets and makes a pitaya bowl in a matter of minutes.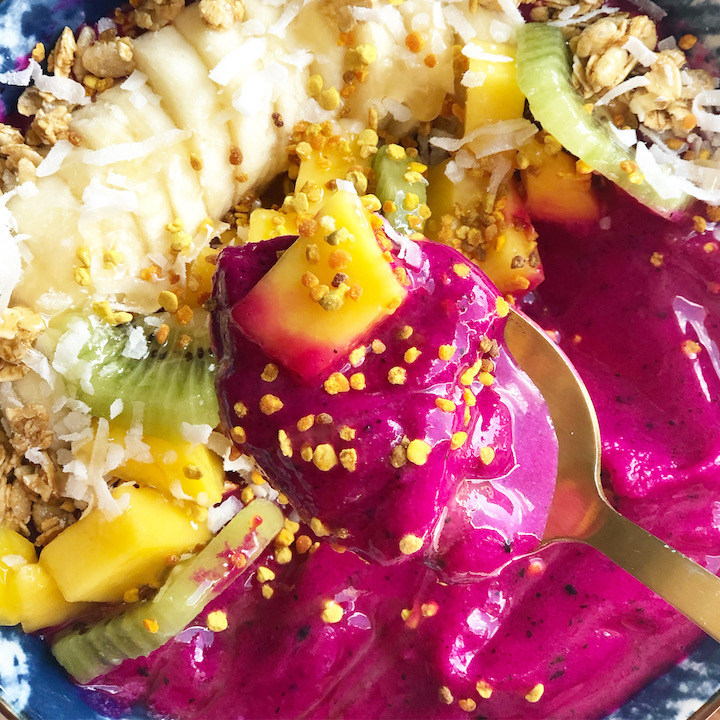 5 Flavor Variations:
Here are five delicious variations for pitya bowls. Make sure to use frozen fruit to get the right consistency.
And don't be afraid to add some extra protein from protein powder or superfoods like spinach or kale.
Classic:
Blend: apple juice, pitaya, banana, strawberries
Top: granola, bananas, honey
Superfoods:
Blend: pomegranate juice, pitaya, banana, blueberries, spinach
Top: granola, bananas, strawberries, kiwi, honey
Island Fever:
Blend: coconut milk, pineapple juice, pitaya, banana, mango
Top: granola, bananas, strawberries, pineapple, mango, honey
Cocoa Butter:
Blend: chocolate almond milk, pitaya, bananas, strawberries, almond butter
Top: granola, bananas, cocoa nibs, honey
Tropical:
Blend: guava juice, pitaya, pineapple, chia seeds
Top: granola, mango, kiwi, honey
What is better for you Acai or Pitaya?
Here are the basic nutrition facts of both acai and pitaya. Acai is a little darker and more of a rich purple color, while pitaya is a bright pink color.
They are very similar in health benefits and are both a great way to add antioxidants into your diet.
It is really up to the individual with what your health goals are or what your individual needs are.
Basic Nutritional Breakdown:
Acai
Calories: 70 kcal
Protein: 1.75 g
Total Fat: 5.2 6g
Saturated Fat: 0.88 g
Carbs: 5.26 g
Fiber: 5.3 g
Sugars: 0 g
Pitaya (dragon fruit)
Calories: 60
Protein: 1.2 g
Total Fat: 1.5 g
Saturated Fat: 0 g
Carbs: 13 g
Fiber: 2.9 g
Sugars: 7.7 g
Ingredients You Will Need:
To Blend:
These ingredients will be what you add to the blender to create your bowl.
A high powered blender works best for pitaya bowls. That way you won't have to use as much liquid to blend all the frozen ingredients together. I use my Vitamix and it works great.
Frozen Pitaya: You can get this in most major grocery stores. I buy the frozen pitaya or pitaya smoothie packets (much like acai packets) and use those interchangeably. Use whatever you can find.
Frozen Bananas: These add a great creaminess to the bowl.
Orange Juice: I love the tanginess that orange juice adds to the bowl. Apple juice or pineapple juice also work great for this recipe.
To Top:
This is where you can get your creative juices flowing and create a beautiful vibrant dish. I love to add a variety of colors and textures to my bowl. In my opinion this is where you can have the most fun!
Mango: One of my favorite toppings on any acai or pitaya bowl is the mango! It adds a sweetness and beautiful color to your bowl.
Bananas: The texture of the fresh bananas work so well with the frozen fruit. They also have a fair amount of fiber and antioxidants.
Kiwi: I love how the kiwi adds a beautiful pop of green.
Bee Pollen: Bee pollen is another superfood! it can help with inflammation, reduce stress, works as an antioxidant and can boost your immune system. Everyone wants that right about now!
Honey: Try a manuka honey for an extra health boost. Manuka honey has so many great health benefits.
Granola: I love granola on my bowls because it gives great texture and crunch. I try to use a low sugar granola since the fruit is already pretty sweet.
Shredded Coconut: You can use sweetened, unsweetened, shredded or shaved coconut.
How to Make a Pitaya Bowl At Home:
Print this recipe for all the different pitaya bowl variations! This recipe is so simple. Here are the easy steps to make any variation of a dragon fruit pitaya bowl at home.
Add your frozen fruit, liquid and additional add ins into a high power blender. I use my vitamix blender.
Blend until smooth. The mixture should be very thick for a bowl consistency. If you want more of a smoothie like consistency you can thin the mixture out with more liquid as needed.
Place your pitaya mixture into a bowl.
Top with a variety of different toppings. I like to add a variety of vibrant colored fruits, shredded coconut flakes, granola, honey and bee pollen. But use whatever you would like.
How to Make Pitaya Bowl Smoothie Packs:
Take this dish to the next level by meal prepping the ingredients. It makes for the perfect breakfast or snack on the go.
I like to keep it simple and store the measured ingredients straight in regular sandwich bags.
Add 2 pitaya packets and 1/2 cup frozen bananas to a sandwich bag and place in the freezer. Then when you are ready to make the bowl add the contents into the blender with 1/2 cup orange juice. After you blend top with toppings.
You could also freeze the fruit and juice into soupercubes. You will need to thaw this for about 30 minutes before blending. I pull one out when I wake up and then make my bowl after I take a shower.
Pitaya Bowl At Home: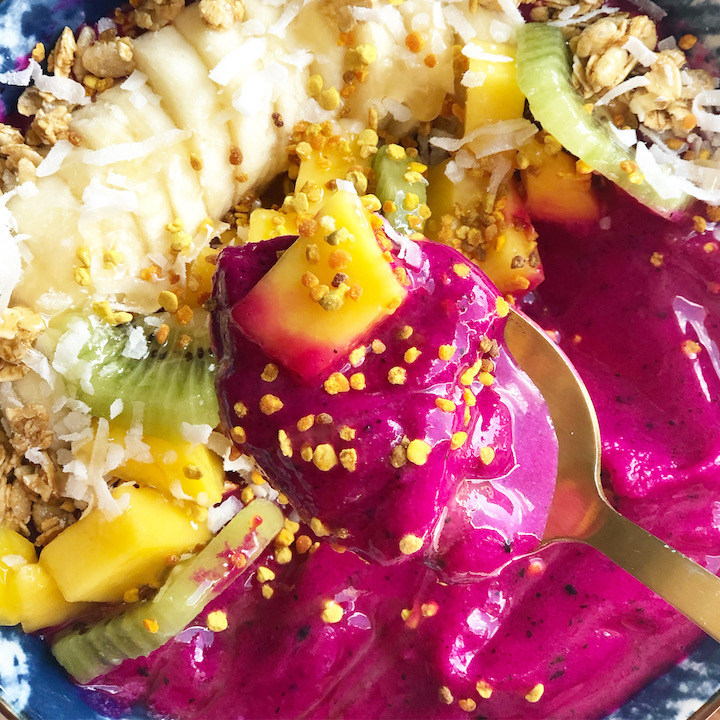 Yield:

2 servings
Pitaya Bowl (Five Different Varieties)
Make your own delicious and refreshing pitaya bowls in the comfort of your own home!
Ingredients
2 pitaya smoothie packets or 1 cup frozen pitaya or dragon fruit
1 frozen banana
1/2 cup orange juice
To Top:
1/2 banana, sliced
1/4 cup granola
1 tablespoon shredded coconut
1 kiwi, sliced
1/4 cup mango, diced
1 teaspoon bee pollen
1 teaspoon honey
Instructions
Place the pitaya, bananas and orange juice into a blender and blend until smooth.
Top with toppings and enjoy immediately.
Notes
I have found pitaya smoothie packets at Sprouts, Costco and At Major Grocery stores

Here are the variations for this recipe. Stick with 2 packets pitaya, 1/2 cup liquid and 1 cup frozen fruit.
Classic:
Blend: apple juice, pitaya, banana, strawberries
Top: granola, bananas, honey
Superfoods:
Blend: pomegranate juice, pitaya, banana, blueberries, spinach
Top: granola, bananas, strawberries, kiwi, honey
Island Fever:
Blend: coconut milk, pineapple juice, pitaya, banana, mango
Top: granola, bananas, strawberries, pineapple, mango, honey
Cocoa Butter:
Blend: chocolate almond milk, pitaya, bananas, strawberries, almond butter
Top: granola, bananas, cocoa nibs, honey
Tropical:
Blend: guava juice, pitaya, pineapple, chia seeds
Top: granola, mango, kiwi, honey
Nutrition Information:
Yield:
2
Serving Size:
1
Amount Per Serving:
Calories:

445
Total Fat:

7g
Saturated Fat:

2g
Trans Fat:

0g
Unsaturated Fat:

4g
Cholesterol:

2mg
Sodium:

58mg
Carbohydrates:

95g
Fiber:

13g
Sugar:

59g
Protein:

9g