Homemade churros are easier to make than you might think. Made with a few pantry ingredients, you can prepare these in no time!
Churros are such a fun, fried treat that most of us associate with the Disney themed parks, state or county fairs, and even street vendors. Best when served fresh, they taste so heavenly.
In the back of my mind has been this great idea to make homemade churros. Well, I never let great ideas sit too long, so I tested it out and made a homemade churros and turned it into a homemade churro bar.
Yes, yes, yes!
A homemade churro bar at home turned out to be the best idea this week! It made us so happy! My kids loved rolling their churros in the different sugar mixtures, and I didn't mind the mess, *too much*!
What's the Difference Between Spanish Churros and Mexican Churros??
Spanish churros? Mexican churros? Isn't a churro a churro?
In my eyes, yes! But without getting into the nitty gritty details, Spanish churros and Mexican churros actually differ ever so slightly. Their differences: what they're coated in and how they're served.
Spanish churros are coated in sugar and served with a thick dipping chocolate.
Mexican churros are coated in a cinnamon sugar mixture and can be served with chocolate, caramel, whipped cream, or eaten plain.
Can I Make My Churros Into Shapes?
Wouldn't it be fun to make a swirled churro!
While I totally agree that it would, that generally requires quickly freezing the dough before frying so the shape holds. When that happens, I have found that the texture of the cooked churro just isn't quite right. The best way to explain it is that it isn't as flaky.
With that being said, I recommend not taking the extra time to shape the dough. Since churros are best when eaten fresh, just squeeze the dough directly into the hot oil for the best texture.
If you want to freeze the churros to enjoy later, it is best to freeze after they've cooked and cooled. Lay the churros on a parchment-lined baking sheet and freeze until frozen. From there, they can be stored in a freezer-safe bag or container until you're ready to eat. Warm in a 400°F oven for 10 minutes, or until warmed through.
Let's Get Started!
Friends, there's no need to wait for the next fair season to enjoy a warm churro. That's right, you can easily make these in the comfort of your home in very little time. I'll show you what you need.
Homemade Churro Ingredients:
Oil (for frying: vegetable oil, canola oil, or corn oil)

Flour

Salt

Butter

Water

Eggs

Sugar and Cinnamon
Don't forget to have your topping ready. Churros are often rolled in cinnamon sugar, but one of my favorites is strawberry sugar, which complements the filling in this churro.
How to create a churro bar set up:
Churro bars are fun to make for a crowd or a small gathering. All you need is a toaster oven, some churros and a variety of topping ideas. Check out these ideas below. Let your guests heat their own churros in the toaster oven. I like to have little brown bags so they can spoon a couple of tablespoons of their desired sugar into the bag and toss their hot churro to coat. They can even eat the churros straight from the paper bag.
More Churro Toppings Ideas:
S'more Churro

— Roll the chocolate-filled churro in finely crushed graham crackers and dip in a marshmallow dip.
Mexican Churro — Roll the churro in salted cocoa and dip in a chile pepper-infused Mexican chocolate dipping sauce.

Lemon

— Roll a vanilla-filled churro in a lemon zest sugar.

Drizzle

— With dark chocolate ganache, dulce de leche drizzle, oreo crumbs, or butterfinger crumbs.

Vanilla

Sugar — Roll in sugar made from 1 cup sugar + 1 vanilla bean (placed in sugar).
Coffee Sugar — Roll in sugar made from 1 cup sugar + 1 teaspoon crushed instant coffee granules (or coffee alternative such as Pero or Crio Bru. Crush the granules into powder before mixing.).
Chile Lime Sugar — Roll in sugar made from 1 cup sugar + ¼ teaspoon cayenne pepper + ¼ teaspoon chile powder + 1 tablespoon fresh lime zest.
How to Make Them at Home: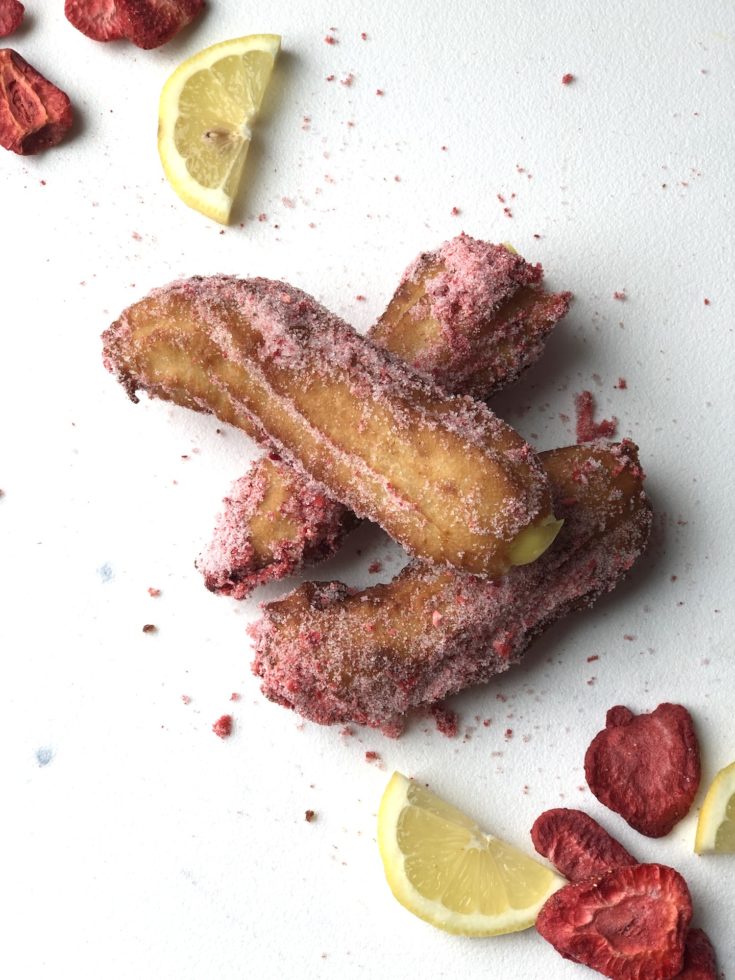 Yield:

Serves 8
Strawberry Lemonade Churros
Take the traditional churro and turn it into something new with this strawberry lemonade churro. This recipe is adapted from Disneyland's churro recipe.
Ingredients
1 cup water
8 tablespoons butter
1/4 teaspoon salt
1 1/4 cups all purpose flour
3 eggs
2 cups vegetable oil
1 cup granulated sugar
1/2 cup freeze dried strawberries, blended in a food processor until fine
1 packet lemon pudding mix
1 cup cold milk
Instructions
Combine the water, butter and salt into a saucepan over medium heat. Bring the liquid to a boil. Reduce to low.
Add the flour and stir vigorously until it forms a ball.
Remove from the heat and let it rest for 5 minutes.
Add eggs one at a time and stir until combined.
Heat the oil in a small saucepan over medium heat.
Prepare the sugar mixture and set aside.
Prepare the pudding mix by adding 1 cup of cold mix and whisk until thicken. Place in a piping bag fitted with a small tip and set aside.
Place the dough into a piping bag fitted with a large star tip. Pipe a 4 inch strip of dough over the saucepan and cut with a knife into the hot oil. Repeat to fry two churros at a time.
Cook the churros until golden brown. Remove with a slotted spoon and drain slightly on a paper towel.
Toss into the strawberry sugar mixture until coated. Place the pudding bag tip into the end of the churro and fill with pudding.
Recommended Products
As an Amazon Associate and member of other affiliate programs, I earn from qualifying purchases.