This is not your everyday chicken salad sandwich! Hints of smokiness with a touch of heat from chipotle peppers make this a perfect croissant chicken salad sandwich. You can also serve on bread, with crackers, or on a bed of lettuce!
Today I'm sharing my favorite croissant chicken salad sandwich with you and I know you're going to love it! I love chicken salad sandwiches. I make them every which way including a Cranberry Chicken Salad Sandwich which is a great Fall recipe and a great way to use up leftovers from Thanksgiving.
Chicken salad is one of my go-to recipes when hosting get-togethers, luncheons, or various showers. It is so easy to prepare, can be made ahead of time, and can be served in croissants, on a lovely bed of lettuce, or even as a dip with pita crackers.
This chicken salad takes your basic salad recipe, but adds more depth to it because of the chipotle peppers in adobo sauce. And it's healthier than a traditional recipe. This chicken salad made with Greek yogurt tastes just like a traditional recipe but is half the fat.
What are chipotle peppers in adobo sauce?
The answer might surprise you! They're actually smoked and dried red jalapeños that are rehydrated and then canned in an tangy sauce made from puréed tomatoes, vinegar, garlic and other spices.
The heat can be intense and the smokiness amazingly unreal. Bon Appétit gave the great suggestion to freeze leftover chipotles for future use. I love this recommendation because I generally do not use an entire can of chipotle peppers within several days.
What is a good substitute for chipotle peppers in adobo sauce?
Mix the following ingredients together and adjust the proportions to fit your desired spiciness and flavor desires.
1 tablespoon tomato paste

1 tablespoon cider vinegar

1 teaspoon chipotle powder (or a smoked paprika/cayenne powder mix)

½ teaspoon cumin

a pinch of oregano

a pinch of garlic powder

a pinch of salt
H
ow to make a chipotle croissant chicken salad sandwich:
First, get your dressing put together in a medium-sized bowl. I like to mix the dressing in the bowl before adding the chicken, to ensure all the dressing ingredients are well-incorporated.
This is the fun part because you determine how spicy you want your chicken salad to be. If you add a chopped pepper, expect the heat to be more intense. If you prefer a mild flavor, then simply use the sauce.
Next, add the chicken. Rotisserie, canned, baked, broiled, or grilled, it doesn't matter. Use what tastes good to you and what's easiest. I prefer using a rotisserie because it makes this recipe so easy to make. No need to season or cook the chicken; I just shred or chop the chicken into bite-size pieces.
Then, mix the chicken with the dressing. Add some chopped green onions and corn to the mixture.
If you're eating it on a croissant, then turn the oven to broil while you fill the croissants with the chicken salad and top it with tomatoes, cheese, green onion, cilantro…whatever toppings you like. I love to eat it all the way. In my book, the more toppings the better!
If this is to be served on a bed of lettuce, then place a scoop of chicken salad on some lettuce and add the toppings.
Eating it as a dip? I like to finely chop the tomatoes and green onion, and then mix those, along with the cheese into the chicken salad. This way each bite is chock full of all the yummy flavors.
Know someone who loves spice? Add some more chipotle peppers to their serving or in a separate bowl just for them!
Make this a meal with a fresh fruit salad and a cup of Watermelon Agua Fresca or a Frozen Dirty Dr Pepper.
Enjoy!
Croissant chicken salad sandwich recipe: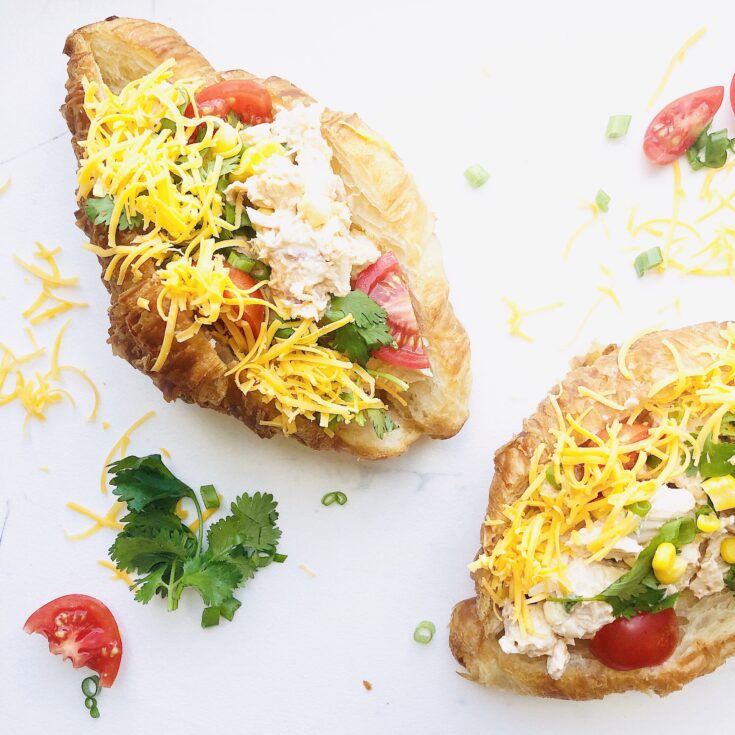 Yield:

Serves 4
Chipotle Chicken Salad Croissant Sandwich
Hints of smokiness with a touch of heat from chipotle peppers make this a perfect croissant chicken salad sandwich!
Ingredients
Chipotle Chicken Mixture
4 Cups Rotisserie Chicken, Cubed
¼ Cup Mayonnaise
½ Cup Plain Greek Yogurt
2 Teaspoons Sauce from Chipotle Peppers in Adobo Sauce (you can add some diced chipotle peppers if you want it spicier)
¼ Cup Frozen Corn, Thawed
¼ Cup Green Onions, Chopped
1 Teaspoon Real Salt
Sandwiches
4-8 Large Croissants
Cheddar Cheese, Shredded
Tomato, Diced
Cilantro, Torn
Green Onion, Chopped
Extra Chipotle Peppers in Adobo Sauce, if Desired
Instructions
Turn on broiler to low.
Place all of the ingredients for the chipotle chicken salad mixture into a medium-sized mixing bowl and mix to combine (great job for kids).
Place the croissants under the broiler for 1 minute to warm. Remove and fill the croissants with the chicken mixture.
Top with cheese, tomato, cilantro, green onion, and extra chipotle sauce, if desired.
Notes
Recipe includes enough chicken mixture to use on top of a salad or in a quesadilla for tomorrow's lunch.
Recommended Products
As an Amazon Associate and member of other affiliate programs, I earn from qualifying purchases.