Frozen Dirty Dr Pepper is a perfect blend of everything you love about the classic drink mixed with tropical flavors, and frozen to a slushy consistency. Easily described in one word: delightful! I'm confident you'll agree!
Dr Pepper is probably my favorite soda beverage. It's a classic drink known to be concocted from 23 different flavors, and they magically work together to create an epic experience!
Yes, I fully believe drinking Dr Pepper is an experience, and one in which everyone should partake!
I just love the history of Dr Pepper. Back in the 1880s, a super genius pharmacist, Dr. Charles Alderton, wanted to create a drink for his customers at the soda fountain that had the taste of the syrupy medicines for a reason no other than he really liked the smell.
As with any new recipe, there was some trial and error, but Dr. Alderton was able to settle on a taste he enjoyed. And the rest is history — Dr Pepper was born, and I can blame him for my *unhealthy* addiction!
Over the years, Dr Pepper has developed additional flavors, including Dr Pepper Cherry, Dr Pepper Cherry Vanilla, and my latest crush, Diet Dr Pepper Cream Soda.
So whether you're sipping on a cold bottle of Dr Pepper, using it in a cake recipe, or making a Dr Pepper float (Dr Pepper + ice cream = a treat you must try!), you really can't go wrong with any of the Dr Pepper flavors.
Lately I've really been craving a frozen dirty Dr Pepper. They are so good and take me back to my days of stopping at 7-Eleven for a Dr Pepper slurpee on the way to the beach!
What is a dirty soda?
That's a fair question to ask me, especially considering the fact that I don't consume alcohol.
The dirty soda that I'm referring to is made from soda + coconut syrup + lime slices + zero alcohol. It's so easy and the combination is absolutely wonderful.
How to make a dirty Dr Pepper:
Following the combination listed above, you mix Dr Pepper with a pump or two of coconut syrup and add some lime slices!
I could literally drink a dirty soda every day. However, my favorite way to cool off in the summer is with a frozen dirty Dr Pepper.
What syrup is used in a dirty Dr Pepper?
Coconut syrup is the secret ingredient that makes this 5-star drink a double 5-star drink! You really can't skip this ingredient, but if you don't have it in your pantry, you can this with any other flavored syrup.
I really can't explain the hows and whys of using coconut syrup. So, trust me when I say you need to buy a bottle or two (this frozen drink is that good!).
What goes with frozen dirty Dr Pepper?
Everything, of course! But here are some recommendations of my favorite foods to serve along this frozen drink.
How to make a frozen dirty Dr Pepper: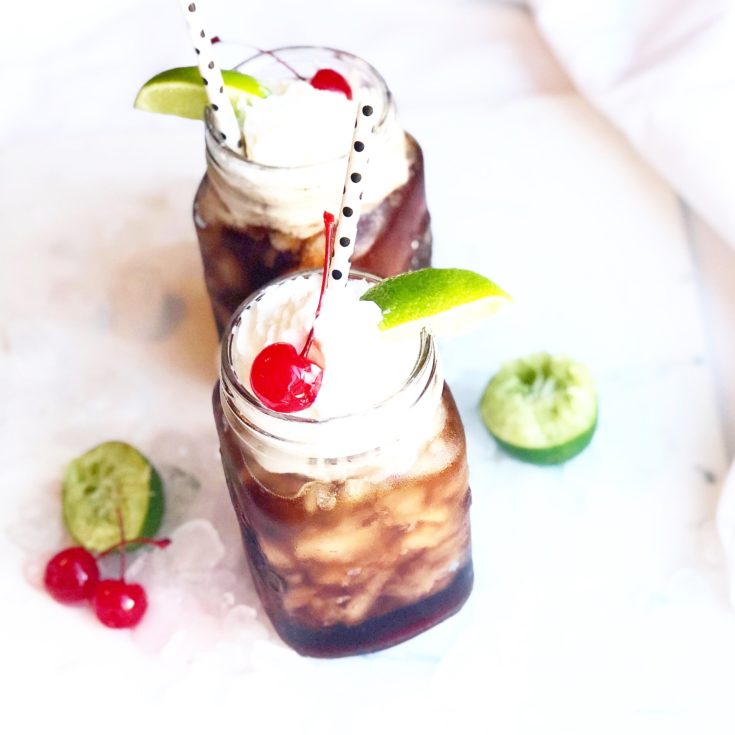 Yield: Serves 1
Frozen Dirty Dr Pepper
Prep Time: 10 minutes

Total Time: 10 minutes

This dirty Dr Pepper is flavored with coconut syrup and a squeeze of lime and frozen to make a slushy.
Ingredients
1 Can Dr Pepper
2 Pumps Coconut Syrup
Squeeze of Lime
Whipped Cream
Maraschino Cherry
Instructions
Place the Dr Pepper and coconut syrup into a bowl and mix together.
Pour the liquid into an ice cream maker (make sure your insert has been frozen for at least 24 hours) and turn on. Churn for 10 minutes or until the liquid has become a slushy-like consistency.
Place desired amount of slushy in a glass and top with some fresh lime juice.
Top the drink with whipped cream and a cherry, if desired.
Notes
Try mixing it up with different Torani syrup and Dr Pepper flavors.
Recommended Products
As an Amazon Associate and member of other affiliate programs, I earn from qualifying purchases.