These easy air fryer tortilla chips are salty, crisp, and crunchy and are the perfect snack or appetizer. Dip them in homemade salsa or guacamole and you got a perfect side dish. 
We are fully embracing the air fryer in our home. I love how convenient it is to make quick and easy meals.
The most requested recipe from my husband are these air fryer tortilla chips. They come out perfectly crunchy and crispy and we devour them in a matter of minutes. We now prefer these tortilla chips to store bought.
The best part about these tortilla chips is you can make them your own by adding different seasoning to them. You can even make a sweet version to serve with fresh chopped fruit or caramel dipping sauce. Or make a spicy version to go with your favorite salsa.
If you are thinking about getting an air fryer I would highly recommend it. You really can cook just about anything with this machine. Not to mention it cooks the food with a perfectly crisp exterior, while still maintaining a moist interior. I love that I can create crunchy, crispy food without deep frying.
The air fryer is basically just a mini convection oven. Air fryers use hot circulating air to cook the food quickly. If you need help with the air fryer check out this post on how to use an air fryer. I include common cooking times and my air fryer recommendations there. 

Air Fryer Favorites:
If you are looking for some other air fryer favorites, check these out. We love whipping this machine out to make a quick and healthy dinner or side dish. Check out our favorite air fryer main dishes if you need some inspiration. 
Korean Air Fryer Fried Chicken Sandwich
Frozen Chicken Wings In Air Fryer (Korean Style)
Air Fryer Chicken Legs- Drumsticks
Ingredients You Will Need:
This recipe only requires a few simple ingredients. Only three ingredients to be exact! Here is what you will need to make this recipe.
Corn tortilla chips
Cooking spray or olive oil
Kosher salt
Seasoning Options:
If you want to make these tortilla chips a little more gourmet try out these delicious seasoning options. You can even create a tortilla chip station so your family or guests can create their own flavored tortilla chips.
Make sure to add the seasoning after spraying with cooking spray or brushing with the olive oil. This will ensure the seasoning sticks to the exterior of the chips.
Here are some of our favorite seasoning options.
Chili Lime: Chili powder, garlic salt, lime zest, coarse salt
Cinnamon Sugar: Cinnamon, sugar
Seasoned: Seasoned Salt
Zesty Ranch: Packet of dry zesty ranch mix
Chili Brown Sugar: Chili powder, brown sugar, coarse salt
How To Store Tortilla Chips:
I store my cooked tortilla chips in a brown paper bag. This is my preferred method. You can also store them in an air tight container if needed.
How Long Will Air Fryer Tortilla Chips Last?
The air fryer tortilla chips will last a couple days stored properly and held at room temperature. This recipe is so easy that you can make them as needed. They probably won't last more than a day.
Can I Use Flour Tortillas?
You can definitely use flour tortillas for this recipe. Just follow the recipe but use flour tortillas instead of corn.
My Chips Fly All Over The Air Fryer Basket:
This is a common problem with items that are very light in weight. Because the air fryer uses hot, circulating air the food can fly over the basket. This can yield in uneven cooking.
To fix this problem simply place a wire rack on top of the food. This add some weight and hold the food in place. 
What to Serve With Air Fryer Tortilla Chips:
I love serving these homemade tortilla chips with a delicious dip like queso fundido or a fresh homemade salsa. We also serve these as a side for our Mexican night. They go perfectly with Easy Baked Creamy Chicken Taquitos, and Easy Instant Pot Pork Carnitas.
How To Make Air Fryer Tortilla Chips:
Cut each tortilla into triangles. To be more efficient, stake 5 or 6 tortillas on top of each other and then cut into triangles.
Spray the tortilla triangles with cooking spray or brush with olive oil.
Season with salt.
Place the triangles in one single layer into the air fryer basket. Do not overcrowd the basket.
Top the triangles with a wire rack. This is an important step to ensure the air fried tortilla chips cook evenly. If you don't do this step they will fly around the basket.
Cook for 6-7 minutes depending on how crispy you like them.
Air Fryer Tortilla Chip Recipe: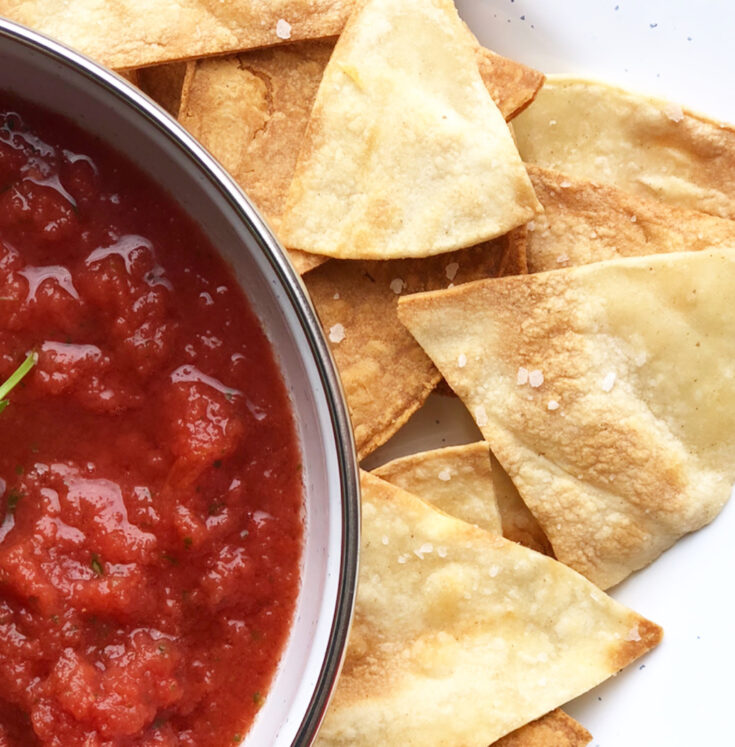 Yield:

Serves 4
Crunchy Air Fryer Tortilla Chips
Perfectly crispy and crunchy tortilla chips can be made with half the fat in the air fryer.
Ingredients
5 corn tortillas
cooking spray
kosher salt
Instructions
Stack the tortillas on top of each other and cut into triangles. Spray with cooking spray on both sides.
Season with salt.
Place the tortilla chips on top of the crisper plate. Then top with a wire rack. This is important to cook evenly.
Cook at 390 F for 6 minutes.
Take the rack off.
Serve with salsa.
Recommended Products
As an Amazon Associate and member of other affiliate programs, I earn from qualifying purchases.
Nutrition Information:
Yield:
4
Serving Size:
1
Amount Per Serving:
Calories:

66
Total Fat:

1g
Saturated Fat:

0g
Trans Fat:

0g
Unsaturated Fat:

1g
Cholesterol:

0mg
Sodium:

159mg
Carbohydrates:

13g
Fiber:

2g
Sugar:

0g
Protein:

2g
Some of these links are affiliate links where I can earn a small commission. Thank you for supporting our family. It means the world to us!