Air fryer grilled cheese is a quick and easy dinner! Crispy, crunchy bread filled with gooey melted cheese! What can be better?
Did you know grilled cheese can be made in the air fryer? It comes out perfect every time and is a delicious, easy lunch of dinner to feed your family. 
If you are in need of any help with the air fryer and how it works, I have a whole post on how to use the air fryer. And if you need something to serve with this perfect grilled cheese, try out Air Fryer Frozen French Fries or Air Fryer Brussels Sprouts with Honey and Sriracha.
The best part is this recipe takes under 10 minutes to make! That is a huge win in our book. If you love 10 minute meals, check out some of these. 
10 Minute Pineapple and Pork Tenderloin Stir Fry
10 Minute Trader Joe Caprese Flatbread
10 Minute Easy Chicken Chow Mein
And as always, if you want more 10 minute meals make sure to check out the 10 Minute Meals Cookbook.  
The Perfect Grilled Cheese:
What makes the perfect grilled cheese? Well let me tell you! 
The perfect grilled cheese is filled with melty cheese and has a crisp bread exterior. And let me tell you, the air fryer makes the perfect grilled cheese!
The bread gets nice and toasted on the outside and the inside of the sandwich melts to perfection. 
The perfect grilled cheese should have a variety of textures and tastes. I love balancing the fattiness from the cheese with something acidic or sweet like BBQ sauce or honey. Try it out next time you make grilled cheese!
Grilled Cheese Ideas:
Here are some of my favorite flavor combinations, but as always you can use your favorite flavor varieties with the same air fryer technique. Make it your own!  
Pepper jack cheese, bacon, chicken
Caramelized onion, Monterey jack cheese
Slow roasted tomato, double cream brie, gorgonzola
Tomato, mozzarella, pesto, chicken
Cheddar cheese, jalapeno, cream cheese
Brie, honey, apples
Swiss, jam, Dijon mustard
Boursin cheese, roasted vegetables, balsamic glaze
Prosciutto, fig jam, Monterey Jack, arugula
Spinach artichoke dip
Bread Options:
You can change up a typical grilled cheese by simply using a different bread option. Just make sure you use slices of bread that are not too thick and don't have a crusty top.
Always use sliced bread. And don't forget to butter the bread!
Sourdough
Pumpernickel
Rye
Wheat
White
Cinnamon raisin
Cheese Options:
You can also change it up by simply adding a different type of cheese. These are all good melting cheeses.
It is important you use a cheese that melts well and creates a creamy interior.
American cheese
Swiss cheese
Gruyere cheese
Pepper jack cheese
Brie
Monterey jack cheese
Cheddar cheese
How To Make Air Fryer Grilled Cheese:
Here is how to make air fryer grilled cheese sandwiches. These go perfectly with tomato soup or serve them with some crispy potato chips.
Grab two pieces of bread.
Slice your cheese. 
Place your cheese slice on the bread along with any other fillings. 
Secure the sandwich by placing the bread together.
Spread the outside of the sandwich with softened butter. 
Place in the air fryer basket with a crisper plate so that there will be circulating air on the bottom and the top of the sandwich.
Turn on the air fryer and cook on 390 F for 5 minutes. You can adjust the cooking time if you want a more golden brown color. Just continue cooking for 2 more minutes.
Remove from the air fryer and serve. 
Air Fryer Grilled Cheese Recipe: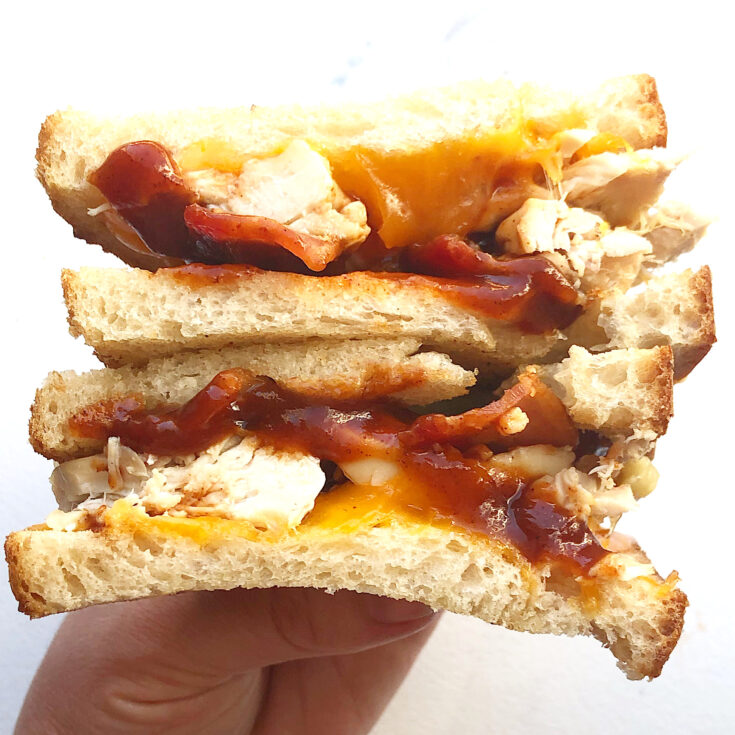 Yield:

1
Air Fryer Grilled Cheese
Crunchy, crisp bread filled with gooey cheese! The air fryer makes the best grilled cheese.
Ingredients
2 slices sourdough bread
sliced cheddar cheese
drizzle of BBQ sauce
1/4 cup rotisserie chicken, shredded
2 slices bacon, cooked until crispy
2 tablespoons butter, softened
Instructions
Slice the cheddar cheese into thin slices (enough to fill the whole surface are of the bread).
Drizzle one slice of bread with BBQ sauce and spread evenly. Add the cheese and shredded rotisserie chicken. Top with bacon and other piece of bread.
Spread the bread with softened butter on both sides.
Place in the air fryer and cook on air fryer mode at 390 F for 5 minutes.
Remove from the air fryer.
Slice and serve.
Recommended Products
As an Amazon Associate and member of other affiliate programs, I earn from qualifying purchases.