Almond cinnamon rolls with almond paste are quick to make, require no rise time and are smothered with a delicious almond cream cheese frosting. These almond sweet rolls are the perfect Sunday dinner or dessert. 
These Almond Sweet Rolls are an adaptation of the original no rise cinnamon roll recipe my sweet friend Annalyn gave me for Christmas.  She shared the recipe and I literally can't make any other recipe now!
The funny thing is there is actually NO CINNAMON in the recipe.  We just call it that way so people will actually try them because they are familiar with cinnamon rolls but probably have never had an almond roll, which are LIFE CHANGING!
These rolls are full of almond flavor and smothered with a homemade cream cheese frosting. They are perfect to serve for a Sunday morning breakfast or great for brunch. 
I make these every time I get invited to a brunch and they are always a hit. 
Almond Flavor:
One of my favorite flavors of all time is almond.  I love almond cake, almond croissants you name it!  If it has almond in it I pretty much love it.
We use almond paste for this recipe which is readily available at most grocery stores in the baking section. If you can't find almond paste you can make your own by following the directions below.
How To Make Homemade Almond Paste:
In a small food process combine 1 cup blanched almonds with 1 cup granulated sugar. Add 6 tablespoons softened butter, one egg and 1/2 teaspoon almond emulsion and blend until the mixture becomes smooth.
These are not only the most amazing tasting, but they are also probably the easiest rolls I have made.  You don't have to let them rise for hours and go through waiting around and kneading and waiting around again.  You simple let it rise until you preheat your oven.  How easy is that?!
Ingredients For Almond Sweet Rolls:
Warm Water
Dry Active Yeast
Vegetable Oil
Granulated Sugar
Eggs
Salt
Bread Flour
Filling Ingredients:
For the Frosting:
Butter
Cream Cheese
Powdered Sugar
Almond Emulsion, Vanilla Extract or Vanilla Bean Paste
How To Make No Rise Almond Sweet Rolls: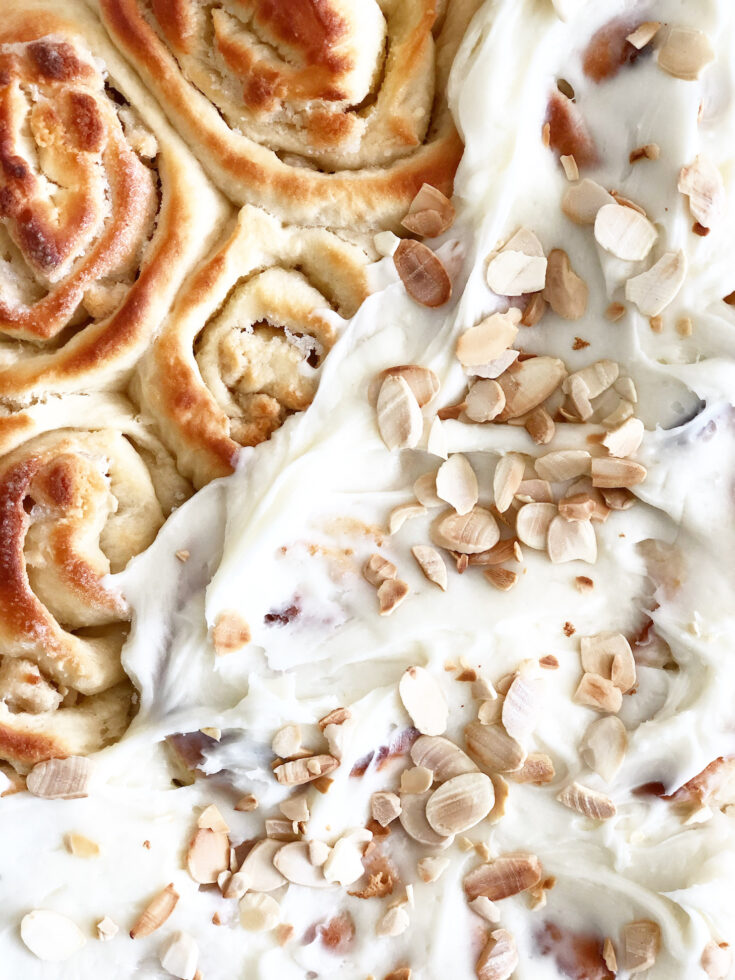 Yield:

2 Dozen Rolls
Almond Sweet Rolls
Additional Time:
10 minutes
No rise rolls are full of almond flavor and topped with a creamy frosting.
Ingredients
1 3/4 Cups Warm Water
3 Tablespoons Yeast
1/2 Cup Vegetable Oil
1/2 Cup Granulated Sugar
1 1/2 Eggs (use the shell to divide in half)
1/2 Tablespoon Salt
5 1/4 Cup Bread Flour
Filling Ingredients: divide evenly for each dough half
14 Ounces Almond Paste
1/2 Cup Sugar
1/2 Cup Butter, Softened
For the Frosting:
1/2 Cup Butter, At Room Temperature
8 Ounces Cream Cheese, At Room Temperature
4 Cups Powdered Sugar
1/2 Teaspoon Almond Emulsion, Vanilla Extract or Vanilla Bean Paste
Instructions
In an electric mixer fitted with a dough hook, combine the first four ingredients together. Let sit for 10 minutes.
Add the rest of the ingredients and turn on low for 5-7 minutes until dough is silky. DO NOT LET RISE!
Divide your dough in half. Smear oil on the counter and roll the dough out the same size as a large cookie sheet.
Spread half of the softened butter on the dough. Roll out half of the almond paste to fit the dough. If you don't have enough you can break into pieces and scatter evenly. Top with half of the sugar.
Starting on one end, roll and pinch seam of the dough. continue to roll the dough until a log forms. Cut into 12 rolls (you can use a bench scraper for this or unflavored floss works really well also). Place on a greased pan. Repeat with the second half of the dough.
Let rise 10 minutes while oven preheats to 400 degrees F. Bake for 15 minutes.
Remove from the oven and top with cream cheese frosting (recipe follows).
Cream Cheese Frosting:
In an electric mixer cream butter and cream cheese together until well combined.
Add powdered sugar and turn on to the lowest setting to avoid powdered sugar getting everywhere.
Add vanilla. Spread over rolls.
Recommended Products
As an Amazon Associate and member of other affiliate programs, I earn from qualifying purchases.
This post may contain affiliate links where I can earn a small commission. Thanks for supporting me!