I promise these are the very best gluten free blueberry muffins! Fluffy muffins full of sweet blueberries and the best part is there is absolutely no weird aftertaste. 
These gluten free blueberry muffins are one of the best muffin recipes I think I have ever created. You can't tell they are gluten free and they are fluffy and delicious. 
The best part about this recipe is you can change up the fruit to whatever you have on hand. Make this gluten free muffin recipe into raspberry muffins, orange muffins or even chocolate chip muffins. Just simply substitute the blueberries for whatever flavor you prefer. 
If you are looking for another delicious gluten free baked good try my Gluten Free Pumpkin Cookies or Gluten Free Snickerdoodle Ice Cream Sandwiches. Both use my secret ingredient that I promise will change how you bake gluten free. 
Secret Ingredient for Gluten Free Muffins:
Gluten free flours can sometimes leave an unpleasant aftertaste. I have found that one secret ingredient can eliminate any weird aftertaste and can also help to create a beautiful fluffy texture with gluten free baked goods. 
My secret ingredient for gluten free baked goods is to add dry instant pudding mix to the batter. It is important that you use dry pudding mix to achieve the right texture with your baked goods. 
You can use any flavored instant pudding mix that fits well with your recipe. For this recipe we will be using vanilla pudding mix. 
Most pudding mixes are gluten free, but always check the label to make sure. 
Gluten Free Flour Options:
The amount of gluten free flours on the market these days is absolutely incredible. There are so many great gluten free flours and I recommend finding one that you like the best. 
My favorite is Bob's Red Mill Gluten Free 1 to 1 Flour. The best part is the flour substitutes 1 cup of regular flour with 1 cup of the gluten free flour so it makes for easy baking and recipe swaps. 
Fresh or Frozen Blueberries:
You can use fresh or frozen blueberries for this recipe. I prefer frozen wild blueberries for this recipe, but use whatever you can find or what you have on hand. 
Storing:
These muffins are perfect for making ahead of time and eating them throughout the week.
You can also make them ahead, leave off the glaze and freeze them in a freezer safe ziplock bag to have on hand. When you are ready to eat them just pop one in the microwave for 30 seconds to warm through. 
Gluten Free Blueberry Muffin Recipe: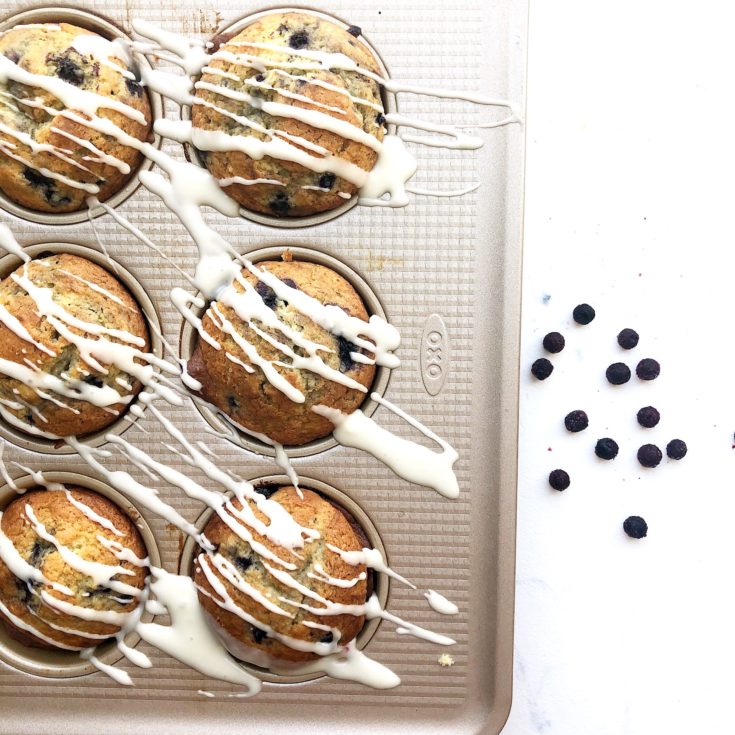 Yield:

Makes 12
Gluten Free Blueberry Muffins With Glaze
These gluten free muffins taste just like the regular ones. No aftertaste!
Ingredients
Cooking Spray
½ Cup Unsalted Butter, Softened
½ Cup Granulated Sugar
½ Cup Brown Sugar
2 Eggs
½ Cup Dry Instant Vanilla Pudding Mix
½ Cup Buttermilk
1 ½ Cups Gluten-Free 1-to-1 Flour
2 Teaspoons Baking Powder
½ Teaspoon Salt
1 Teaspoon Vanilla Extract
½ Teaspoon Orange Zest
1 Tablespoon Orange Juice
1 ½ Cups Frozen Blueberries
Glaze:
¾ Cup Powdered Sugar
2 Tablespoons + 1 Teaspoon Orange Juice
Instructions
Preheat the oven to 425°F. Spray a muffin tin with cooking spray or line with paper baking cups.
In a large mixing bowl, cream the butter and sugars together until light and fluffy. Add the eggs and mix to combine.
In a medium-sized bowl, mix together the flour, baking powder, and salt.
Add the pudding mix to the butter and sugar mixture. Then add half of the flour. Mix to combine. Add the buttermilk and stir to combine. Add the remaining flour mixture, along with the rest of the ingredients.
Scoop ¼ cup of the batter into the muffin tins. Place in the oven and immediately reduce the heat to 375°F. Bake for 20-25 minutes. Remove from the oven and let cool. Top with glaze.
Combine the powdered sugar and juice in a small bowl.
Drizzle glaze over cooled muffins.
Notes
Use any different frozen fruit you have on hand.