This delicious pie bar is made with delicious short pastry crust, melted dark chocolate and topped with a delicious crumble topping. 
No need for a whole pie when you can make an easy pie bar. These bars are full of delicious melted chocolate and are made with short pastry crust. 
This recipe is my play on a traditional Italian Crostata. A crostata is a rustic free-form Italian pie or tart. It typically is made with a pastry dough consisting of flour, sugar, butter, egg and salt and then filled with either a sweet filling or a savory filling. 
While I was living in Italy for culinary school, I went on a weekend trip to Rome. I stopped in a random bakery and ordered a chocolate crostata. In Italian bakeries they sometimes bake crostatas as large sheets. So it is not in typical pie shape but rather fits into a large cookie sheet.
After trying the chocolate crostata I knew I had to re-create the recipe. I especially loved how they served it to me in as a bar instead of a piece of pie.
When I recreated the recipe I decided to make a crumble topping instead of the traditional lattice style top. Because it is not 100% traditional, I call it a pie bar instead of a crostata.
But the recipe does use the traditional crostata di marmellata (crostata filled with marmalade) short pastry dough from my culinary school textbook. 
Whether you want to call them a pie bar or a crostata they are equally delicious and make for a great treat.  
How To Make Short Pastry:
As I said earlier this short pastry recipe is from my pastry class from culinary school. It is delicious and my favorite short pastry recipe. I love the orange zest in the pastry dough and it adds so much flavor to your dish. 
You can substitute lemon zest as well, but I feel like orange zest goes better with chocolate for this specific recipe. 
Directions:
Cut the butter with the sugar and zest. 
Then add egg yolks and combine. 
Next add the flour and salt and chill the dough for at least 1 hour until you are ready to use. 
Can I Change Up The Filling:
You can absolutely change up the filling in this recipe. The most common substitute would be a fruit filling like a marmalade or jam. 
Just follow the recipe, but substitute the chocolate with jam, marmalade or pie filling. One of my favorite fruit based fillings is to substitute the chocolate with cranberry jam. It's the perfect Fall dessert. 
If you need more inspiration, try my 3-Ingredient Mini Lemon Meringue Pie or Mini Salted Caramel Banana Cream Pies.
How To Make a Pie Bar:
Typically pies are made in a circular shaped baking dish or pie dish. You can make any pie into a bar shape by simply cooking the pie in a different shaped pan. Preferably bake in a rectangle pan.
I like to bake my pie bars in a bread pan for easy cutting. Make sure to add parchment paper to the pan so that you can easily remove the bars from the pan. 
This recipe is baked in a bread pan which yields a thick pie bar. If you want a thinner pie bar cook in an 8×8 square pan. 
Pie Bar Recipe: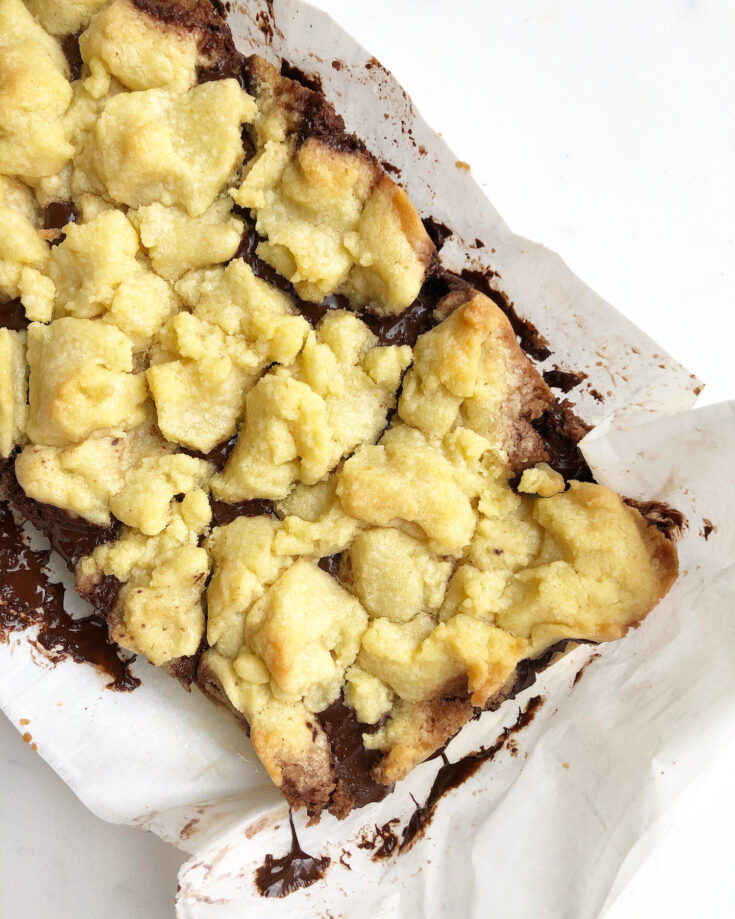 Yield:

8
Pie Bar with Chocolate Filling
Total Time:
1 hour
45 minutes
The best thing about a pie in a bar form.
Ingredients
1/2 Cup Granulated Sugar
1 Cup Cold Butter, Cubed or Grated
Zest of 1 Orange
2 Egg Yolks
1 1/2 Cups Flour
1/2 Teaspoon Salt
8 Ounces Dark Chocolate (or Semisweet)
Instructions
To make your short pastry place the butter and sugar into your food processor and pulse 3 times.
Add orange zest and egg yolks and pulse 2 times.
Add your flour and salt and pulse 5-10 times to create "wet sand." Transfer the mixture to a piece of saran wrap and press to form a dough ball.
Form the ball into a flat disk and wrap in the saran wrap. Place in the refrigerator for 1 hour.
Preheat the oven to 350 degrees F.
Line a bread pan with parchment paper for easy removal.
Layer half of the dough into the bottom of the loaf pan. Spread into an even layer. Bake for 15 minutes (dough will not be fully cooked) and remove from the oven.
Cut the chocolate into small pieces.
Add chocolate in one even layer on top of the par-cooked crust. Crumble the pastry into small pieces. Then top with the pastry crumbs.
Bake for 20-25 minutes. Let cool and remove from the pan with the parchment paper. Cut into small servings.
Notes
Fill these bars with any pie filling you enjoy.