A fun spin on traditional nachos making this perfect for your ethnic-themed dinner! Change up traditional nachos with these delicious and easy Greek nachos.
One of my favorite events to attend is my local Greek Festival. There's so much energy in the Greek dancers and live music, not to mention so many unique gifts to buy and all my favorite authentic Greek dishes to eat (pastitsio, gyro with tzatziki, lemon rice, spanakopita, and baklava to name a few).
Greek food is so full of flavor and this Greek nacho recipe doesn't disappoint.
I must divert for a second…Most people I come in contact with pronounce gyro as "JY-roh" and I can't help but cringe because that's incorrect! The "g" is actually silent, thus the correct pronunciation is "YEE-roh".
Anyway, the idea for this recipe came from a gyro I recently ate that was flavored with all of my favorite seasonings and toppings: tzatziki, dill, lemon, and feta cheese.
This is my version of a deconstructed gyro — it has all the delicious flavors of a gyro, but spread onto a sheet pan to make nachos—Greek style! Can't get much easier than that!
How to make Greek Nachos:
It's so simple yet full of flavor, just as the Greeks like their food!
To make your own Greek nachos you'll need some ingredients, many you might already have:
1 Pound Boneless Skinless Chicken Breast marinated for a minimum of 10 minutes

Tzatziki Sauce — homemade is my favorite, but you can find it near the deli section of your grocery store

1 Container Stonefire Pita Dippers torn into wedges/pieces

Green Bell Pepper

Heirloom Cherry Tomatoes

Kalamata Olives

Hummus

Feta Cheese

Fresh Dill
First, marinate the chicken. I like to make my own marinade and adjust the seasonings according to my taste. Marinating for a minimum of 10 minutes is best; my preference is 30-45 minutes.
While the chicken is marinating, now's the best time to make the tzatziki.
Homemade Tzatziki:
You can peel or keep the peel on the cucumber, though I prefer to keep the peel on mine. Shred the cucumber using a box grater or the shredding blade with a food processor.
Cucumber contains a lot of water, so put the shredded cucumber on a thin cloth and squeeze to remove the excess liquid.
Add the dill, garlic, lemon zest, salt, and pepper to the yogurt and mix well. Then mix in the cucumber.
Since I love tzatziki so much, I make a double batch to dip pretzel chips, pita, cucumber, bell peppers, etc.
Set the tzatziki aside while you grill the marinated chicken until the internal temperature registers 165°F on a meat thermometer.
While the chicken is cooking, you're going to turn on the oven and also tear or cut the pita into wedges. You decide how big or small you want the pieces.
Spread those wedges onto a parchment-lined baking sheet. We're making the clean-up as easy as possible, and parchment paper helps so much!
Then thinly slice the cooked chicken and spread onto the pita and toss into the oven for just a few minutes to toast the pita.
Next is my favorite part: adding the toppings! I put dollops of tzatziki on first, then cover with veggies and hummus. I can just taste this now and my mouth is watering!
Serve with a glass of refreshing Elderberry Lemonade and some Rice Krispies for an epic summer get together. Your friends and family will thank you for introducing them to a new way of eating nachos!
Greek Pita Nachos Recipe: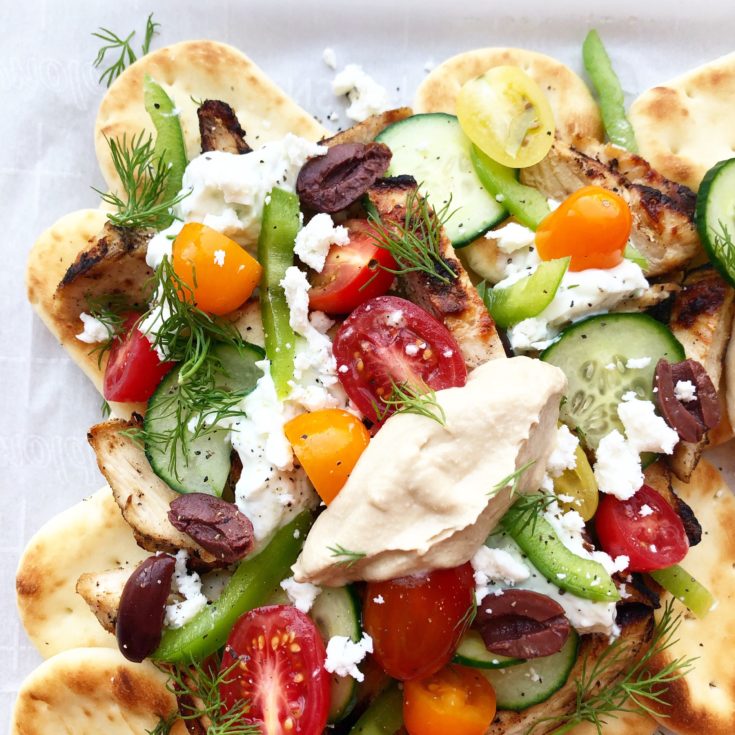 Yield:

Serves 4
Greek Pita Nachos
A greek twist on a sheet pan nacho.
Ingredients
1 Pound Boneless Skinless Chicken Breast
Chicken Marinade:
1 Cup Plain Greek Yogurt
1 Teaspoon Ground Cumin
1 Teaspoon Dried Oregano
1 ½ Teaspoon Garlic Salt
2 Tablespoons Lemon Juice
½ Teaspoon Black Pepper
½ Teaspoon Kosher Salt
Tzatziki Sauce:
1 Cup English Cucumber, Shredded and Squeezed of Excess Liquid
2 Cups Plain Greek Yogurt
1 Tablespoon Fresh Dill, Chopped
1 Teaspoon Kosher Salt
¼ Teaspoon Black Pepper
1 Teaspoon Garlic, Minced
2 Lemons, Zested
Toppings:
1 (16 ounce) Container Stonefire Pita Dippers (or pita bread cut into wedges)
½ Cup Green Bell Pepper, Sliced Thin
½ Cup Heirloom Cherry Tomatoes, Halved
2 Tablespoons Kalamata Olives, Pitted and Sliced
¼ Cup Hummus
2 Tablespoons Feta Cheese, Crumbled
Optional:
Fresh Dill, Roughly Chopped
Instructions
Place all the marinade ingredients in a large Ziploc bag. Add the chicken and remove the air in the bag and seal. Marinate for at least 10 minutes (the longer the better).
Preheat a large grill pan or grill to medium-high heat. Remove the chicken from the bag and grill for 5 minutes per side or until chicken is cooked through. Cut into strips.
Preheat the oven to 400°F.
Evenly spread the pita dippers on a parchment-lined baking sheet. Top with chicken and place in the oven for 5-7 minutes, or until the chicken is warmed through.
Remove from the oven and top with tzatziki sauce and toppings of choice.
Notes
Make a double batch of chicken and serve in pitas as gyros for another meal idea.