Don't let Mother's Day catch you off guard this year! Show your mom how much she means to you with a beautiful spread of food and easy make-at-home gifts.
You guys asked and I answered! I'm so excited to do this round-up of some of my best recipes for you to serve for Mother's Day. From breakfast to dessert and gifts to printables, I hope you find something that helps you show some love to your mom!
Breakfast/Brunch:
Arguably the most important meal of the day, these recipes will not only impress her, but also start her off feeling satiated and loved. Whether you do a customizable bar or a traditional breakfast in bed, these recipes will be a hit and can be served at any type of brunch or get together!
Current obsession: food bars! I love how versatile and customizable food bars can be. These food bars are just perfect for Mother's Day (and any other fun occasion!).
More Momma Tip: Prep as many ingredients as possible the night before, making the process such a breeze on her special day.
Waffle Bar — How cute is this waffle bar?! Easy set up and clean up! Put all your favorite toppings in bowls and a variety of syrups in jars for a beautiful display for Mom.
Omelet Bar — With all the components prepped, everyone can make a customizable omelet! I'm loving this omelet bar from Williams and Sonoma.
Avocado Toast Bar — Now this is something I can get on board with every week! Upgrade a basic toast with these ideas from Fine Cooking.
Avocado Egg Benedict — Your basic eggs Benedict + avocado toast makes for a perfect combination!
Quiche Lorraine — Quiche and fresh fruit are a Mother's Day staple in my house. Check this recipe for a perfect quiche every time.
Boysenberry Cinnamon Rolls — Yum! This is a delicious fruit twist on a traditional cinnamon roll.
4 Ingredient Cinnamon Rolls — Easy and simple, these are perfect for when you want a cinnamon roll but don't want the mess or fuss of making traditional cinnamon rolls.
Lunch:
These recipes are just what she needs for a boost of energy to carry her throughout the day. Best of all, they are so very filling! Your mom will welcome a break from eating PB&J sandwiches.
More Momma Tip: Prepare enough so that both of you already have tomorrow's lunch ready to go!
Panini Bar — Look at how cute these paninis are! A is a traditional Italian sandwich, but feel free to let these ideas from The Food Network spark your creativity!
Nuts About Berries Salad — Bright and fresh, and perfect for Mother's Day and Spring! I love the color of this vinaigrette with this salad!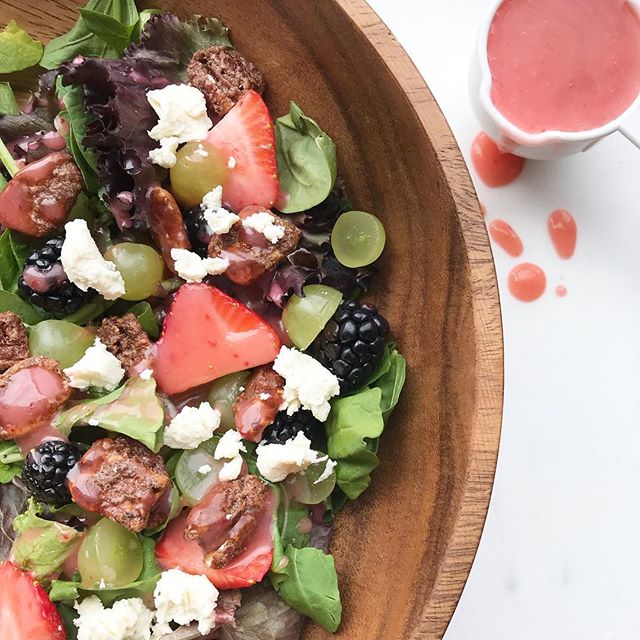 Pretzel Rolls — Everyone needs a good roll they can rely on, and this is it! Pairs perfectly with basically everything!
Caprese Flatbread — Look at those bright colors! Mom's bound to love the Caprese Flatbread for Mother's Day lunch.
Dinner Ideas:
Wow her with your culinary skills! These recipes take little effort to make, but she doesn't need to know that!
More Momma Tip: Look for ways to include your children in the dinner preparations. They'll love spending time with you and helping to prepare a meal for Mom!
Cedar Plank Salmon with Mango Salsa — With so many flavors and textures, this salmon recipe is sure to surprise your mom!
Ribs — Perfectly caramelized ribs, and all done in the Instant Pot! Woot woot!
Prime Rib — Classic Prime Rib is easy to prepare with step-by-step instructions. A meal fit for a Queen!
Biscuits with Strawberry Butter — Buttery biscuits topped with fresh strawberry butter make every meal better.
Dessert Ideas:
In my opinion, there's no better way to end the day than with dessert. You simply cannot go wrong with any of these recipes. Enjoy!
More Momma Tip: Always save room for dessert!
Carrot Cake — Moist and full of flavor, carrot cake is the perfect recipe to make for Mother's Day.
3 Ingredient Lemon Meringue Pie — She'll think you slaved away all day in the kitchen, but she doesn't need to know how simple these mini lemon pies are!
Chocolate Chip Cookies — Classic chocolate chip cookies that every mom deserves!
Ice Cream Sundae Cake — A no-bake cake that tastes as good as it looks? Yes, please! Use Mom's favorite ice cream to make this extra special!
Butter Cake — Bring the taste of Mastro's Butter Cake to your home with this homemade version that tastes basically the same. Trust me, you need this one!
Nutella S'more Gelato — Nutella + S'mores + Gelato? An irresistibly decadent and delicious dessert!
Churro Bar — She'll basically feel like she's eating Disneyland churros while walking around the house. Create custom flavored churros by toasting pre-made churros and then tossing them into flavored sugars!  Try cinnamon sugar, espresso sugar, cane sugar, or some suggested by A Spicy Perspective!
Gift and Card Ideas:
Surprise your mom with some homemade gifts and a card! She'll love both the thought and effort you put into making something unique and special. Check out these ideas below!
Fresh Fruit Bouquet — Oh my, I think I've fallen in love with a new kind of flower – edible ones! Juju Sprinkles shows you exactly what you need to make this beautiful bouquet for your mom!
Caramel Chocolate Dipped Pretzel Sticks — Wouldn't these be absolutely perfect in a mason jar? These beautiful pretzel sticks from Tastes Better from Scratch can easily be made at home!
Sea Salt Caramels — You had me at sea salt! Chewy sea salt caramels from Sally's Baking Addiction are a must-make recipe!
Free Mother's Day Card — This lovely Mother's Day card printable from Tinsel Box is so pretty!
Gift and Card Combo — How cute is this card?! Your mom will love that it's not only cute, but practical! Check out Handmade in the Heartland for step-by-step instructions!
A wise man named Jeffrey Holland once said, "There is no greater good in all the world than motherhood. The influence of a mother in the lives of her children is beyond calculation."
I hope you've found some inspiring ways to celebrate your mother and mother-figures in your life. You're amazing! Keep pushing along, and have a wonderful Mother's Day!
xoxo,
Meg