Create an elegant Mother's Day Tea Party at home! This grown-up at-home tea party is styled according to your taste and budget and is perfect for your next afternoon tea or ladies brunch. The most important women in your life will be giddy for days — this tea party does not disappoint!
Tea parties have been a favorite of mine for as long as I can remember. What started out as regular afternoon tea parties with just my mom, quickly shifted to include my dolls, stuffed animals, and my older sister. We had tea parties on a weekly basis.
These tea parties weren't the typical make-believe ones. Nope! I'm talking real herbal tea and real tea sandwiches, such as cucumber, peanut butter, and ham and cheese! So elegant!
Some of my favorite memories have been attending high tea with my grandmother, mom, and sister. One of my favorite memories was having high tea at Harrod's with my mom in London while on a family vacation. It has been a memory I have cherished for years.
I've since hosted countless tea parties for baby showers and wedding showers, but I think my favorite has been the ones done with my girlfriends as well as with my mom.
It has been one of my favorite ways to connect with other women.
Experts agree that strong bonds and friendships with other women are so important to our well-being. I completely agree! My mom and close girlfriends have stood by me through thick and thin, and I am so blessed to have them support me.
A few years ago I decided to give my mom an at-home tea party for Mother's Day to recreate the memory we shared just the two of us in London.
I have to say that creating an at-home tea party was so much fun and so simple! Just three easy steps and my gift was complete! Feel free to buy some items too! You don't need to make everything homemade, just a few items can make a difference.
Step 1:
I lined a small basket with a tea towel and added to it my favorite jar of preserves and Trader Joe's herbal tea.
Step 2:
I wrapped a beautiful tulip plant I bought from Trader Joe's with a tea towel and twine.
Step 3:
I bought this tea towel from Amazon as a way to display all the yummy food.
All of this set a beautiful stage to remanence about our tea parties.
I made some of my mom's favorite tea party food as a way to celebrate her. Homemade chocolate chip cookies, Linzer cookies, lemon bar, scones, chocolate almond biscotti along with the most delicious chocolate almonds and sea salt caramels from Trader Joe's were also a must.
Then I made several types of tea sandwiches (a small sandwich that's typically crustless), including cucumber, ham, and even a cookie butter sandwich (so we could reminisce about our tea parties) and served it on a 3-tiered dessert tray. Don't stress about perfection – use what you have to create something memorable!
You guys, this couldn't have been any better! My mom loved it all and we had so much fun together!
An at-home tea party is absolutely the perfect gift for Mother's Day this year. With all the fuss and frustration of being quarantined, she'll feel so loved and will appreciate the effort and time spent creating something so unique. You can even practice social distancing by dropping it off on her doorstep, but be sure to make plans for a post-quarantine tea party ♡.
xoxo,
Meg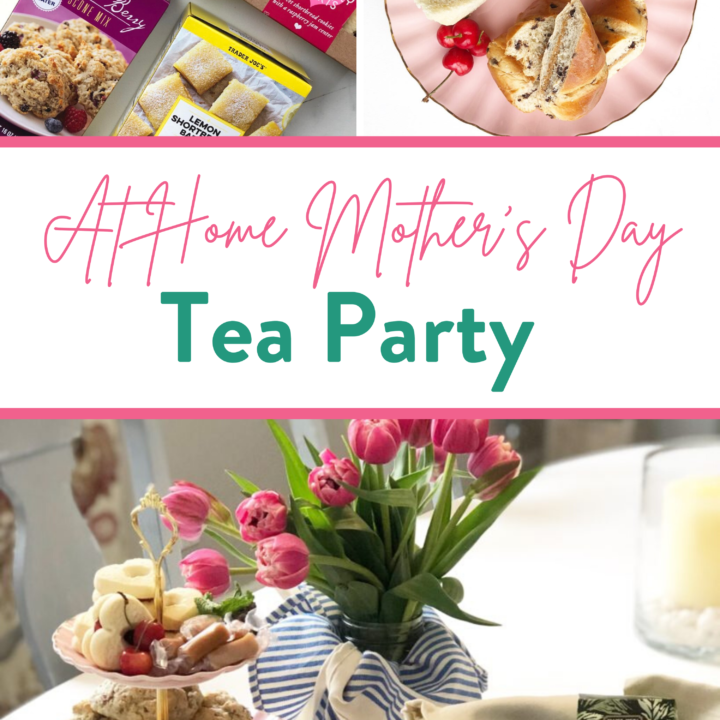 Tea Sandwiches
A beautiful variety of sweet and savory tea sandwiches for a perfect tea party at home.
Ingredients
Cucumber and Boursin:
2 Slices White Bread
2 Tablespoons Boursin Cheese (garlic and herb flavor or flavored cream cheese)
⅛ Cup Cucumber, sliced thin
Ham and Cheese:
1 Roll, cut in half lengthwise
1 teaspoon Mustard
2 Slices Black Forest Ham
2 Slice Cheddar Cheese
Cookie Butter Strawberry:
1 Chocolate Brioche Roll, sliced in half
2 Teaspoons Cookie Butter
⅛ Cup Sliced Strawberry
Lemon Toasts:
1 Slice White Bread
2 Teaspoons Lemon Curd
4-6 Blueberries
4-6 Raspberries
2 Sprigs Fresh Mint
Instructions
For the Cucumber Boursin Sandwiches:
Place the bread on a clean work surface.
Spread the Boursin cheese evenly on each slice.
On each slice of bread, an even layer of cucumber.
Sandwich the bread together. Cut off the crusts and cut into triangles.
For the Ham and Cheese Sandwiches:
Place the roll on a clean work surface, cut side up.
Spread mustard on both sides and top with ham and cheese.
Sandwich the bread together and cut in half diagonally.
For the Cookie Butter Strawberry Sandwiches:
Place the chocolate roll on a clean work surface, cut side up.
Spread cookie butter on each half.
Top with sliced strawberries.
Sandwich the bread together and cut in half diagonally.
For the Lemon Toasts:
Place the bread on a clean work surface.
Spread the lemon curd evenly on each slice.
Cut in half.
Top one slice with blueberries and sprinkle with mint.
Top the other slice with raspberries and sprinkle with mint.
Recommended Products
As an Amazon Associate and member of other affiliate programs, I earn from qualifying purchases.