Did you know kids can make ice cream in a bag? Yes, with only 4 ingredients and a plastic bag, you can easily make this delicious, kid-friendly treat! Change up the flavors, too.  My favorite is the chocolate ice cream in a bag. 
Ice cream was one of my favorite treats as a kid. It didn't matter how it was packaged, I loved it. Seems that not much has changed over the years! Ha! Chocolate ice cream in a bag is my all-time favorite though. See how easy it is to make chocolate, vanilla, strawberry, and mint-n-chip ice cream in a bag. 
Just thinking about ice cream brings back memories of the ice cream truck that would make its way through the neighborhood. I remember how I would run to my piggy bank and count my money, some days feeling disappointed that I didn't have enough for a sweet treat from the musical truck.
And then my life changed when I began making my own ice cream. At home. In a bag. And since then, it has evolved into becoming one of my favorite things to make with my kids and their friends.
I like to think of making ice cream in a bag as a magical experience. Think about it — a plastic bag filled with just 4 ingredients that can turn into ice cream? Not only is making ice cream an experience, it's such a fun way to spend an afternoon!
The other day we had several kids over for an afternoon playdate. Since I love to be in the kitchen, making homemade ice cream was the perfect playdate activity!
Let me tell you something — the kids LOVED everything about it, and I loved that the mess was contained to the bag, making clean-up super simple and easy.
Seriously, this was the best idea for a playdate. The kids were able to work in the kitchen while the parents socialized! Okay, we helped, too!
What made this process so easy was that I had pre-measured all the ingredients and set them out in individual place settings. The kids were able to find a little station on the table to work at, and then get busy! They poured the ingredients into the bag, the parents zipped the bags closed, and the kids shook to their heart's content! Afterwards, they topped their individual servings of ice cream with any and all of the toppings provided.
This is the seriously the most perfect summer treat because there are so many different ways to top your ice cream! An ice cream buffet with lots of toppings would be so much fun. But a selection of just one or two toppings is equally exciting, especially for children!
Topping Ideas For Ice Cream In A Bag:
Chocolate Sauce

Caramel Sauce

Fruit Jam

Sprinkles

Gummy Bears

Cookies

Chopped Peanuts

and More!
Friends, kids really enjoy being able to make their own ice cream and using their creativity with the toppings!
Easy steps to make ice cream in a bag:

If you have some cookies (or feel like baking homemade cookies) you can use this ice cream recipe to make ice cream sandwiches! My kids love making their own ice cream sandwiches and picking out their favorite cookie to use! It feels like a super fancy dessert without having to spend a lot of time or money! Plus, anytime I can get my kids in the kitchen is a win!

Look for behind the scenes photos and dessert ideas over on my Instagram.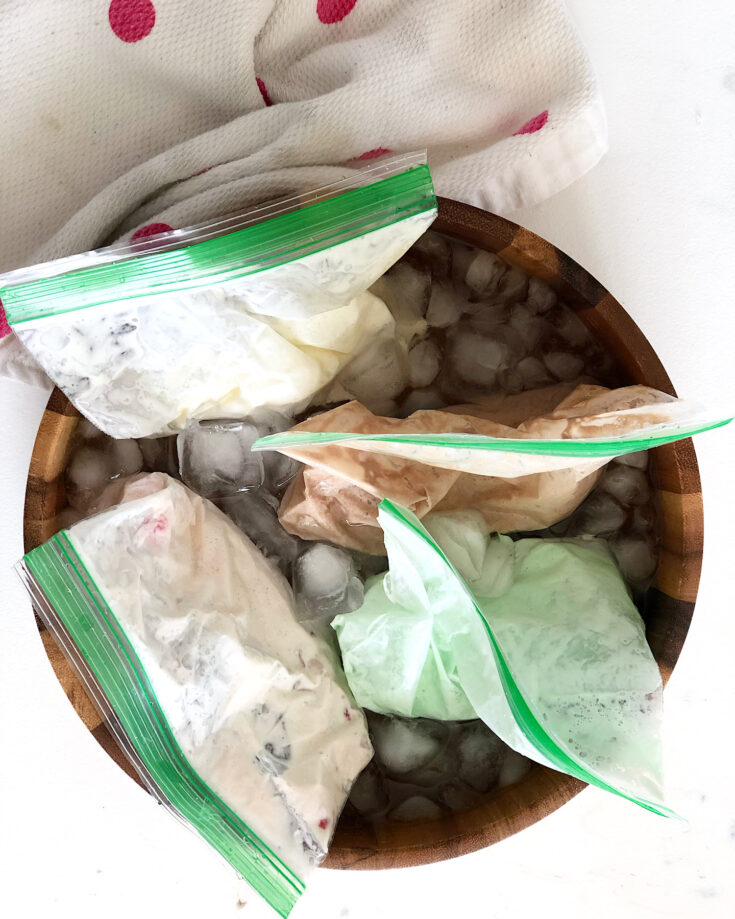 Yield:

1
Ice Cream in a Bag
Learn how to make ice cream in a bag! This recipe is so simple and fun to do with kids! Try out all the flavors or create your own.
Ingredients
Ice Cream Base for Any Flavor + Flavor Mix-in Options
2 Tablespoons Granulated Sugar
1 Cup Half and Half
½ Cup Rock Salt
Ice Cubes (enough to fill a gallon-size Ziploc bag about ½ full)
1 Pint-Size Ziploc Bag
1 Gallon-Size Ziploc Bag
Vanilla:
1 Teaspoon Vanilla Extract
Mint N Chip:
½ Teaspoon Mint Extract
1 Tablespoon Chocolate Chips
Chocolate:
1 Tablespoon Chocolate Syrup
Strawberry:
¼ Cup Strawberries, Crushed
Instructions
Combine the sugar, half and half, and flavoring of choice in a pint-size bag, removing the air and sealing tightly.
Place the rock salt and ice in a gallon-size Ziploc bag. Place the sealed, pint-size bag with the ice cream ingredients inside the gallon bag and seal.
Shake until ice cream hardens (about 5 minutes).
Notes
Eat out of the bag for extra fun!
Recommended Products
As an Amazon Associate and member of other affiliate programs, I earn from qualifying purchases.