This instant pot banana bread is smothered with a rich chocolate frosting and is moist and perfectly cooked. It's the perfect easy Instant Pot dessert.
Did you know you can make perfectly cooked banana bread in your Instant Pot? This deliciously moist and tender banana bread is topped with a rich homemade chocolate frosting.
It's the perfect Instant Pot dessert or decadent breakfast.
After testing 240 Insta pot recipes last year for my No Shop Instant Pot Cookbook I was the most surprised with how well the dessert recipes turned out.
Who knew that the Instant Pot could create perfectly cooked cakes, bread pudding, cheesecake and muffins. There are a total of 9 desserts with 36 variations for you to try in the cookbook!
I love the Instant Pot for so many reasons! It makes cooking seamless and you can make items that normally take hours in a matter of minutes. And it's not just for savory dishes!
Actually, if I remember correctly the first thing I ever made in my Instant Pot was my molten chocolate lava cake. It is still one of my favorites to this day.
I love how moist and tender baked goods come out. There is no room for burnt cake when you make it in the Instant Pot.
If you need help figuring out the Instant Pot check out this post on How To Use The Instant Pot. I give you all the basics for how to use this amazing machine. 
Though I love baked goods in the Instant Pot, you do need to follow some general guidelines to make sure you get the best product possible.
Baking In The Instant Pot:
When you are baking in the Instant pot you need to follow these general guidelines.
Make sure to use a new instant pot sealing ring when cooking sweet dishes. You don't want your desserts to taste like last nights curry. I have two sealing rings one for savory dishes and one for sweet dishes.  
Use a cake pan that fits within your insert. Make sure to leave about 1/2 inch of space in between the pan and the insert to let the steam circulate. My Instant Pot Duo80 will fit up to an 8 inch cake pan. You can also use circular foil tins.
Always add 1 cup of water to the Instant Pot insert. Because the Instant Pot is a pressure cooker and uses pressure to cook the food you need water to help build the pressure. I like to sometimes add 1 tablespoon of cinnamon to the water to infuse the sweet flavor even more.
Line the pan with parchment paper to make it easier to invert cakes, brownies or breads.
Use a trivet to raise the cake pan or baking vessel off the bottom of the insert. I use trivets for almost all of my Instant Pot recipes especially pot in pot recipes. I find that things cook more evenly and lifting the pan off the bottom helps to prevent burning or overcooking.
Top the cake pan with a paper towel and then with foil to prevent extra moisture absorption. The paper towel really helps to make sure you don't get a puddle of water or moisture on top of your bread or cakes.
If the item isn't fully cooked you can place it back into the instant pot insert and cook for 5 additional minutes. This will happen when you bake in the Instant Pot and it is totally fine. Even though Instant Pots are all pretty much the same, they do function a little differently and one little thing can throw the cooking time off.
Ingredients You Will Need:
Now that we know some general guidelines to follow when we are making baked goods or desserts in the instant pot lets move onto making this delicious banana bread with chocolate frosting.
Here are the basic ingredients you will need. Most of which you probably already have on hand!
Wet Ingredients:
ripe bananas- make sure the bananas are overly ripe.
granulated sugar
melted butter
eggs
vanilla bean paste or vanilla extract- if you don't have vanilla bean paste you can use vanilla extract. Just substitute the exact quantity.
Dry Ingredients:
ground cinnamon
baking powder
baking soda
salt
all purpose flour
How to Make Instant Pot Banana Bread:
This Instant Pot banana bread is easy to make with a few simple steps. Jump to the recipe if you want to follow along.
Combine all ingredients:
First combine the mashed bananas with the wet and dry ingredients in a mixing bowl.
Prep the pan:
Line a cake pan with parchment paper. Spray with cooking spray.
Add the batter to the cake pan and cover with a paper towel and then with foil.
Prep the Instant Pot:
Then add the water to the Instant pot insert and then the trivet.
Top the trivet with the cake pan.
Cook:
Seal the lid and make sure the valve is in the sealing position. Turn to manual high pressure for 30 minutes.
Quick release the pressure by carefully moving the valve to venting. Remove the foil and the paper towel and place back into the pot uncovered and cook for 5 more minutes at high pressure.
Cool:
Let the banana bread cool while you make the frosting.
Make the frosting:
Combine all the ingredients in a stand mixer or beat with hand beaters until light and fluffy.
Top with frosting and enjoy:
Top the cooled banana bread with the frosting, slice and enjoy!
Chocolate Frosting:
Although you do not have to top this delicious banana bread with frosting, I highly recommend it!
This rich, chocolaty frosting is made with only a few simple ingredients. Mix them all together in a stand mixer and spread on top of the cooled banana bread.
Make sure your banana bread is cool or else the frosting will melt all over the place.
Variations:
You can also make this banana bread into mini muffins by using a silicone mold.
Spray the mold with cooking spray.
Fill the molds with the banana bread batter and cover with a paper towel and then with foil.
Cook on manual, high pressure for 12 minutes.
You can also try making this banana bread with different flavor variations. Here are some easy additional ingredients that you can add directly to the banana bread batter to change it up.
Chocolate chips
Pecans
Shredded zucchini or carrots
Blueberries
Raspberries
Shredded coconut
Orange zest
Storing:
Store the pressure cooker banana bread in an air tight container at room temperature. You can enjoy this banana bread for up to three days stored properly.
Freezing:
You can also freeze the banana bread. To freeze, let the bread cool completely. Then wrap the bread in a layer of saran wrap. Wrap tightly in foil and freezer for up to 3 months.
You can also freeze individual slices the same way for single servings.
Do not freeze the bread with the frosting on top. It doesn't thaw well.
Other Instant Pot Recipes To Try:
Some of my all time favorite instant pot recipes are dessert recipes. Here are some delicious instant pot desserts:
And don't forget I have 9 other recipes in my cookbook including cheesecake bites, poke cakes, brownies, cobbler and bread pudding to name a few.
Instant Pot Banana Bread Recipe: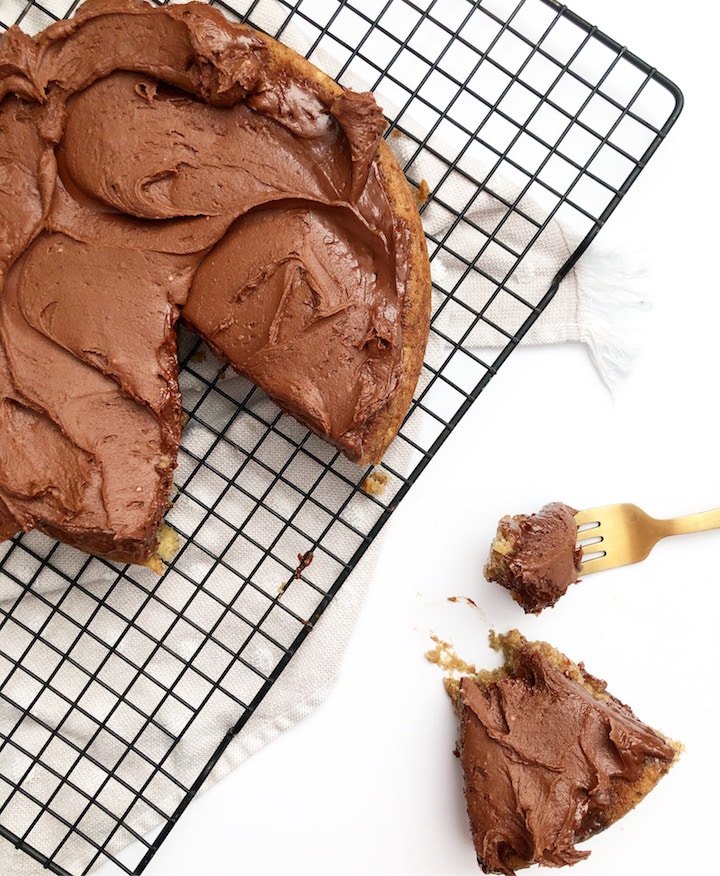 Yield:

Serves 12
Instant Pot Banana Bread With Chocolate Frosting
Additional Time:
10 minutes
Warm, tender and moist banana bread is cooked to perfection in the Instant Pot. Topped with a delicious chocolaty frosting, what could be better?
Ingredients
3 overly ripe bananas
1/2 cup butter, melted
1 cup granulated sugar
1 teaspoon baking powder
1 teaspoon baking soda
1 teaspoon salt
2 teaspoons ground cinnamon (plus 1 teaspoon for insert)
1 teaspoon vanilla bean paste or extract
2 eggs
1 1/2 cup all purpose flour
Chocolate Frosting:
4 ounces dark chocolate, roughly chopped
1/2 cup butter, softened
2 cups powdered sugar
2 tablespoons heavy cream
Instructions
Add the overly ripe bananas to a mixing bowl.
Add the butter and mash together.
Add the sugar and stir to combine.
Add the baking powder, baking soda and salt.
Add the cinnamon and vanilla bean paste or extract.
Add the eggs.
Then add the flour and stir to combine.
Spray a cake pan with cooking spray and line with parchment paper. Then add the banana bread batter to the pan.
Place a paper towel over the cake pan and then top with foil.
Add 1 cup of water to the instant pot insert with 1 teaspoon cinnamon.
Place the trivet inside the instant pot and top with the cake pan.
Seal the lid and move the valve to the sealing position. Cook for 30 minutes on manual high pressure.
When cooked, manually release the pressure by moving the valve to the venting position. Carefully remove the cake pan from the instant pot.
Remove the foil and paper towels. It is ok if the bread sticks a little to the paper towel. Just try to carefully remove it as best you can.
Place the bread back into the instant pot uncovered and cook for another 5 minutes on manual high pressure.
Quick release the pressure after the time is up. Remove the cooked banana bread from the instant pot.
Invert the banana bread onto a cooling rack or serving platter.
Remove the parchment paper and let cool.
To make the frosting roughly chop the chocolate. Place in a microwave safe bowl and microwave in 30 second intervals to melt.
Add 1/2 cup softened butter to a mixer. Mix on low for 20 seconds.
Then add 2 cups powdered sugar and mix on low.
While the mixer is on low add the heavy cream.
Steam in melted chocolate. Mix until incorporated.
Top the bread with the frosting.
Notes
If your banana bread isn't fully cooked you can put it back into the instant pot for another 5 minutes at manual high pressure.
Nutrition Information:
Yield:
12
Serving Size:
1
Amount Per Serving:
Calories:

429
Total Fat:

20g
Saturated Fat:

12g
Trans Fat:

1g
Unsaturated Fat:

6g
Cholesterol:

75mg
Sodium:

459mg
Carbohydrates:

60g
Fiber:

2g
Sugar:

43g
Protein:

4g