Caffeine free chai latte is the perfect comforting winter drink. This spiced chai latte is just like the Starbucks chai tea latte without the caffeine.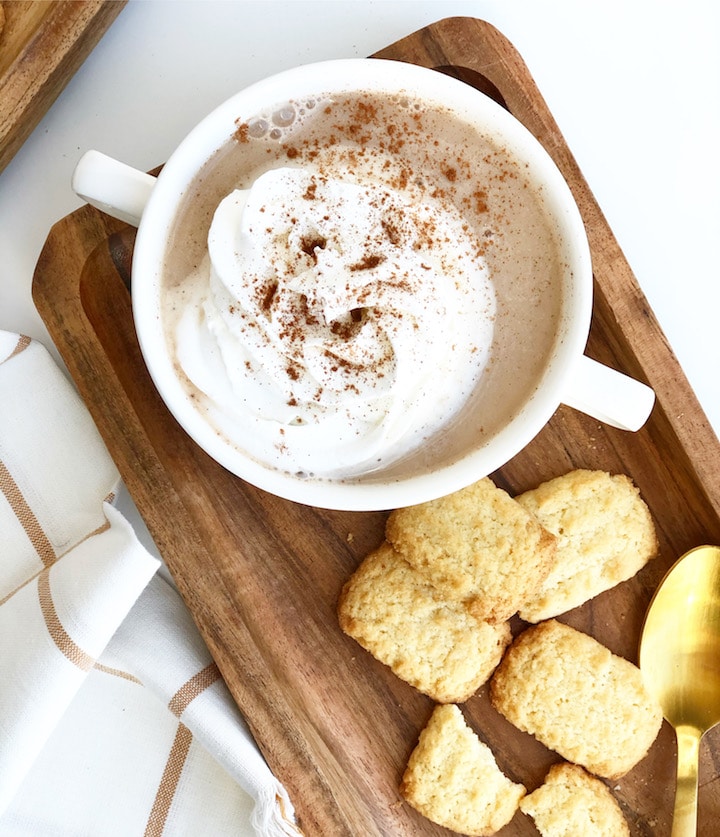 Full of delicious spices and made with dairy free coconut milks this spiced chai latte is perfect for a cold day. If you want an alternative to black tea in the traditional chai tea latte, try out this delicious version. It's totally caffeine free!
Starbuck's Chai Tea Latte:
Have you ever asked yourself "does chai tea latte have caffeine?" Well the answer is yes, yes it does! So if you want an alternative without the caffeine try this version.
I was a huge fan of the Starbucks chai tea latte in my twenties. It's spicy, sweet, and full of delicious cinnamon, clove and ginger flavors.
Starbucks chai tea lattes are made with black tea infused with cinnamon, clove and other warming spices that is combined with steamed milk and topped with foam. However it's been almost 8 years since I have had one! 
I gave up drinking coffee and non-herbal teas about 8 years ago and I have missed a good vanilla chai latte from Starbucks. 
Caffeine Substitue:
When I gave up coffee and tea (non-herbal) I got creative with substitutions for my cravings. One of my favorite coffee alternatives was Pero. If you are looking for a delicious whipped coffee recipe try this one out. It's been my go to coffee substitute and I love it! 
I have loved having herbal tea as a tea substitute, but could never find a substitute for chai tea.
Because chai is typically made with black tea, I wanted to find an alternative. So of course I started recipe testing how to make a chai tea latte without the caffeine and came up with this spiced chai latte recipe. 
Homemade Chai Latte: 
The best part about this homemade chai latte is you can make it with only a few ingredients and it works for an iced chai latte as well. 
Iced Chai Latte:
If you want to make this iced just simply follow the directions and then let the drink cool for 20 minutes in the fridge. Then add your ice. 
Don't skip the cooking part. You will want to heat the chai up so that all the spices infuse into the milks. If you were to just add them all cold it wouldn't develop the flavor. 
You can even make a big batch of this and keep it in your fridge for a week. Pour it over ice when you are ready to enjoy a nice caffeine free iced chai latte!
Ingredients For Caffeine Free Chai Latte:
This chai latte recipe only calls for a few ingredients. Here is what you need. 
Vanilla Coconut Milk: I like to buy this at Trader Joe's. It comes in a carton and is in the cereal section. 
Almond Milk Creamer: I love the Califia farms vanilla almond milk creamer. It is super thick and adds a richness to this drink. 
Cinnamon
Nutmeg
Cloves
Ginger
Whipped Cream: You can use a dairy free whipped cream for a dairy free chai latte. 
Caffeine Free Chai Latte Recipe: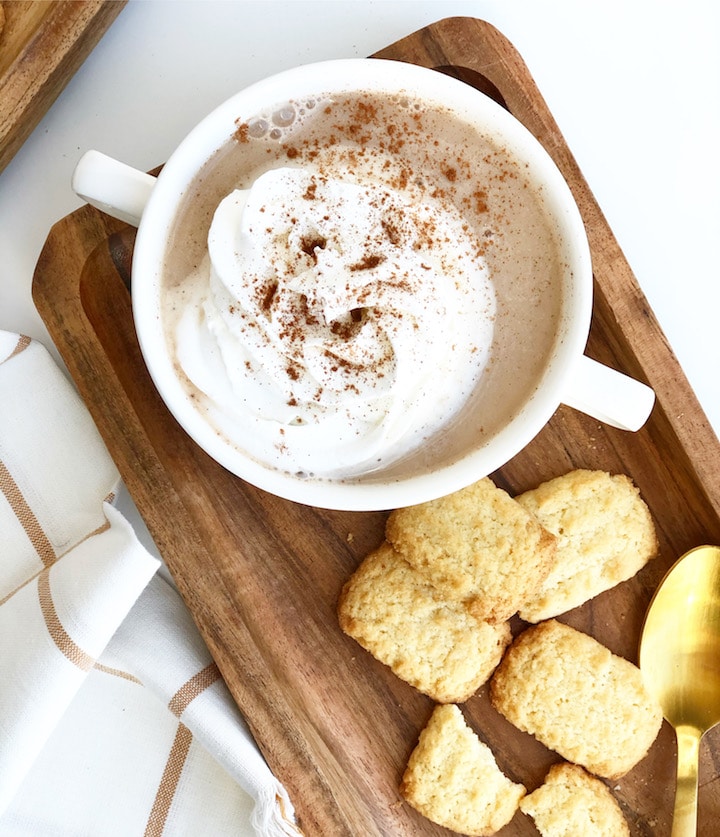 Yield:

Serves 2
Caffeine Free Chai Latte
Caffeine free chai latte is the perfect winter drink. This spiced chai latte is just like the Starbucks chai tea latte without the caffeine. 
Ingredients
1 cups Vanilla Coconut Milk
1/2 cup Almond Milk Creamer
1 teaspoon Cinnamon
1/4 teaspoon Nutmeg
1/4 teaspoon Cloves
1/4 teaspoon Ginger
To Top:
Whipped Cream To Top
Sprinkle of Cinnamon
Instructions
Add the vanilla coconut milk to a saucepan heated over medium heat.
Add the vanilla almond milk coffee creamer.
Add the ground cinnamon.
Add ground nutmeg and ground clove.
Add the ground ginger. Bring to a simmer.
Serve in a mug and top with whipped cream and a sprinkling of cinnamon.
Nutrition Information:
Yield:
2
Serving Size:
1
Amount Per Serving:
Calories:

136
Total Fat:

9g
Saturated Fat:

8g
Trans Fat:

0g
Unsaturated Fat:

0g
Cholesterol:

2mg
Sodium:

54mg
Carbohydrates:

14g
Fiber:

1g
Sugar:

5g
Protein:

1g