This Instant Pot butter chicken is a delicious way to make Indian food at home. No need to go to an Indian restaurant, you can make this authentic Indian butter chicken dish at home with your pressure cooker.
My all time favorite Indian dish is this Instant Pot butter chicken. It's made with tender chicken thighs that are cooked with fragrant herbs and spices like garlic, ginger, garam masala and cumin.
You all know how much I love my Instant Pot! I just recently tested 240 easy Instant Pot recipe for my No Shop Instant Pot cookbook. It was a labor of love, but also a testament to how much I love this kitchen appliance. If you need any help with the Instant Pot check out my post on How To Cook In An Instant Pot.
And this butter chicken recipe is probably my favorite recipe that I have made in the Instant Pot lately. I promise you, it won't disappoint. My 6 year old even told me that this was his favorite dinner of all time! That should tell you something!
What is Butter Chicken:
Butter chicken is a delicious curry dish that originated in the 1950's by Kundan Lal Gujral in the Punjab region of India. Also called murgh makhani, this dish is made with a tomato base, butter, spices and cream.
The typical preparation takes quite a few hours to make. Traditionally chicken is marinated in a mixture of yogurt, lemon juice, garam masala, ginger, garlic, salt and kashmiri red pepper.
It is cooked in a tandoor clay oven and served in a rich, buttery tomato curry sauce.
Because I don't have hours to make this delicious dish, I have come up with a pressure cooker option that tastes authentic and takes about 30 minutes to make from start to finish. It includes all of the beautiful curry flavors, but is much easier to make. You also don't need a tandoor oven or any obscure ingredients.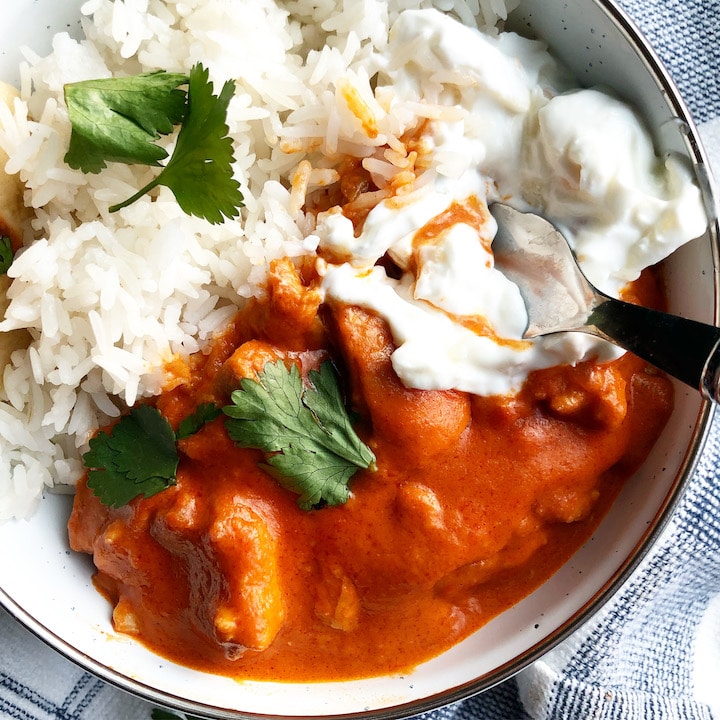 Ingredients For Butter Chicken:
This recipe calls for specific ingredients. You want to stick with the ingredients as closely as possible. All of which can be found in any major grocery store. 
Chicken Thighs: you can also use boneless skinless chicken breast but thighs stay more tender and do not dry out.
Butter: It wouldn't be butter chicken without butter! You can also use ghee if desired.
White Onion: You can also use yellow or brown onion if needed. 
Ginger: I love buying the Dorot frozen crushed ginger cubes. 1 cube equals 1 teaspoon and they make it really convenient for easy use. This is what I use for this dish. 
Garlic: Again I buy the Dorot frozen crushed garlic cubes. 1 cube equals 1 clove garlic.
Garam Masala: You can find this spice blend in any major grocery store. This is a must! Do not try to substitute with any other spice blend as this is a distinct flavor that gives butter chicken it's signature taste.
Cumin: Ground cumin works great for this recipe. You probably have this spice already in your cabinet. 
Salt: I love Redmonds Real Salt for cooking. It is packed with minerals and is a healthier option than table salt. 
Tomato Puree or Sauce: Make sure you use tomato puree or sauce, not tomato pasta sauce.
Tomato Paste: This helps thicken the sauce and adds a deep, rich tomato flavor without a lot of liquid.
Heavy Whipping Cream: Heavy cream adds a richness and creaminess to the sauce. You want to make sure to always add dairy products like cream or milk at the end of the pressure cooking process, as it can curdle if cooked under pressure.
Fresh Cilantro: I use this as a bright and colorful garnish.
Basmati Rice: Butter chicken is typically served over basmati rice. The rice soaks up all this delicious sauce and rounds out the meal.
Naan Bread: I love serving a side of homemade naan bread with this Instant Pot butter chicken. It serves as a perfect vessel to scrape up any extra sauce.
What is Garam Masala:
Garam masala is an Indian spice blend that is a mixture of black peppercorns, cinnamon, mace, cloves, black cardamom, nutmeg, fennel, bay leaves, cumin, coriander, red chili powder, and green cardamom.
It is used frequently in many South Asian countries like India, Pakistan and Afghanistan.
You can find garam masala in most major grocery stores in the spice section. I have even found it at my local Walmart.
You do not want to substitute this ingredient. It makes the dish!
What Can I Substitute For Heavy Cream In Indian Butter Chicken?
If you are looking for a dairy free version of this dish or want to substitute the heavy cream you can use coconut milk. Just skim off the top of the coconut cream in a can of coconut milk and use that. Use a dairy free butter substitute for the butter.
How To Make Instant Pot Butter Chicken:
Saute the aromatics:
Start by turning the Instant Pot on to the saute setting. Add the butter, onion, ginger and garlic and saute for 3 minutes.
Turn off saute mode:
Add the chicken and rest of the spices and turn the Instant Pot off. Make sure to turn it off or else you will lose a lot of the moisture that will actually help cook the chicken without having to dilute it with any liquid. You will not need to add any liquid to this dish as the chicken will release quite a bit of moisture.
Prepare the pot in pot rice:
Prepare the cake pan with rice and water. The best part about this dinner is you can make everything all at once.
Place the trivet into the pot directly on top of the chicken. Then top with the pan of rice.
Cook in the Instant Pot:
Cook on manual high pressure.
We will be using the natural release for 12 minutes instead of the quick release. We want the rice to continue to cook.
After the 12 minutes you can remove the rice from the pot along with the trivet.
Finish the sauce:
Next, remove the chicken and place on a plate while you finish the sauce.
To finish the sauce turn the Instant Pot on to saute mode. Add the tomato puree, tomato paste and heavy cream to the pot and simmer to thicken.
What to Serve With Butter Chicken:
I love serving this Instant Pot butter chicken on a bed of basmati rice with naan bread and topped with a delicious Indian raita which is a mixture of yogurt, shredded green apple, mint and salt.
All of the flavors meld so well together and makes it a complete meal.

Can I Freeze Butter Chicken:
Butter chicken freezes really well. You can freeze the butter chicken in foil tins or in soupercubes for individual servings.
I love to freeze it in soupercubes because I can freeze the rice and butter chicken together for a quick lunch or dinner on the run.
All you need to do is reheat the frozen cube directly in the microwave.
Other Instant Pot Recipes:
If you are a fan of this instant pot recipe try out some of my other favorite instant pot recipes.
5 Ingredient Instant Pot Classic Mac and Cheese
Instant Pot Shredded Beef Barbacoa
 Cheeseburger Stuffed Spaghetti Squash In Instant Pot
Instant Pot Butter Chicken Recipe: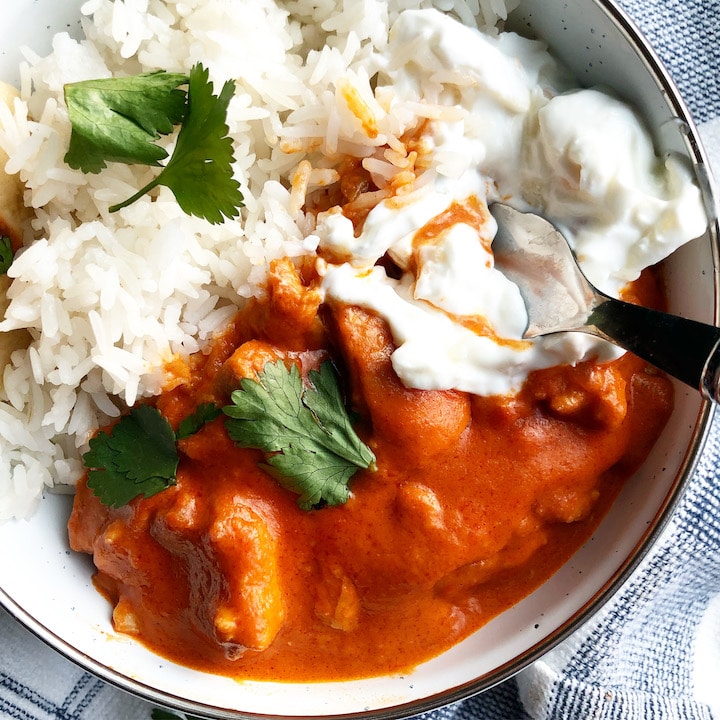 Yield:

Serves 4
Instant Pot Butter Chicken
Rich, creamy, Indian butter chicken is cooked to perfection in the Instant Pot. Try this for an easy weeknight dinner. This is an all in one Instant Pot meal where you cook the chicken and rice at the same time.
Ingredients
1 white onion, diced small
5 frozen garlic cubes
7 frozen ginger cubes
2 pounds boneless, skinless, cut into cubes
4 tablespoons butter
1 teaspoon granulated sugar
1 teaspoon ground cumin
1 teaspoon graham masala
1/2 teaspoon smoked paprika
1 teaspoon salt + 1/4 teaspoon
2 cups white rise, rinsed
2 1/4 cups water
1 can tomato sauce
1 tablespoon tomato paste
1/4 cup heavy cream
To Top:
Cilantro
Raita:
1 cup plain greek yogurt
1/4 cup pink lady or gala apple, shredded
1 teaspoon mint, roughly chopped
1/4 teaspoon salt
Instructions
Dice the white onion. Add to a mixing bowl.
Add the garlic and ginger cubes into the bowl.
Cut the chicken thighs into 1 inch cubes.
Turn the Instant pot onto saute mode. Add the butter to the insert to melt.
Once the butter is melted add the onion, garlic and ginger. Saute for 3-5 minutes.
Then add the chicken.
Add the sugar.
Add cumin.
Add garam masala.
Add smoked paprika.
Add 1 teaspoon salt.
Stir to combine.
Turn the instant pot off and add the trivet directly on top of the chicken.
Rinse the rice in a fine mesh strainer until the liquid runs clear.
Add the rice to a cake pan (that can fit inside your instant pot insert). I use a 7 inch for my Instant Pot duo80.
Add 2 cups of water to the rice along with 1/4 teaspoon salt.
Place the rice on top of the trivet.
Tightly cover the rice with foil. Make sure there is room for the steam to circulate. Place the lid on the pot.
Make sure the valve is set to the sealing position. Turn on manual, high pressure for 12 minutes.
Let it naturally release for 12 minutes.
Remove the foil from the rice.
Remove the rice from the pot.
Remove the trivet. Remove the chicken pieces to a plate.
Turn the instant pot on to saute mode and add the tomato sauce and tomato paste.
Cook on saute mode and simmer for 3 minutes to thicken. Add 1/4 cup to 1/3 cup heavy cream and stir to combine.
Add the chicken back into the sauce and stir.
Make the raita by combining yogurt, shredded apple, mint and salt in a small bowl.
Serve the chicken over rice with naan bread, fresh cilantro and raita.
Notes
Make sure your pot that will fit inside your Instant Pot is not too big. It should fit inside the pot comfortably. Make sure there is 1/2 inch space on the outside for steam circulation.
Recommended Products
As an Amazon Associate and member of other affiliate programs, I earn from qualifying purchases.
Nutrition Information:
Yield:
4
Serving Size:
1
Amount Per Serving:
Calories:

277
Total Fat:

18g
Saturated Fat:

11g
Trans Fat:

1g
Unsaturated Fat:

5g
Cholesterol:

50mg
Sodium:

1368mg
Carbohydrates:

23g
Fiber:

4g
Sugar:

15g
Protein:

9g