Instant Pot chicken fajitas are the perfect weeknight meal. Throw everything into the Instant Pot including your side of rice and beans and you have a complete meal in about 30 minutes. 
This Pot In Pot Instant Pot Chicken Fajitas with Rice and Beans is quick and easy to make. It's also a healthy gluten free dinner that is family friendly.
What I love about the Instant Pot is you literally dump your ingredients into the pot, set it, and forget it. I am a huge fan! Especially after I tested 240 Instant Pot recipes for my new cookbook The No Shop Instant Pot Cookbook. It's full of easy family friendly meals that use ingredients that you probably already have in your pantry.
If you need any help with the Instant Pot I am here to help! I have a whole blog post on How To Use An Instant Pot that explains pressure cooking and common cooking times.
The two most asked questions I get regarding the Instant Pot are…….
How do you cook chicken in the Instant Pot?
AND….
Can you come up with more pot in pot options for a complete dinner?
Well here is to killing two birds with one stone! This pot in pot Instant Pot chicken fajitas with rice and beans is a convenient way to feed your family.
No need to make everything separately when you can make everything all at once in the pressure cooker.
Ingredients for Instant Pot Chicken Fajitas:
Here are the simple ingredient you need to make these instant pot chicken fajitas. Check below for common substitutions if needed. 
Chicken breasts or Chicken Thighs: I tend to find chicken thighs stay more moist when cooking in the instant pot, chicken breasts are just more traditional. Use whatever you feel more comfortable with. 
Taco Seasoning or Fajita Seasoning: Use your favorite seasoning blend. You can also use a packet of dry Italian dressing mix. 
Salt: I love Redmonds Real Salt for cooking. It is packed with minerals and is a healthier option than table salt. 
Olive Oil: You could also use avocado oil.
Bell Peppers: Any variety or colors work great. Don't worry about cutting them perfectly either. They will shrink quite a bit. 
Red Onion: You could also use white onion.
White Rice: You can also use a Mexican rice packet like Rice A Roni. 
Can Pinto Beans: Make sure to rinse and drain the beans thoroughly. You don't want to add any of that packing liquid. 
Salsa or Tomato Sauce: I prefer salsa for extra flavor. Pico de gallo will even work if you have that on hand. And if you like your food more spicy you can also use a spicy salsa. 
Water: For perfect Instant Pot rice use a 1 to 1 ratio. Add an additional 1/4 cup of water.
Tortillas: You can use flour or corn tortillas.
Toppings: Some of my favorite toppings are sour cream, cheddar cheese, shredded lettuce, pico de gallo, hot sauce and avocado.
Frozen Chicken Option:
If you catch yourself forgetting to thaw your frozen chicken you can still use it. However you won't be able to do the rice and beans. Sorry friends, they would just overcook and become mushy. 
When using frozen chicken I recommend thawing it under cold running water until the chicken breasts or thighs are separated. If you throw in a big block of frozen chicken the inside of the chicken will not be cooked through.
Put your separated chicken breasts or thighs into the pot wth the remaining ingredients and cook on manual high pressure for 15 minutes. Manually release and shred.
How To Make Chicken Fajitas in Instant Pot:
Cut the chicken into strips. Cut the bell pepper and onion into large strips.
Season the chicken with the seasoning.
Turn the pressure cooker onto saute mode.
Add olive oil and then add the chicken and veggies and saute for 3 minutes.
Add 1/2 cup salsa. Then add a high trivet on top of the chicken and vegetables.
Add the rice and beans along with the liquid into a cake pan that will fit into the Instant Pot insert. Cover with foil.
Place the cake pan on top of the trivet and close the lid. Move the valve to the sealing position and cook on the rice setting.
Let the Instant Pot naturally release for 12 minutes.
Prepare all the toppings. Remove the cake pan and trivet and shred the chicken slightly.
Serve the fajita mixture in tortillas with toppings of choice.
Can I make this In the Slow Cooker?
You can also make the chicken portion of the recipe in a slow cooker. Just add all the ingredients into the slow cooker and cook on high for 4 hours.
Then proceed to warm your tortillas and serve with your favorite toppings. 
Meal Prep Ideas:
This fajita chicken goes well with so many things. I love to make a large batch and then use it for meal prep. You can meal prep for lunch or dinner.
Place about a cup of rice into food prep containers and top with chicken. Place your toppings in plastic containers to keep separate. Wrap some tortillas in foil and you have a delicious meal prepped and ready to go for lunches for the week.
Instant Pot Favorites:
If you love this Instant Pot recipe try out some of these delicious recipes. 
Easy Instant Pot Recipe: Pork Carnitas
Kalua Pork Instant Pot With Pineapple BBQ Sauce
Instant Pot Baby Back Ribs Recipe
Instant Pot Chicken Fajitas:
Print this recipe for an easy weeknight dinner! Enjoy!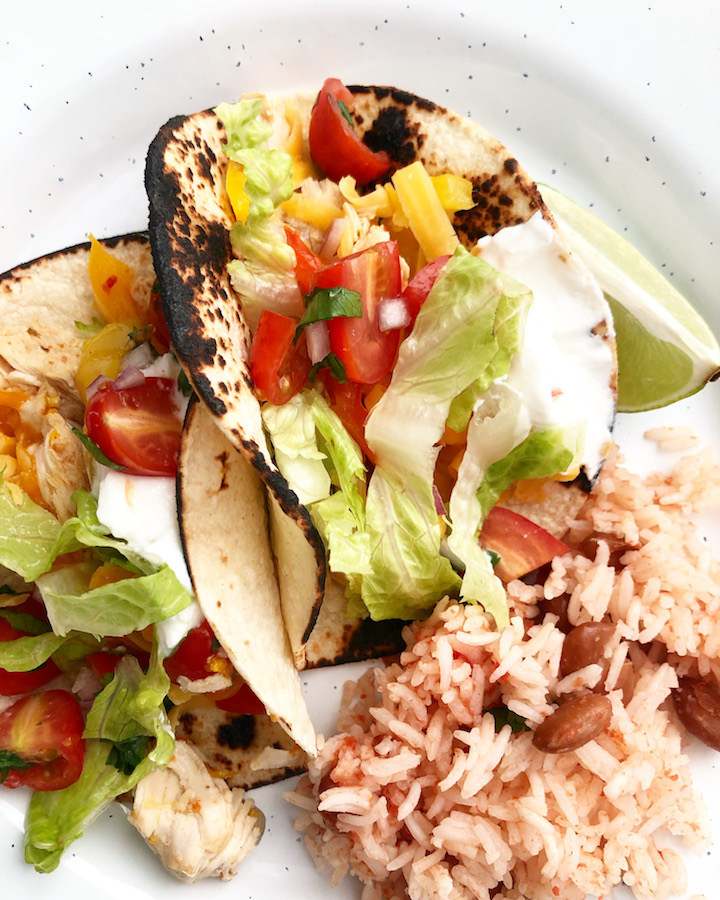 Yield:

Serves 4
Instant Pot Chicken Fajitas With Rice and Beans
Additional Time:
12 minutes
Cook everything in one pot and get dinner on the table in no time!
Ingredients
3 bell pepper (any color)
1 red onion
2 pounds chicken breasts
1 fajita seasoning packet or taco seasoning packet
1 teaspoon olive oil
1/2 cup salsa
2 cups white rice, rinsed
1 can pinto beans
1/2 cup salsa or tomato sauce
2 1/2 cups water
1 teaspoon salt
8 tortillas (corn or flour)
Instructions
Cut the bell peppers into strips.
Cut the onion into slices.
Slice the chicken into strips and place into a bowl.
Add the fajita seasoning to the chicken and toss to combine.
Turn the instant pot on to saute mode.
Prepare the rice. Add the rice to a fine mesh strainer and rinse thoroughly.
Then place the rinsed rice into a cake pan that can fit inside your instant pot insert.
Add rinsed and drained pinto beans.
Add the salsa and water to a large measuring cup.
Then add the salt to the water. Add the water mixture to the rice and stir to combine.
Cover the pan tightly with foil.
Add the oil to the preheated instant pot insert.
Add the chicken to the pot.
Add the vegetables and salsa to the pot.
Place a high trivet directly on top of the chicken and vegetables.
Then add the pan of rice on top of the trivet.
Seal with the lid and move the valve to sealing. Turn on the rice function (or manual low pressure for 12 minutes). When done let the instant pot naturally release pressure for 12 minutes.
Meanwhile prepare the tortillas by grilling them over an open flame (medium heat) for 30 seconds per side.
Prepare all the toppings.
Carefully remove the rice from the pot. Remove the foil and flake with a fork.
Remove the trivet. Shred the chicken with two forks.
Serve the chicken in tortillas with toppings of choice. Serve with rice and beans.
Recommended Products
As an Amazon Associate and member of other affiliate programs, I earn from qualifying purchases.