Italian green beans are full of citrus flavors and topped with parmesan cheese. They are also great for a make ahead green bean recipe.
These Italian green beans are bright, fresh and are a great healthy side dish for any gathering. 
While I was in Italy in culinary school one of my favorite items to buy at the open air market was green beans. I loved serving them simply with some bright citrus flavors, extra virgin olive oil, and parmesan cheese. 
I can't wait for you to try these Italian green beans for when you need an easy side dish recipe. 
If you need some more vegetable inspiration check out some other great vegetable side dish ideas like Maple Glazed Carrots or Roasted Greek Asparagus With Dill and Feta
Green bean recipes for Thanksgiving: 
Most green bean recipe for Thanksgiving consist of green bean casserole or heavy green bean dishes with a ton of sauce or bacon.
I love having a fresh and healthy side option to go with all the rich Thanksgiving food. These Italian green beans are light and healthy and won't weigh you down. 
How to cook green beans:
There are many ways to cook green beans like roasting, steaming, or blanching. Because we want to make these ahead of time, I like to blanch the green beans and then keep them in the fridge until the day I want to use them.
Once blanched they last for 3-4 days in the fridge. When you are ready to heat them up just place them in some boiling water for 30 seconds to warm through. 
Blanching green beans:
Blanching is a culinary term and technique that consists of cooking a vegetable for a short time in boiling water and then quickly submerging it in an ice bath.
There are many benefits to blanching vegetables. One is the vegetables stay crisp and crunchy. Another benefit is the ice bath shocks the vegetables and locks in the beautiful color. No more brown soggy green beans with this method!
Blanching also is a great way to preserve the nutritional value of produce. 
How long to blanch green beans:
Blanching green beans only take about 3 minutes in boiling water. If you are using French green beans, which tend to be thinner you can cook them for 2 minutes. 
How to Make Italian Green Beans: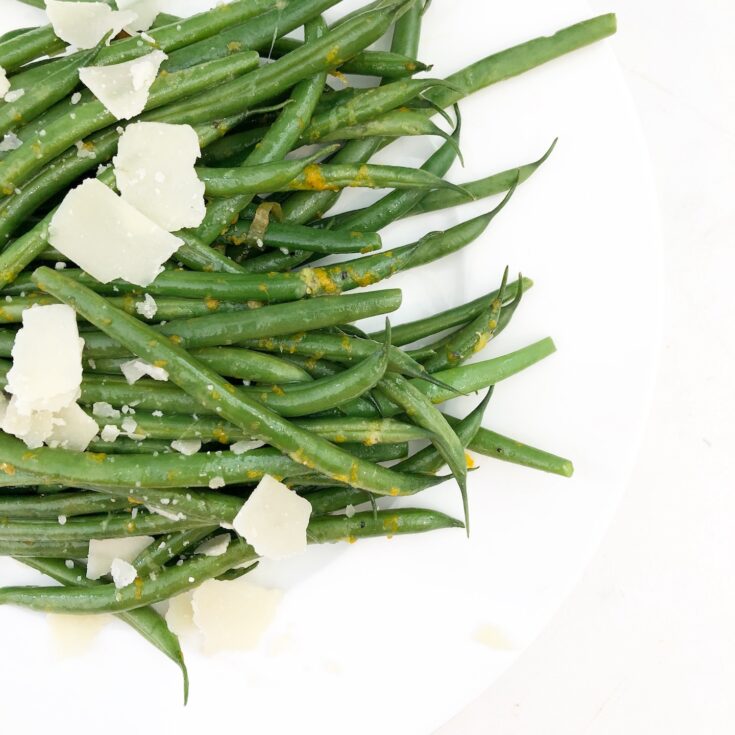 Yield:

Serves 6
Italian Green Beans
Crisp, citrusy green beans are my favorite way to enjoy this delicious vegetable.
Ingredients
2 pounds green beans
1 orange zested and juiced
1 lemon zested and juiced
2 tablespoons extra virgin olive oil
salt and pepper to taste
1/4 cup to 1/2 cup shaved parmesan cheese
Instructions
Remove the ends form the green beans.
Place the green beans in boiling water for 3 minutes.
Meanwhile make the dressing by zesting and juicing the orange and lemon into a mason jar.
Add the olive oil, salt and pepper.
Seal and shake to combine.
When the green beans are done place them straight into an ice water bath.
Drain the green beans and place them into a ziplock. You can store them in the fridge until you are ready to eat (up to 3 days).
When you are ready to eat place the beans in how water for 30 seconds to heat through.
Drain the beans and place on your serving platter.
Shake the dressing and pour on top of the beans.
Toss and top with shaved parmesan cheese.