These Instant Pot garlic mashed potatoes are quick to make and deliciously creamy. Full of garlic flavor this is another delicious Instant Pot recipe.
There really is no better side dish than creamy mashed potatoes, except mashed potatoes that are full of garlic. The garlic flavor adds so much to a simple mashed potato recipe.
I don't know about you, but mashed potatoes are always on our Thanksgiving menu. They are always the first to go at our Thanksgiving table. Make sure to add this easy garlic mashed potato recipe to your menu this year. I promise you won't be disappointed.
Instant Pot Cooking For Thanksgiving
I get asked every Thanksgiving how to cook multiple dishes with only one oven. The answer is if you are in charge of hosting Thanksgiving, utilize an electric pressure cooker or Instant Pot.
The Instant Pot not only saves you oven and stovetop space, it can keep food warm for long periods of time and save you time. Just utilize that keep warm button function after cooking.
This method definitely comes in handy if you only have one oven. You can make many things in the Instant Pot including vegetable sides, or even your turkey.
My favorite way to utilize the Instant Pot on Thanksgiving is definitely mashed potatoes.
Mashed Potatoes come out perfectly creamy and can stay warm in the Instant Pot so I can move on to another task.
If you need any more Thanksgiving advice check out my Thanksgiving Guide or send me a message on Instagram. I would love to help make your holidays easier.
Instant Pot mashed potatoes are easy to make and are rich and creamy. The best part is you can make them ahead of time for holidays like Thanksgiving. Use the warm mode to keep them warm until you are ready to enjoy them.
If you need Thanksgiving side inspiration check out this delicious menu
Thanksgiving Menu Inspiration:
Sweet Potato Casserole With Bacon Brown Sugar Pecan Crust
Famous Pretzel Dinner Roll Recipe
Common Mashed Potato Questions:
Now that you have some more Thanksgiving inspiration, lets get going on these mashed potatoes. Here are some common questions and answers you may have while making this recipe.
Secret Ingredient:
So how do we get that garlicky flavor that is so coveted in mashed potatoes?
Most garlic mashed potato recipes call for garlic powder, raw chopped garlic, or even roasted garlic. But I like to use a secret ingredient instead.
The secret ingredient for these Instant Pot mashed potatoes is Boursin Cheese. Boursin cheese is a flavored soft cheese. There are different flavors, but my favorite and the best flavor for these garlic mashed potatoes is the garlic and herb flavor.
Boursin cheese adds a rich creaminess and a big punch of flavor.
What potatoes to use for mashed potatoes:
Many varieties of potatoes work well for mashed potatoes. Some of the best potatoes to use for mashed potatoes are Yukon gold potatoes or red potatoes. Stay away from baking potatoes such as russet potatoes as they will absorb a lot more water when cooking.
The Yukon gold and red potatoes have a thin skin so you don't have to peel them. If you want a perfectly smooth mashed potato than peel the skin off all varieties.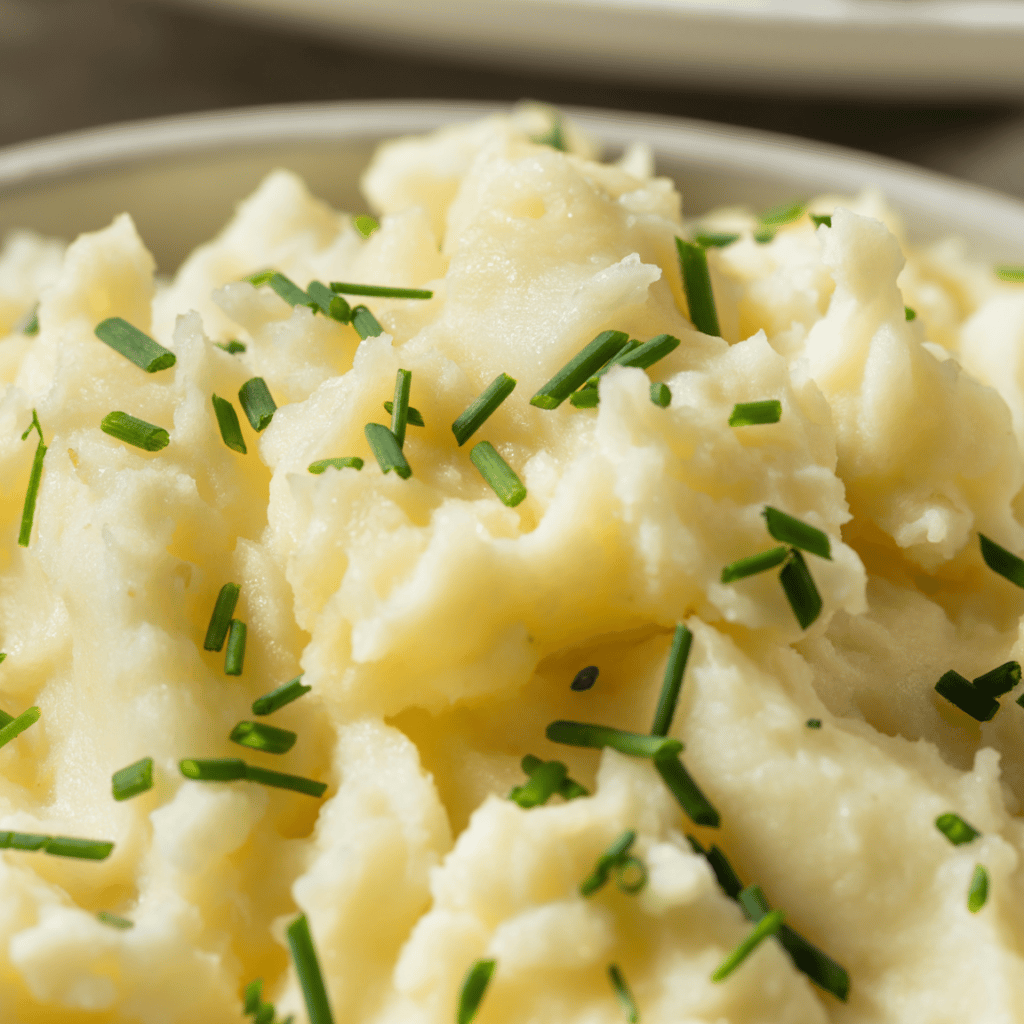 How to cook mashed potatoes in the instant pot:
Wash the potatoes. Cut the potatoes in 1 inch chunks.
Place thee potatoes into the instant pot with 1 cup water.
Seal with the lid and move the valve to the sealing position. Turn on manual high pressure for 10 minutes.
Manually release pressure by moving the valve to the venting position (this is called a quick release) and add flavorings of choice. Today we are using our Boursin, but if you want plain mashed potatoes you can add butter and sour cream.
Add the heavy cream and mash with a potato masher or use a hand mixer.
Lastly salt and pepper to taste.
How to make mashed potatoes ahead of time:
Cook the mashed potatoes according to recipe directions. Turn the instant pot on warming mode and cover with the lid.
As the mashed potatoes sit they will absorb the liquid and get thicker. You may need to add some fresh cream or milk to thin the potatoes when you are ready to serve.
Are mashed potatoes gluten free:
Most mashed potato recipes are gluten free. Always check the ingredients to make sure there is no hidden gluten.
Instant Pot Garlic Mashed Potatoes Recipe: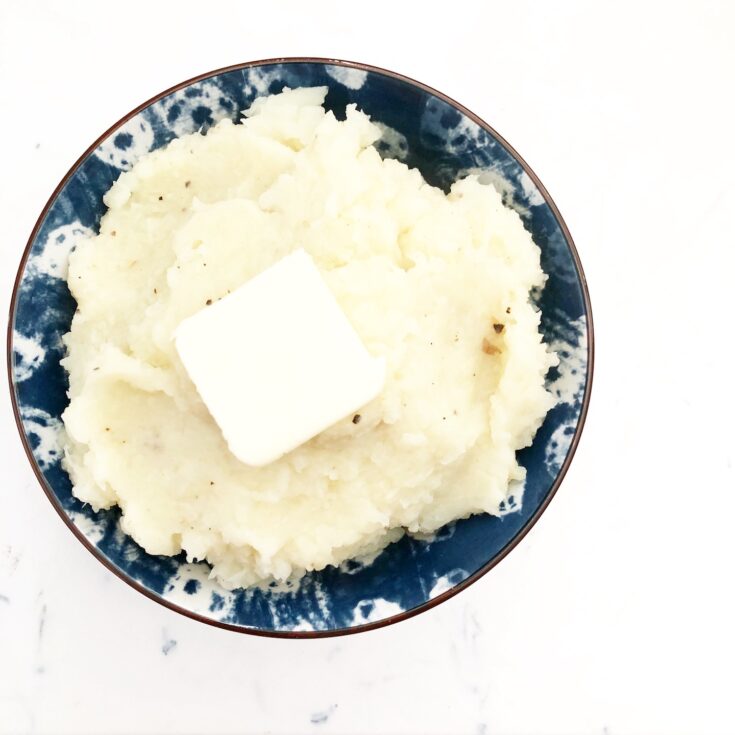 Yield:

Serves 6
Instant Pot Garlic Mashed Potatoes
Creamy, herb mashed potatoes are so easy to make in the Instant Pot.
Ingredients
6 Pounds White Potatoes, Washed, Peeled And Diced in 1 Inch Cubes
1-1/2 Cup Cream or Milk + More If Needed When Reheating
1/2 Cup Unsalted Butter
1 Block Boursin Cheese (Garlic and Herb Flavor)
1 Teaspoon Black Pepper
1 Tablespoon Kosher Salt or Salt to Taste
Instructions
Wash the potatoes. Cut the potatoes into 1 inch chunks.
Place the potatoes into the Instant Pot with one cup water.
Seal with the lid. Move the valve to sealing and turn on manual high pressure for 10 minutes.
Manually release the pressure and add butter and Boursin cheese.
Add the cream and mash with a potato masher or use a hand mixer for a smoother consistency.
Add salt and pepper to taste.
Notes
To make ahead:
Keep the mashed potatoes on the warming function in the Instant pot.