Salty, sweet, slightly spicy — this Jalapeño Brown Sugar Bacon is literally mind-blowing! Flavored bacon at its best!
Flavored bacon is all the rage right now, and rightfully so. This bacon is liberally brushed with a mixture of brown sugar and pickled jalapeño, and then baked until crispy. 
You can eat this bacon straight up out of the oven (my fave!) or you can put it in sandwiches like BLTs — also my fave — or on salads (think cobb salad or a lovely spring mix with an herb vinaigrette.
It's a candied bacon with spice and once you taste it you won't want to make it any other way. Promise!
What kind of bacon is the best to cook in the oven:
Not all bacon is created equal. Taste of Home has a great bacon reference that goes into detail about the different types of bacon.
I love using thick-cut Applewood Smoked Bacon for this particular recipe, but I have to share my all-time favorite bacon from Trader Joe's. Their Black Forest Bacon has a delicious flavor that is incredible and it is the bacon I grab for most all my recipes.
Just a note: It does seem to cook a little quicker, so just keep that in mind.
How to cook bacon in the oven:
Cooking bacon in the oven seems to be such a trend the last few years. I definitely foresee it as one not going out of style. I love to cook bacon in the oven to cut down on the mess. No more grease splattering all over your stovetop or burns from the sizzling bacon! Hallelujah!
There are two ways to cook bacon in the oven. I prefer to place the bacon on a foil-lined baking sheet (with a rim/lip). As an alternate, you can lay the strips of bacon on the top rack of your oven with a foil-lined baking sheet on the middle rack (to collect the grease).
Either way you choose, you'll cook the bacon at 350-400°F for 15 minutes. Remove the bacon from the pan and place on a paper towel-lined plate to drain excess grease.
Flavored Bacon ideas:
I love to experiment with flavored bacon, and I've come up with some ideas that are easy, but will impress others…that's if you share!
You can't go wrong with any of these flavors to eat on top salads or stuffed into a delicious BLT sandwich. Or eat them plain!
Praline Bacon: Finely Chopped Pecans + Brown Sugar

Peppered Bacon: Mesquite Black Pepper

Honey Mustard Bacon: Honey + Dijon Mustard

Korean Bacon: Gochujang + Brown Sugar

Sesame Honey: Sesame Seeds + Honey
What to serve with this candied bacon:
How to make candied bacon: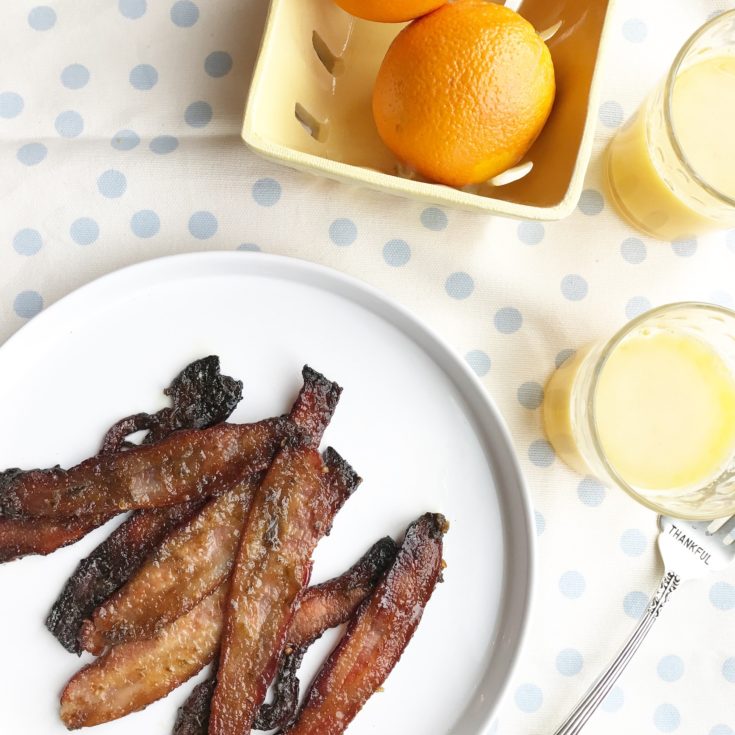 Yield:

Serves 4
Jalapeño Brown Sugar Bacon
Sweet, salty, and slightly spicy, this bacon is unbelievable!
Ingredients
1 Pound Bacon
1 Cup Brown Sugar
2 Ounces Tamed Pickled Jalapeño Peppers, Drained and Chopped Finely
½ Teaspoon Red Pepper Flakes
Instructions
Preheat the oven to 350°F.
Evenly place the bacon on a foil-lined baking sheet.
In a small bowl, combine the brown sugar, jalapeños, and pepper flakes. It will become a paste as you stir it together.
Liberally brush the paste onto the bacon.
Bake the bacon for 15 minutes, rotating the pan half-way through.
Carefully remove from the oven and let cool slightly on a paper towel-lined plate before serving.
Recommended Products
As an Amazon Associate and member of other affiliate programs, I earn from qualifying purchases.