Pizza wheels are so delicious and take just a few minutes to pull together. You'll love these for a quick lunch, afternoon snack, or as a finger food at your next get together!
Is it just my kids or do your kids also magically know when it's 3 o'clock in the afternoon? Yep, I'm talking about that short window between lunch and dinner when the words "Mom, I'm hungry" remind me of nails running down a chalkboard. (Now I've got goosebumps just imagining that.)
But really, it's inevitable. And if it doesn't happen in your house, then I'm totally jealous! Kids need frequent meals more than adults, so it makes sense that they're hungry in the afternoon.
Cue this super simple and quick snack recipe: Pizza Wheels!
This is the perfect pizza wheel for my toddlers. Even better, it packs easily which makes this perfect for school lunch, toddler birthday parties, and a quick bite on the road. When we are headed out for the afternoon, I'll quickly make these wheels and bring some pizza sauce in small disposable cups for a no-mess snack.
Here are 3 tips for making the most delicious pizza wheels:
#1 — Use premade pizza dough! There is a time and a place for homemade dough, and this is not the time! Just kidding, if you want to use homemade pizza dough, feel free – don't let me stop you! But using premade pizza dough will save you so much time and give you consistent results every single time.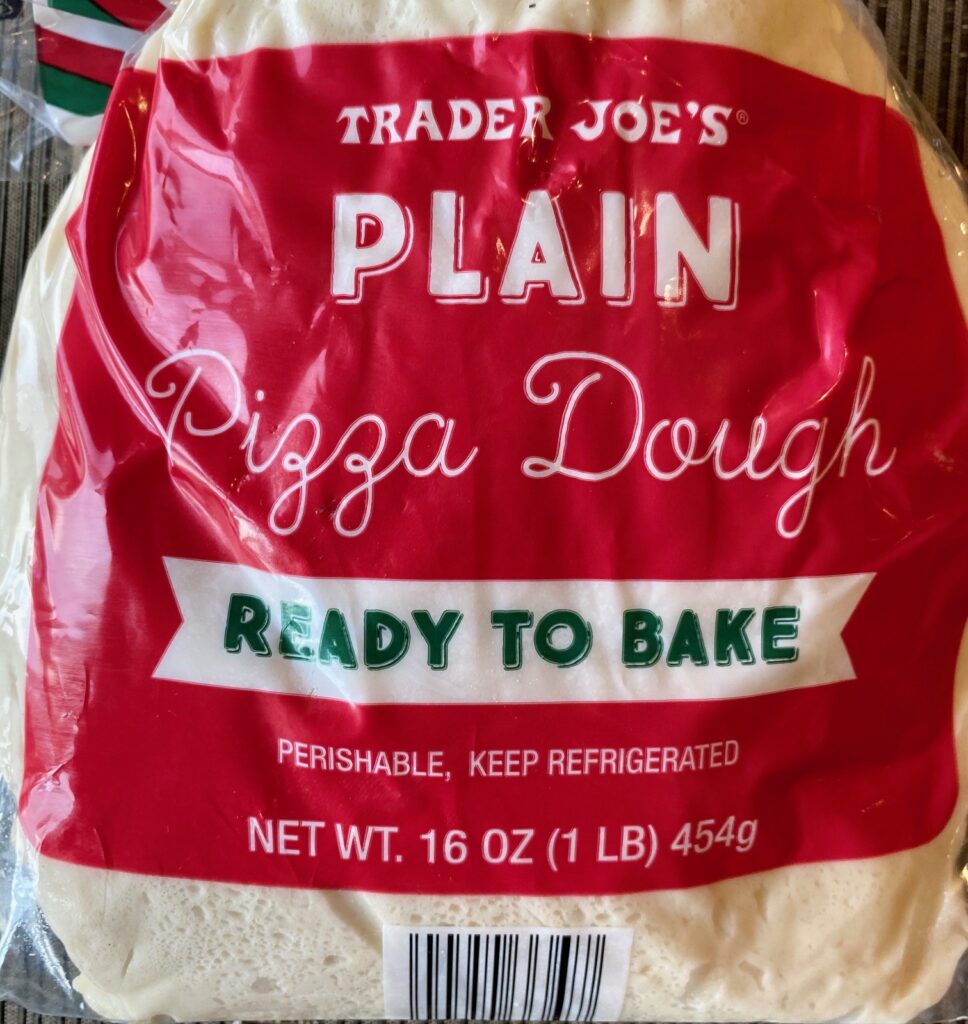 My favorite pizza dough is Trader Joe's. The flavor is spot-on and I love supporting my favorite store. I prefer their plain dough, but their whole wheat and herbed dough would also be delicious.
Looking for gluten-free pizza wheels? Simply use your favorite premade gluten-free pizza dough!
#2 — Cheese! It's like the peanut butter to the jelly, the icing to the cake, and the bacon to the eggs. And it's the glue that holds all the toppings onto the pizza!
Trader Joe's Quattro Formaggio Cheese really stands out from other cheeses. It's a blend of Parmesan, Asiago, Fontina, and Provolone cheeses. You've got a mix of hard cheeses (Parmesan & Asiago) and soft cheeses (Fontina & Provolone), as well as a variety of cheese flavors that meld together so beautifully.
#3 — Form a nice, tight jelly roll. This is tricky and might take some time to practice so your fillings stay intact. The key to jelly rolls is to start with the long side. This results in slices that are not ginormous. I love to use this rolling pizza cutter when cutting my jelly roll into slices.
Check out some of my other recipes that use the jelly roll technique!
What are your favorite recipes to make using a jelly roll? Share them below or tag me on social media!
Quick and Easy Pizza Wheels Recipe: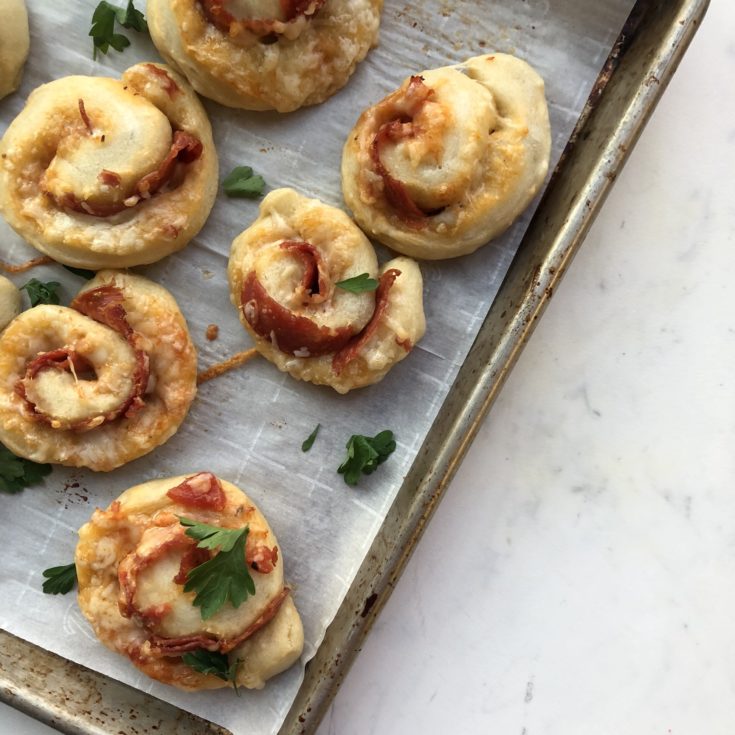 Yield: 12
Pepperoni Pizza Wheels
Prep Time: 10 minutes

Cook Time: 20 minutes

Total Time: 30 minutes

On-the-go dinner for a busy weeknight meal.
Ingredients
1 Package Pepperoni
1 Cup Quattro Formaggio Cheese (Trader Joe's) or Italian Cheese Blend
1 Package Pre-Made Pizza Dough
2 Tablespoons Garlic Butter or Butter
2 Tablespoons Grated Parmesan Cheese
Optional:
Instructions
Preheat the oven to 400°F.
Lightly flour a clean work surface and roll out the pizza dough into a large rectangle.
Top with an even layer of cheese and pepperoni, leaving a 1 inch border around the outside.
Starting on one side, roll horizontally in a very tight log. Cut into 1½ inch slices and place on a parchment-lined baking sheet.
Brush with melted butter and top with Parmesan cheese.
Bake for 20 minutes.
Notes
Change up the filling however you like. Try Sausage and Green Peppers or Canadian Bacon and Pineapple.
Recommended Products
As an Amazon Associate and member of other affiliate programs, I earn from qualifying purchases.
Nutrition Information:
Yield:
12
Serving Size:
1 Amount Per Serving: Calories: 128Total Fat: 9gSaturated Fat: 5gTrans Fat: 0gUnsaturated Fat: 3gCholesterol: 40mgSodium: 291mgCarbohydrates: 3gFiber: 0gSugar: 1gProtein: 10g