This delicious Korean fried chicken sandwich is made in the air fryer and is full of spicy, sweet, salty and sour flavors. It's a unique and delicious way to make a fried chicken sandwich. 
This Korean air fryer fried chicken sandwich is a show stopper. Let's dive into everything you need to know to make this yummy recipe. 
All About The Air Fryer:
The air fryer is a great way to make normally unhealthy food healthier. It uses hot circulating air to cook the food and creates a crispy result without unnecessary oil. Essentially it is a smaller version of a convection oven. 
If you want to learn more about how to cook in the air fryer and which one to get for your family check out this post on How To Use An Air Fryer. 
Other Air Fryer Recipes:
These are some of my other favorite air fryer recipes!
Frozen Chicken Wings In Air Fryer (Korean Style)
Air Fryer Chicken Legs- Drumsticks
Now let's get into the nitty gritty of the recipe. 
Ingredients For Air Fryer Korean Fried Chicken:
For this air fryer Korean fried chicken recipe we use a marinade and then a coating. We will go through these three steps shortly but here are all the ingredients you need to make this recipe. 
Chicken breasts
Gochujang Sauce
Coconut milk
Cabbage
Purple Cabbage
Carrots
Pickle Juice
All Purpose Flour
Salt
Paprika
Garlic Salt
Cooking Spray
Mayonaise
Lemongrass
Brioche Buns
Butter
Chicken Marinade:
Marinating is an easy way to add juiciness, flavor and tenderness. It is a great flavor enhancer too! For this marinade we will use Gochujang and coconut milk. 
What is Gochujang?
Gochujang sauce is a spicy, sweet and tangy fermented red chili paste. It is used quite often in Korean cooking and adds a delicious flavor
It is made from chili powder, glutinous rice, meju powder, yeotgireum, and salt. You can find it in most grocery stores in the Asian food isle. 
Korean Fried Chicken Coating:
For the coating we combine our dry coating with some of the marinade to create a slightly wet batter. It is important to use a slightly wet coating especially when cooking the fried chicken in the air fryer. Sometimes when you make fried chicken in the air fryer it can burn the flour and cause an unpleasant taste. 
The moisture in the coating will help to create a crunchy exterior without burning the flour. Just simply add about 1/2 of the marinade into the flour mixture. 
What If I Don't Have An Air Fryer?
If you don't have an air fryer you can still make this delicious sandwich! Just fry the chicken in a vegetable oil for 5 minutes per side or until cooked through and crispy. 
Follow the rest of the directions to create the sandwich. 
How To Make Air Fryer Fried Chicken: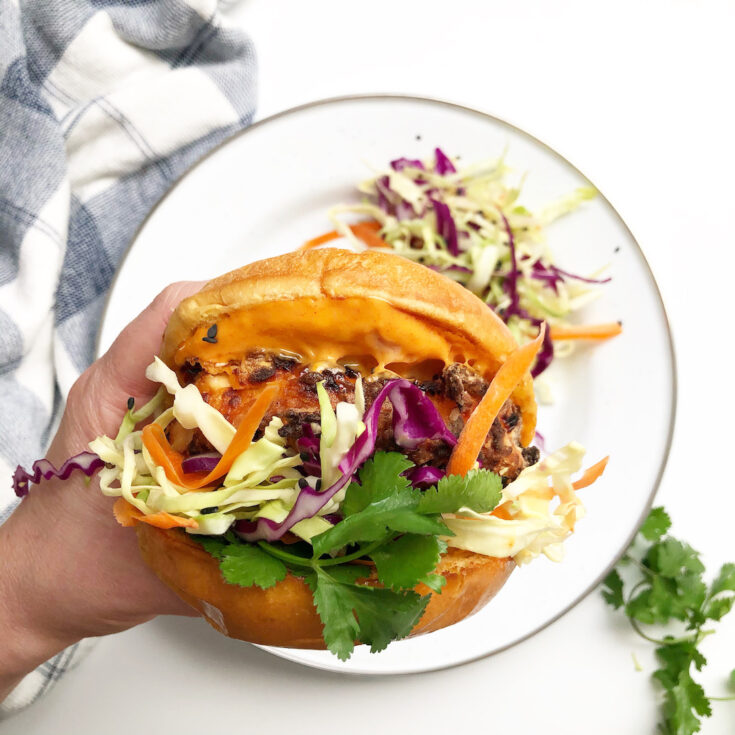 Yield:

Serves 4
Air Fryer Korean Fried Chicken Sandwich
Total Time:
4 hours
30 minutes
Crunchy chicken sandwich full of Korean and Asian flavors is the perfect weeknight meal!
Ingredients
For The Chicken:
2 boneless skinless chicken breasts
1/4 cup gochujang
1 can coconut milk or 1 cup buttermilk
2 cups all purpose flour
3 teaspoons Kosher salt
1 teaspoon paprika
1 teaspoon garlic salt
For The Sauce:
1/4 cup mayonnaise
1 tablespoon gochujang
2 teaspoons lemongrass (stir in paste)
For The Slaw:
4 cups shredded cabbage
2 cups shredded purple cabbage
2 carrots, peeled into ribbons
1/4 cup pickle juice
Assembly:
4 Brioche Buns
2 tablespoons butter
Cilantro
black sesame seeds
Instructions
Slice two chicken breasts in half lengthwise. Cut each piece in half.
Add the chicken to a bowl. Add the gochujang and coconut milk. Stir to combine. Let marinade overnight or for at least 4 hours.
When ready to cook preheat the air fryer to 390 F. To prepare the slaw, shred the green cabbage and purple cabbage and place in a mixing bowl.
Peel 2 carrots into the bowl.
Add 1/4 cup pickle juice to the slaw ingredients and let sit for at least 10 minutes.
Add 2 cups all purpose flour to a mixing bowl.
Add salt, paprika and garlic salt to the bowl. Mix to combine.
Add 1/2 cup-1 cup of the marinade into the flour. Coat the chicken in the flour mixture on both sides. Place on a foil lined baking sheet.
Spray liberally with cooking spray on both sides of the chicken or brush with oil. Place in the preheated air fryer basket.
Turn on the air fryer at 390 F for 20 minutes.
To make the sauce add the mayonnaise and gochujang to a mixing bowl. Stir to combine.
Add the lemongrass and stir. Set aside.
Halfway through spray the chicken again with cooking spray on both sides and flip.
Toast the buns with butter and then assemble with sauce, chicken, slaw, cilantro leaves and sesame seeds.
Recommended Products
As an Amazon Associate and member of other affiliate programs, I earn from qualifying purchases.