Made with only 4 ingredients, this Lemon Cookie Ice Cream is rich, creamy, and full of lemon flavor. It's a favorite flavor in our home!
Ok guys, this is not your typical ice cream! I have been waiting to share this recipe with you because it is the creamiest ice cream you will ever taste and the easiest too. And I'm all about easy and delicious recipes!
When I lived in Italy there was a little gelato shop a block away that my friends and I would go to almost everyday….. Okay, actually EVERY. SINGLE. DAY! I know it was a little excessive, but it was heaven on earth and I still dream about it.
Because I am thousands of miles away from my little heaven on earth gelato shop, I had to recreate something that was at least similar. I have a lot of gelato recipes I will share with you on the blog, but this is something entirely different!
Therefore it deserves a little back story. First let's first start off with the difference between gelato and ice cream.
How is Gelato Different Than Ice Cream?
Gelato means ice cream in Italian. But that doesn't mean that it is like our American version of ice cream!
Made from a lower cream content (but higher quantity of milk) and more sugar, gelato is creamier, silkier, and denser than ice cream. It also packs in more flavor than ice cream, which I love!
One of my favorite gelato flavors at my little gelato shop was lemon cookie. It was indescribable. Smooth, lemony, sweet.
Are you the type of person to stick with something once you're in love or do you love to branch out? I'm a lover of all things food, so I branch out. But this lemon cookie gelato has stopped me from trying so many flavors. It's that good!
Therefore I have recreated this gelato recipe, but as a delicious ice cream. It's made with four simple ingredients and takes no time at all! It's best made in an ice cream maker, and I highly recommend the one by Cuisinart.
Also, if you find yourself heading to Florence, Italy, shoot me a message and I will tell you ALL of my favorite places to eat! Better yet, JOIN ME on a More Momma Food Tour!
Looking for other sweet desserts? I'm sure you'll love:
Enjoy the recipe!
How to Make Lemon Cookie Ice Cream: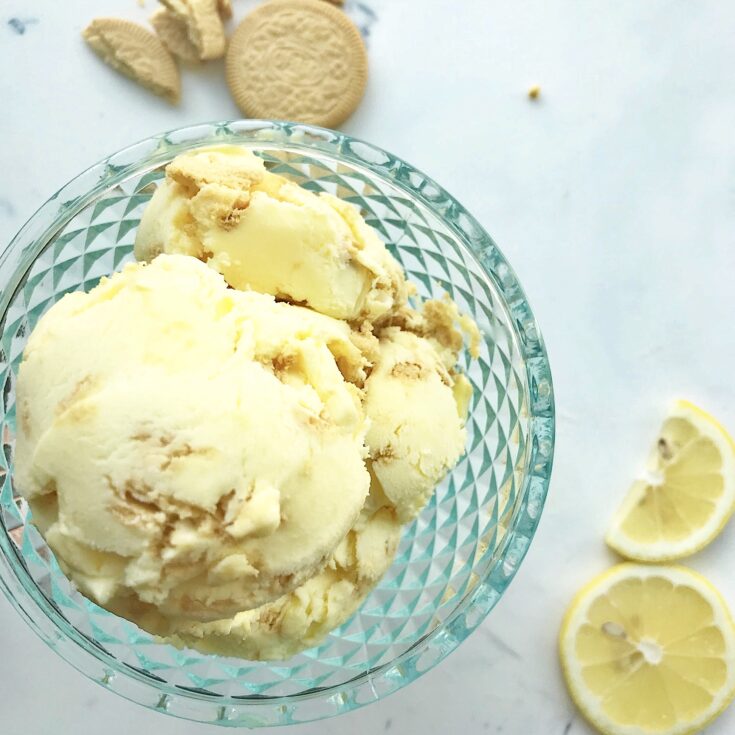 Yield:

Serves 6
Lemon Cookie Ice Cream
Total Time:
1 day
15 minutes
Creamy, lemon ice cream is full of lemon cookies and is only 4 ingredients!
Ingredients
1 Cup Cream
1 Cup Milk
1 Small Box Instant Lemon Pudding Mix
10 Lemon Oreo Cookies, Crushed
Instructions
Freeze your ice cream maker insert for at least 24 hours before use.
In a small mixing bowl, combine cream and milk together. Whisk in lemon pudding mix and whisk for 1 minute.
Place mixture into your ice cream maker insert and turn on for 10-15 minutes or until it becomes thick and frozen.
Mix in cookies and place in your freezer to harden or serve straight from the ice cream maker.
Recommended Products
As an Amazon Associate and member of other affiliate programs, I earn from qualifying purchases.