Gluten and dairy free chicken avocado parmesan is the perfect weeknight dinner that everyone in your family will enjoy.
This is one of my favorite gluten free and dairy free family friendly meals! I can't wait to share it with you! You can add cheese on top as well. We used Aleia's Gluten Free Panko Breadcrumbs and you can't even tell its gluten free.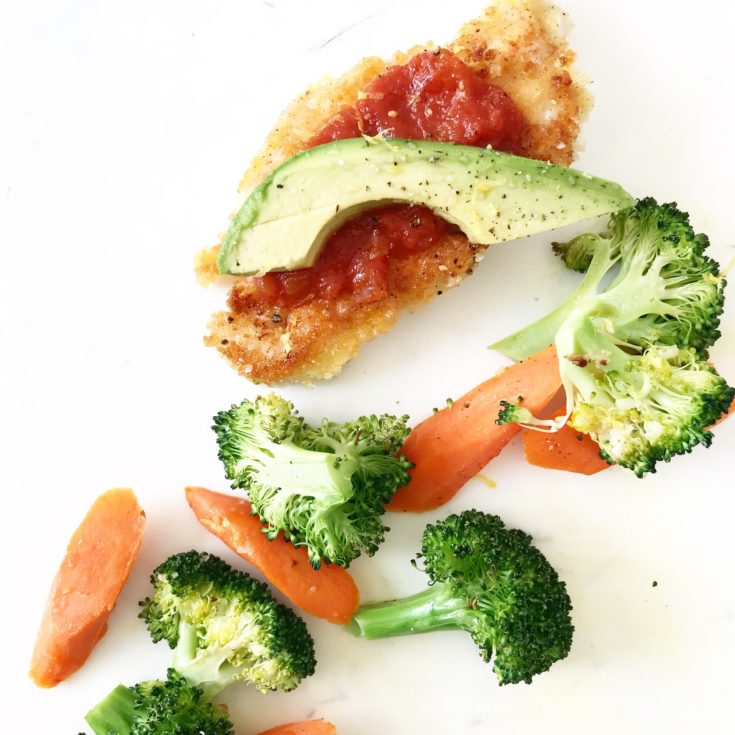 Yield:

Serves 4
Chicken Avocado Parmesan: Gluten & Dairy Free!
Ingredients
2 Cups Aleia's Panko Bread Crumbs or other Gluten Free Bread Crumbs
4 Chicken Breasts, (cut in half lengthwise)
3 Tablespoons Avocado Oil
1 Avocado, Sliced
1 Jar Tomato Sauce (about a tablespoon on each piece of chicken)
Kosher Salt and Pepper (to taste)
2 Cups Broccoli, Cut into Florets
1 Cups Carrots, Peeled and Sliced 1/2"
1 Lemon, Zest
Instructions
Preheat oven to 400 degrees. Pour bread crumbs into a shallow baking dish.
Meanwhile preheat a skillet on medium heat then add oil.
Dredge the chicken in panko bread crumbs and coat on both sides. Season with salt and pepper. Place chicken straight into the pre-heated pan and sear on 7 minutes per side.
Cut broccoli and carrots and place on a foil lined sheet pan. Toss with 1 tablespoon olive oil and season with salt and pepper. Roast in the oven for 10 minutes.
Remove the chicken from the pan and place the cooked chicken on the sheet pan with the vegetables. Top chicken with 1 tablespoon tomato sauce and top with sliced avocado.
Bake in a 400 degree oven for 5 minutes (if you want cheese you can add it on top and bake to melt).
Remove from the oven and top with lemon
zest.
Recommended Products
As an Amazon Associate and member of other affiliate programs, I earn from qualifying purchases.