This lettuce wrap burger gets it's inspiration from In In Out's protein style burger. It's made with a juicy turkey burger topped with special sauce, grilled onions, cheddar cheese, fresh tomato and pickles all wrapped up in crisp iceberg lettuce.
Can I just say this lettuce wrap burger is my favorite healthy, quick dinner recipe that is low carb and family friendly. 
Growing up in Southern California, In In Out was a weekly fast food run. We would normally get In In Out on Friday nights after the high school football game or after my water polo games. It's a California staple and is a healthier fast food restaurant that uses all fresh ingredients. Therefore us Californians are kind of obsessed. 
When I eat at In In Out I normally order their protein style cheeseburger with grilled onions and pickles. It's my go to order and a healthier option since "protein style" is code word for lettuce wrapped instead of a bun. 
So of course I have to recreate the infamous lettuce wrap burger so I can make it at home. The best part is I made this burger a little healthier with the use of ground turkey instead of the usual ground beef. 
You can make it either way and use your favorite burger toppings. 
Ground Turkey Burgers:
Turkey burgers get a bad rap. I love them and have some tricks to make them juicy and flavorful. Here are my tips!
Use a good quality ground turkey (I like to buy organic)
Don't use lean ground turkey. You will need some of the fat to keep the burgers juicy. 
Make sure you season the meat adequately for optimal flavor. 
Pan sear on a griddle to create a caramelized crust without drying the burgers out. 
The Best Lettuce To Use for Lettuce Wrap Burgers:
The type of lettuce makes a huge difference as to how your lettuce wrap burgers will eat texturally.
Just a warning lettuce wrap burgers are a little messy, so plan accordingly. 
I like to use two types of lettuces for lettuce burgers. 
Iceberg: My first choice and probably the best. Iceberg lettuce is very crisp and crunchy, which helps with texture of the burgers and also adds a freshness factor. The leaves are also large so you can use them to create a wrap around the burger. 
Butter lettuce: Another option that has large enough leaves to create a wrap around the burger. Butter lettuce is a very tender lettuce so it may not be as crisp and crunchy. 
Other Low Carb Recipes:
If you are looking for some other delicious low carb recipes try these out! 
Mexican Quinoa Salad With Chili Lime Vinaigrette
Instant Pot Cheeseburger Stuffed Spaghetti Squash
Lettuce Wrap Burger Recipe: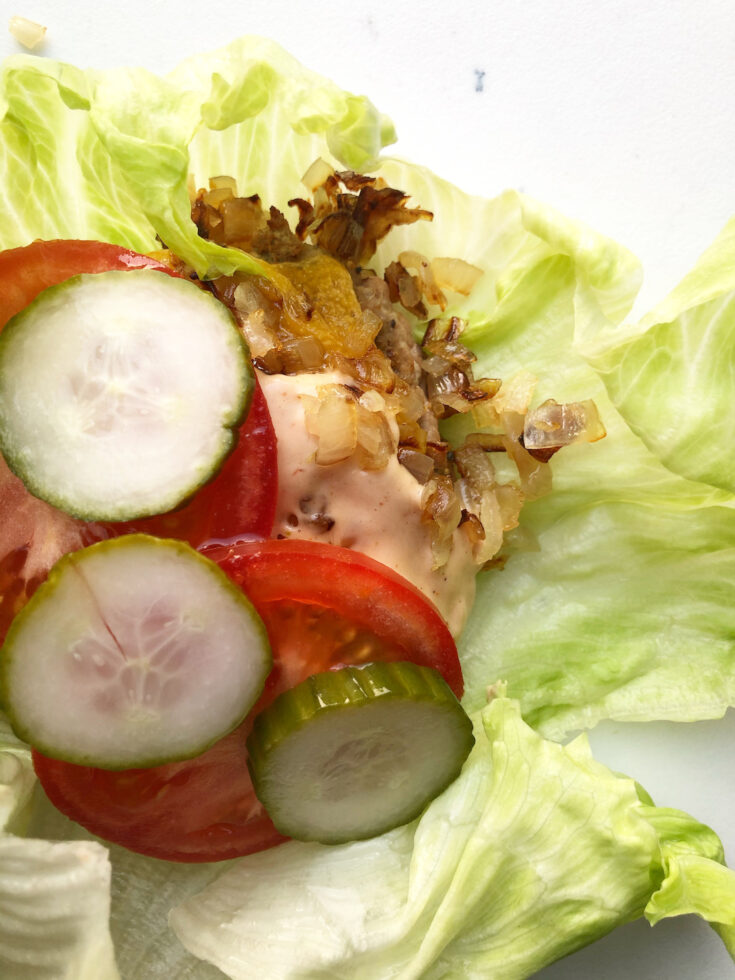 Yield:

Makes 4 Burgers
Lettuce Wrap Burger
Ingredients
1 Large Shallot
1 Tablespoon Butter
1/2 Cup Mayonnaise
1 Tablespoon Ketchup
2 Teaspoons Pickle Relish
2 Teaspoons BBQ Sauce
1 Head Iceberg Lettuce
1 Pound Ground Turkey
2 teaspoons Mc Cormack's Montreal Steak Seasoning
4 Slices Cheddar Cheese
1 Tomato, Sliced Thin
Good Quality Pickles
Instructions
Finely dice 2 large shallots.
Preheat a small saute pan on low heat with 1 tablespoon butter. Add the shallot and caramelize for 10 minutes or until golden.
Add mayonnaise, ketchup, relish and BBQ sauce to a small bowl. Stir to combine.
Remove iceberg lettuce leaves to create the wrap (try to get whole leaves).
Add 2 teaspoons Montreal steak seasoning to the ground turkey and mix to combine. Form into four equal patties.
Sprinkle with extra seasoning on top if desired.
Preheat a griddle over high heat. Cook the patties on the griddle for 4 minutes.
Flip the burgers and cook for another 4 minutes or until cooked through.
The last 1 minute of cooking add the cheese.
Grab two lettuce leaves to create a bed for the burger. Add the cooked patty, shallot and sauce.
Top with toppings of choice.
Notes
You can also use ground beef for this burger.