Do you need some quick and easy no bake 4th of July desserts?  Try out these fun and easy recipes.
Fourth of July is one of my favorite holidays. I love it so much that I want to be able to spend the most time I can with my loved ones. That's why these no-bake 4th of July desserts are on the top of my list when thinking of my menu. 
These festive Pop Rocks drumsticks are perfect for the kids. You can make them quickly and easily and there is no recipe required. Plus, you'll have fun introducing Pop Rocks to your kids!
How to Make Pop Rocks Drumsticks:
This couldn't be any simpler than these couple of steps!
Scoop your favorite ice cream into a sugar cone. Cake cones, waffle cones, waffle bowls, and serving bowls can all be used, too!
Dip into candy melts.
Top with your choice of Pop Rocks and sprinkles.
Enjoy!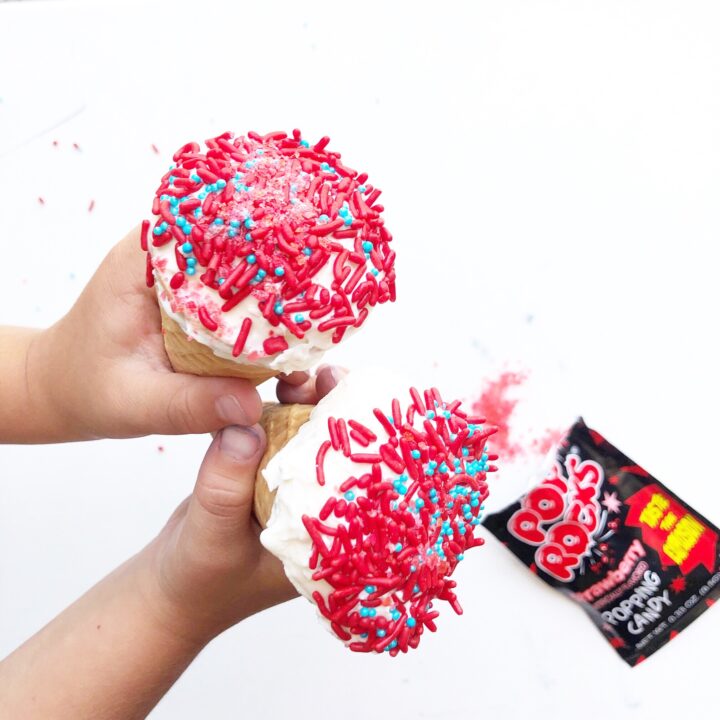 Ice Cream Pop Rocks Drumsticks
Additional Time:
30 minutes
This no-bake ice cream dessert will become the favorite dessert this summer!
Ingredients
6 sugar cones
3 cups vanilla ice cream
2 cups white chocolate candy melts, melted
2 tablespoons Red Pop rocks
2 tablespoons ted, white and blue sprinkles
Instructions
Scoop vanilla ice cream into the sugar cones.
Freeze for 30 minutes if you have time to harden.
Melt candy melts in a microwave safe bowl for 30 seconds. Stir and microwave for another 30 second interval. Stir and repeat one more time.
Place the sprinkles in a small bowl and open up your pop rocks.
Dip the cones into the melted candy melts and then dip into the sprinkles. Top with a sprinkling of pop rocks. Freeze until you are ready to serve.
Notes
Use any variety of cone shape or flavor.
1
Scoop vanilla ice cream into sugar cones.
3
Melt white candy melts. Pour red and blue sprinkles in a small bowl and get pop rocks.
4
Dip the cones into candy melts and then into sprinkles. Top with poprocks. Freeze until ready to eat
Another one of my all-time favorite desserts is this No Bake Summer Berry Cheesecake. Its beautiful colors are perfect for a festive 4th of July no-bake dessert. I love using fresh summer berries, like strawberries, raspberries, blueberries, cherries, or boysenberries.
The tart is made with an Oreo and pecan crust and a creamy cream cheese filling. By using a different vessel, you can totally transform this gorgeous dessert into mini bite-size pieces. I used a mini muffin tin and they're the perfect size for popping in your mouth.
Lastly, I love to get the kids involved to make ice cream in a bag. This recipe is so easy and it can be customized to different flavors. What I really love about this recipe is that the kids can eat the ice cream straight from the bag. Less clean up and less dishes. A huge win in my book!
How to Make Ice Cream In a Bag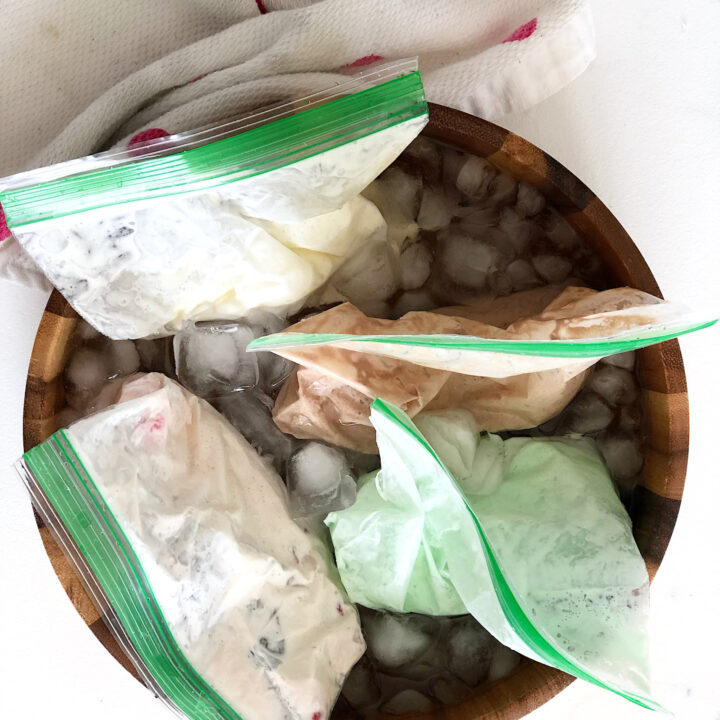 Ice Cream in a Bag
Learn how to make ice cream in a bag! This recipe is so simple and fun to do with kids! Try out all the flavors or create your own.
Ingredients
Ice Cream Base for Any Flavor + Flavor Mix-in Options
2 Tablespoons Granulated Sugar
1 Cup Half and Half
½ Cup Rock Salt
Ice Cubes (enough to fill a gallon-size Ziploc bag about ½ full)
1 Pint-Size Ziploc Bag
1 Gallon-Size Ziploc Bag
Vanilla:
1 Teaspoon Vanilla Extract
Mint N Chip:
½ Teaspoon Mint Extract
1 Tablespoon Chocolate Chips
Chocolate:
1 Tablespoon Chocolate Syrup
Strawberry:
¼ Cup Strawberries, Crushed
Instructions
Combine the sugar, half and half, and flavoring of choice in a pint-size bag, removing the air and sealing tightly.
Place the rock salt and ice in a gallon-size Ziploc bag. Place the sealed, pint-size bag with the ice cream ingredients inside the gallon bag and seal.
Shake until ice cream hardens (about 5 minutes).
Notes
Eat out of the bag for extra fun!
Recommended Products
As an Amazon Associate and member of other affiliate programs, I earn from qualifying purchases.
Any of these desserts will ensure you have a stress-free 4th of July gathering. I can't wait for you to try them out!