Do you need some quick and easy no bake 4th of July desserts?  Try out these fun and easy recipes.
Fourth of July is one of my favorite holidays. I love it so much that I want to be able to spend the most time I can with my loved ones. That's why these no-bake 4th of July desserts are on the top of my list when thinking of my menu. 
These festive Pop Rock Drumsticks are perfect for the kids. You can make them quickly and easily and there is no recipe required. Plus, you'll have fun introducing Pop Rocks to your kids!
How to Make Pop Rocks Drumsticks:
This couldn't be any simpler than these couple of steps!
Scoop your favorite ice cream into a sugar cone. Cake cones, waffle cones, waffle bowls, and serving bowls can all be used, too!
Dip into candy melts.
Top with your choice of Pop Rocks and sprinkles.
Enjoy!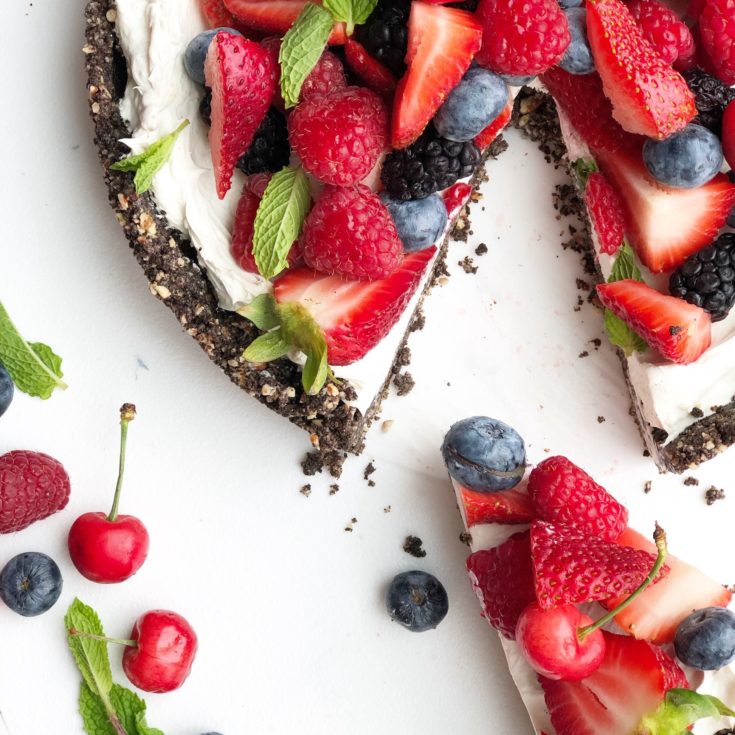 Yield:

Serves 10
No-Bake Cheesecake Tart With Berries
Rich cheesecake, without the hassle or time of baking it, topped with fresh summer berries in a chocolaty crust is going to be one of your new favorite desserts!
Ingredients
1 (6 ounce) Bag Chopped Pecans
1 (14.3 ounce) Bag Oreo Cookie Sandwiches
½ Cup Unsalted Butter, Melted
1 (8 ounce) Block Cream Cheese, Room Temperature for 30 Minutes
¼ Cup Powdered Sugar
1 Teaspoon Vanilla Extract or Vanilla Bean Paste
1 (9 ounce) Container Whipped Topping
Toppings:
6 Ounces of Raspberries
6 Ounces of Blueberries
3 Ounces of Boysenberries
¼ Cup of Cherries
½ Cup of Strawberries, Sliced
4-5 Sprigs of Mint
Instructions
Place the pecans into a mini food processor. Pulse 10 times until pecans are finely chopped.
Place the Oreos in the food processor. Pulse until the Oreos are crumbs.
Combine the pecans and Oreos into a small mixing bowl.
Add the melted butter and stir to combine.
Add the oreo crumb mixture to a tart pan and spread out evenly.
Place a layer of saran wrap on top of the tart crumbs. Press the crumbs up the sides and into the pan with the bottom of a glass cup. Refrigerate.
Using the whisk attachment of a stand mixer, whip the cream cheese and whipped topping together for 2 minutes until well-combined (a hand mixer can also be used). Mix in the powdered sugar and vanilla.
Spread the filling mixture on top of the crust to form an even layer.
Add toppings and refrigerate until you are ready to serve.
Notes
Use any fruit that is fresh and in-season.
Recommended Products
As an Amazon Associate and member of other affiliate programs, I earn from qualifying purchases.
Nutrition Information:
Yield:
10
Serving Size:
1
Amount Per Serving:
Calories:

539
Total Fat:

48g
Saturated Fat:

24g
Trans Fat:

0g
Unsaturated Fat:

19g
Cholesterol:

112mg
Sodium:

319mg
Carbohydrates:

22g
Fiber:

4g
Sugar:

13g
Protein:

8g
The tart is made with an Oreo and pecan crust and a creamy cream cheese filling. By using a different vessel, you can totally transform this gorgeous dessert into mini bite-size pieces. I used a mini muffin tin and they're the perfect size for popping in your mouth.
Lastly, I love to get the kids involved to make ice cream in a bag. This recipe is so easy and it can be customized to different flavors. What I really love about this recipe is that the kids can eat the ice cream straight from the bag. Less clean up and less dishes. A huge win in my book!
How to Make Ice Cream In a Bag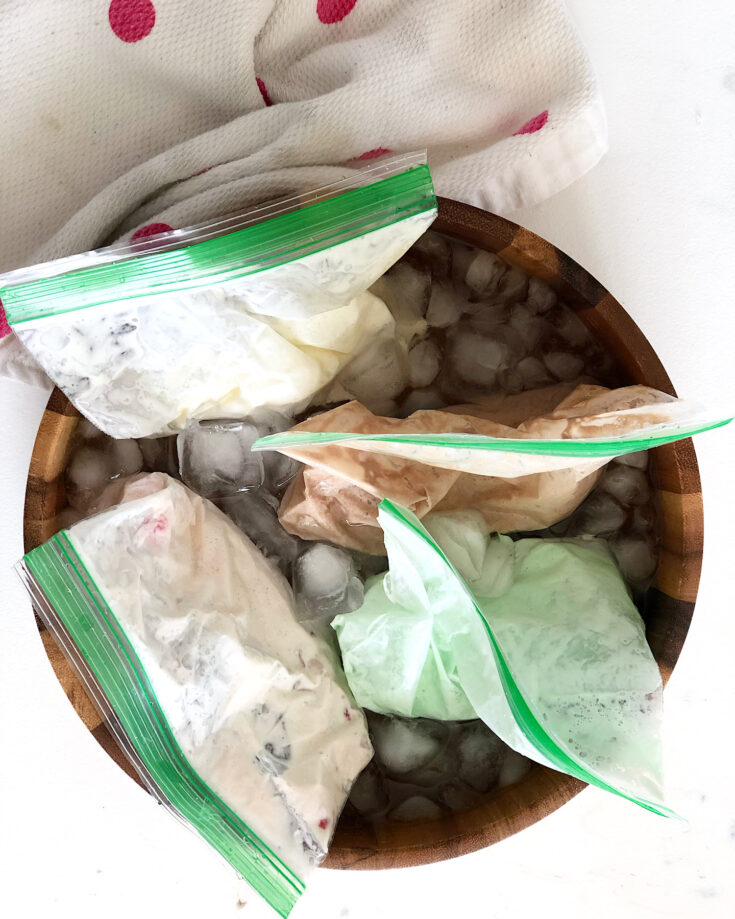 Yield:

1
Ice Cream in a Bag
Learn how to make ice cream in a bag! This recipe is so simple and fun to do with kids! Try out all the flavors or create your own.
Ingredients
Ice Cream Base for Any Flavor + Flavor Mix-in Options
2 Tablespoons Granulated Sugar
1 Cup Half and Half
½ Cup Rock Salt
Ice Cubes (enough to fill a gallon-size Ziploc bag about ½ full)
1 Pint-Size Ziploc Bag
1 Gallon-Size Ziploc Bag
Vanilla:
1 Teaspoon Vanilla Extract
Mint N Chip:
½ Teaspoon Mint Extract
1 Tablespoon Chocolate Chips
Chocolate:
1 Tablespoon Chocolate Syrup
Strawberry:
¼ Cup Strawberries, Crushed
Instructions
Combine the sugar, half and half, and flavoring of choice in a pint-size bag, removing the air and sealing tightly.
Place the rock salt and ice in a gallon-size Ziploc bag. Place the sealed, pint-size bag with the ice cream ingredients inside the gallon bag and seal.
Shake until ice cream hardens (about 5 minutes).
Notes
Eat out of the bag for extra fun!
Recommended Products
As an Amazon Associate and member of other affiliate programs, I earn from qualifying purchases.
Any of these desserts will ensure you have a stress-free 4th of July gathering. I can't wait for you to try them out!