This is the best pani popo recipe you will try! Pani Popo is a traditional Samoan sweet roll that gets baked in a sweet coconut sauce. These rolls are perfectly fluffy and drenched in a luscious, creamy coconut sauce.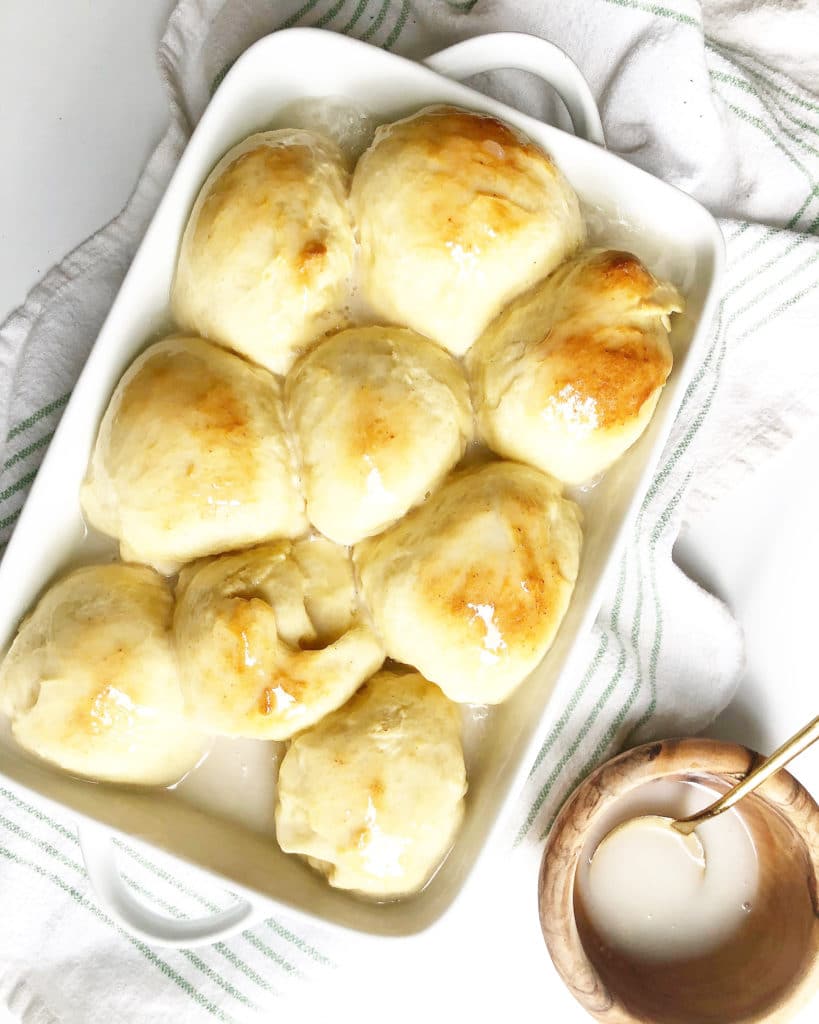 I promise these are the best Pani Popo rolls you will make at home. It will be on your dinner roll rotation once you sink your teeth into one of these little rolls of heaven. 
I was recently introduced to pani popo by one of my friends who brought them to a potluck dinner. They soon became my new favorite thing and I had to make them for myself. After much trial and error this recipe is to die for! 
The best part is they go with just about everything and you can even serve them as a delectable dessert. One of my favorite things to serve them with is my Kalua Pork recipe. 
What is Pani Popo:
Pani Popo originated in the Samoan Islands. They are a yeast roll that is soaked in a sweetened coconut sauce, hence the name. Pani means bread and popo means coconut in Samoan.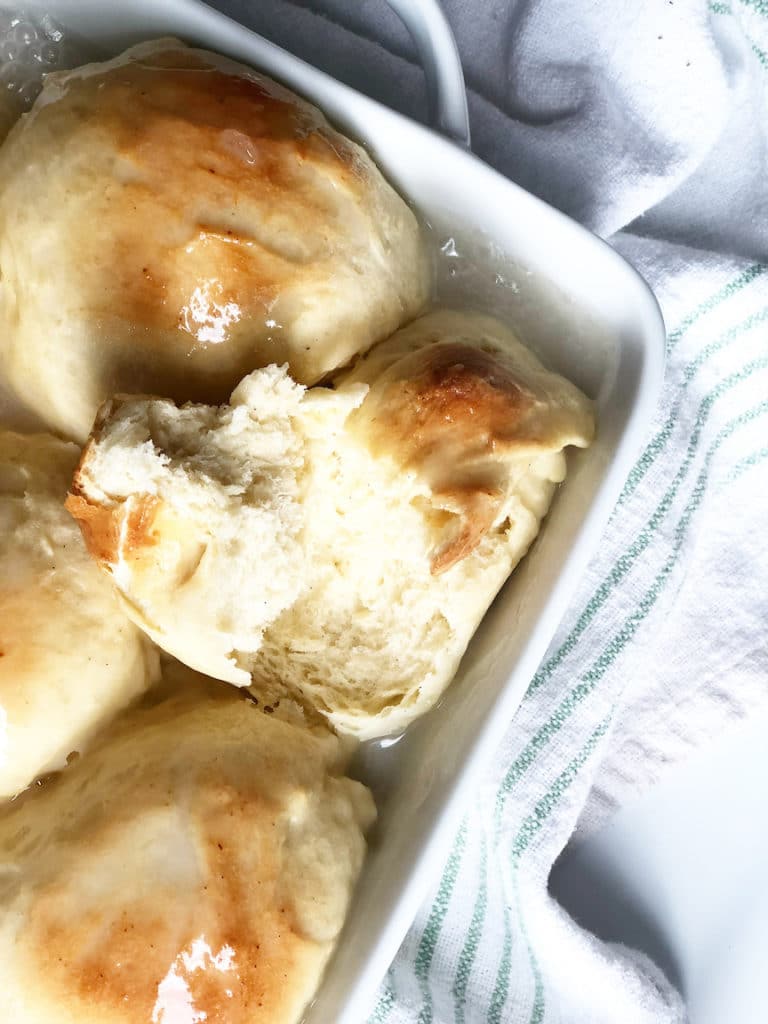 Dough for pani popo rolls:
Many recipes that you will see online use pre-cooked dinner rolls. Although this is convenient, you will not get the traditional flavor and fluffiness as you would with this homemade version. And let's face it, everything is better homemade! 
The dough for this recipe is quite easy and I will take you along every step of the way. It is a yeast dough which becomes super fluffy when baked. 
One thing to make sure to do with this recipe is to activate the yeast properly.
If you kill the yeast the rolls will not rise or have that fluffy texture that is so desirous.
But don't worry I will show you exactly what activated yeast looks like and how to know for sure if your yeast is active. 
Ingredients For Pani Popo Dough: 
Here are the ingredients you will need for the pani popo dough. Most things you should have on hand already.
Milk: Use whatever cow's milk you have on hand. 
Dry Active Yeast: Make sure your yeast is not expired and follow the directions thoroughly to make sure it is activated properly. 
Sugar: Use regular granulated sugar.
Warm Water: The water should be warm like a baby's bathwater.
Butter: I prefer unsalted butter when I am baking. 
Vanilla Extract or Paste: If you have vanilla bean paste this is a great recipe to use it! You can see the beautiful vanilla beans running throughout your dough. 
Eggs: Try letting the eggs sit out at room temperature for easy incorporation. 
Salt: I like to use Kosher salt. 
All Purpose Flour: You want to use unbleached all purpose flour. 
Coconut Sauce For Pani Popo: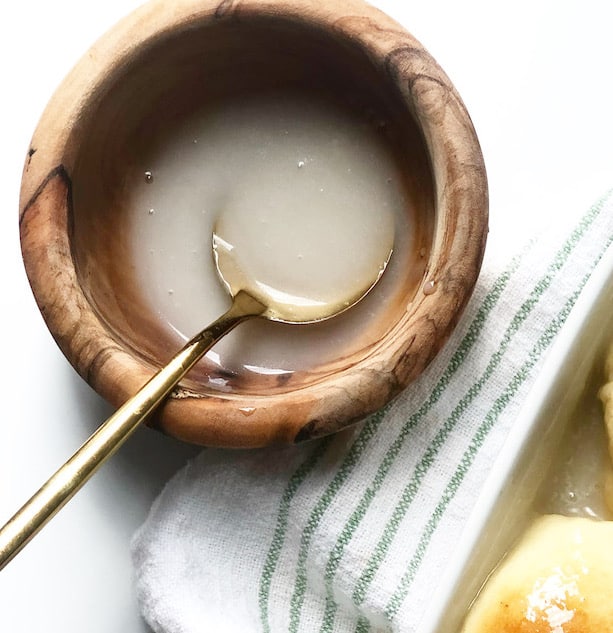 This sauce is literally drinkable! I even use this as a syrup on pancakes or waffles. So double the portion of sauce to have some for breakfast the next day. 
Some tips with this sauce…. Make sure you add the cornstarch to the room temperature coconut milk. You can even dissolve it in a tablespoon of water and make a slurry before adding it to the coconut milk to prevent clumps. 
Here is what you will need to make the coconut sauce:
Coconut Milk: I like to get the best quality coconut milk for this recipe since it is one of the start ingredients. 
Sugar: Use regular granulated sugar. 
Cornstarch: This acts as a thickening agent for the sauce. You will want to mix the cornstarch with some cold water before putting it in with the hot liquid. This is called a slurry and will make sure the cornstarch won't clump. 
How To Make The Best Pani Popo Rolls:
First step is to make the dough. You will want to follow the recipe directions exactly. 
The first step to make the dough is to activate your active dry yeast. 
To activate yeast, you will need to combine the dry yeast with warm milk in the bowl of a stand mixer. I also like to add a little sugar. Sugar helps feed the yeast and helps it to activate quicker. 
It is very important to use warm milk, not hot or cold milk. The milk should be like the temperature of a baby's bath water. If the milk is too hot it will kill your yeast.
Next add the remaining ingredients (follow the steps in the recipe card below) knead the dough for about 5 minutes. It should be a soft dough. Transfer the dough to a greased bowl and let rise for 1 hour or until double in size. 
While the dough is rising you can make your sauce in a small saucepan. Make sure your sauce has thickened slightly and set aside.
When the dough has risen grab about 1/4 cup of the dough and form even dough balls and place in a greased baking dish. 
Preheat the oven to 350 F.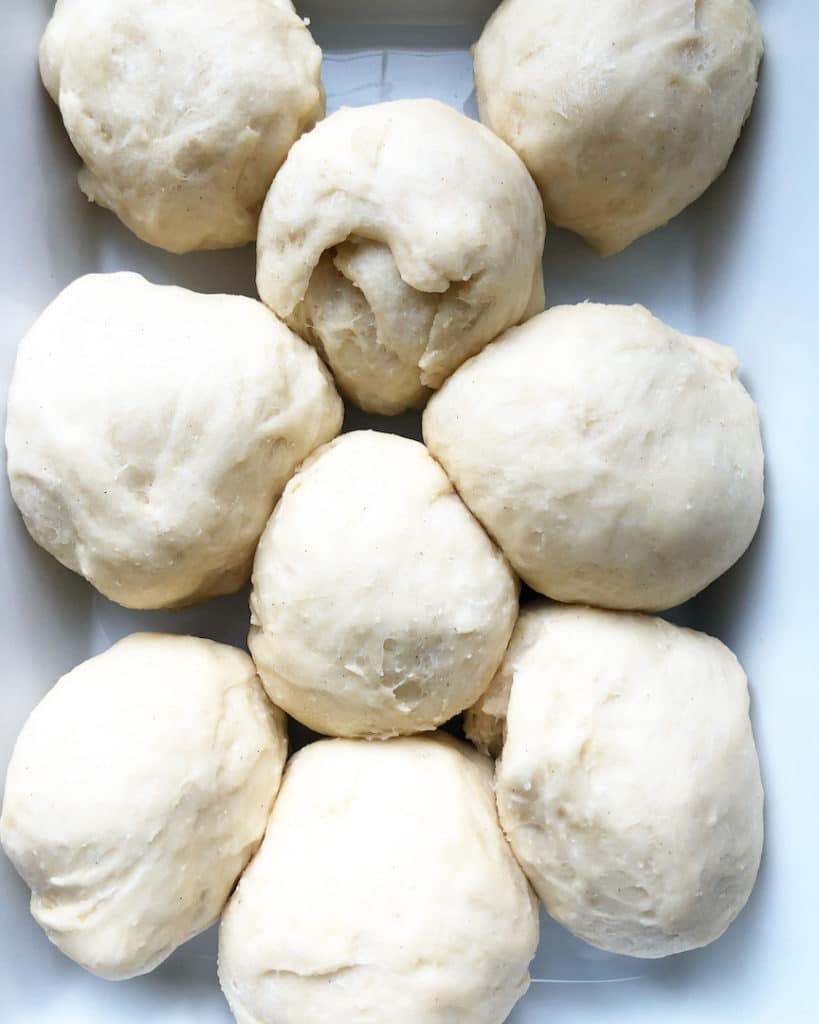 Let the dough balls rise for another 20 to 25 minutes. Cover the rolls with coconut sauce and cook at 350 F for 20 minutes. 
You can also save about 1/2 cup of the coconut sauce and drizzle the remaining coconut sauce over the coconut buns after baked.
How to store the pani popo rolls:
This recipe makes a large quantity of rolls so you may have some leftovers. If you do have extra just place some plastic wrap over the pan and keep at room temperature for 2-3 days.
When you are ready to eat, you can pop one in the microwave for 15 seconds to warm slightly. 
The Best Pani Popo Recipe: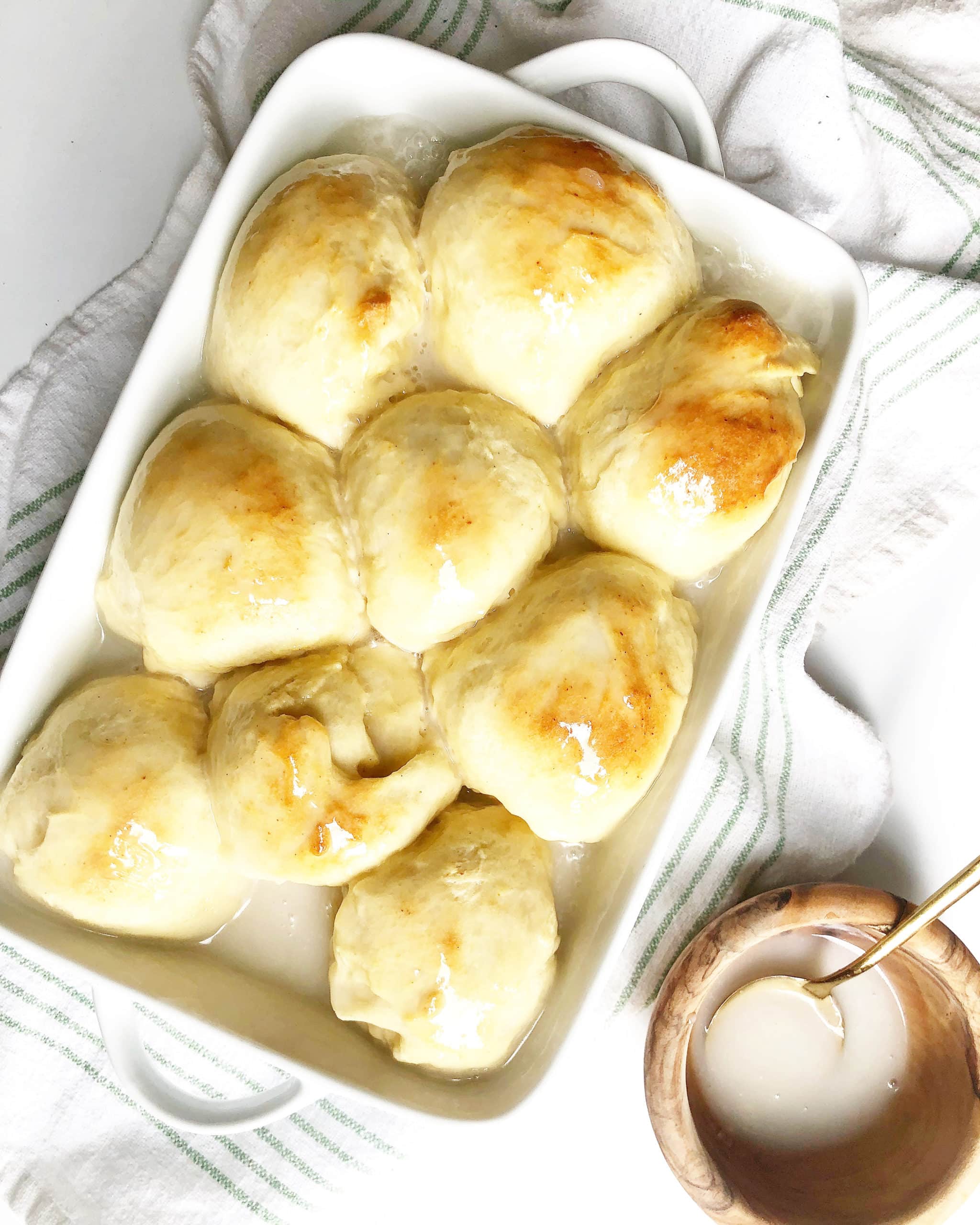 Yield:

12 rolls
Pani Popo
Prep Time:
2 hours
10 minutes
Total Time:
2 hours
28 minutes
Fluffy rolls drenched in a creamy luscious coconut sauce!
Ingredients
1/2 cup warm milk
2 teaspoons dry active yeast
1/4 cup granulated sugar
1/4 cup warm water
4 tablespoons unsalted butter, softened
1 teaspoon vanilla extract
2 eggs
1 teaspoon Kosher salt
3 1/2 cups unbleached all purpose flour
Coconut Sauce:
1 can coconut milk
1/2 cup sugar
1 1/2 teaspoons cornstarch mixed with 1 tablespoon water
Instructions
Add warm milk and yeast to a mixing bowl fitted with a dough hook.
Add the sugar and let sit for 10 minutes to activate and become bubbly.
Add warm water, softened butter and vanilla to the mixer. Turn on low to mix to combine slightly.
Add the eggs and turn on low to mix slightly.
Add flour a little at a time while the mixer is on low speed.
Add the salt. The dough should come together off the sides of the bowl, but will be slightly sticky.
Flour your hands to remove the dough off the dough hook.
Spray a bowl with cooking spray and place the dough into the bowl. Cover and let rise for 1 hour.
While the dough is rising, make the sauce by combining all the ingredients. Add the ingredients to a saucepan and heat over medium heat for 7 minutes to thicken. Whisk to prevent burning.
Spray a pan and your hands with cooking spray and grab about 1/4 cup of the dough. Form balls and place in the pan about and inch apart.
Cover with plastic wrap and rise another hour. Preheat the oven to 350 F about 20 minutes before cooking.
When you are ready to cook, cover the rolls with the coconut sauce and bake for 18 minutes.
Spoon the extra sauce over the rolls when serving.