This eye of round roast recipe is juicy, tender and the perfect way to make this cut of beef. We will go over all the details of how to cook the perfect eye of roast and turn it into a delicious french dip sandwich.
With this eye of round roast recipe you can utilize an inexpensive cut of meat (that can sometimes be tough and hard to cook) to make a wonderfully juicy, delicious, and tender French dip sandwich.
And I will show you all of my tips and tricks to do it! 
Why am I so passionate about this cut of beef?
Well I just feel like it doesn't get as much attention it deserves. It is affordable and can be delicious! 
Most of all it holds some very fond memories in my heat. Yes, a cut of beef can hold fond memories for me! But let me tell you why. 
Every year for Christmas Eve I would go to my grandparent's house and have homemade French dip sandwiches. My grandmother cooked the roast in the oven and seasoned it to perfection.
She toasted up deliciously fresh hoagie rolls that had been slathered in butter and then she would precede to make the best homemade gravy on the planet with all the beef drippings. 
I used to stand in the kitchen and watch her intently. She would sneak me the end pieces as she cut the tender beef. They were my absolute favorite! Juicy, salty, caramelized beef was a dream for my 10 year old self! 
This meal still is one of my favorite meals she made. The amazing thing is she utilized an inexpensive cut of meat like eye of round roast to make a perfectly tender and juicy French dip sandwich. This simple meal was restaurant worthy.
She helped me see how to turn a simple inexpensive ingredient into a masterpieces.  All you need is the right cooking techniques. Which is exactly what we teach in the More Momma Cooking School and why I wanted to do my culinary school education in Florence, Italy. 
The simplest of ingredients, the better! 
My dad is now in charge of passing on all her secrets to make this delicious meal for Christmas Eve. Here he is with my son prepping the rolls for our annual French dip sandwiches. 
Most people are intimidated by tough cuts of meat like the eye of round roast.
I promise if you learn some simple tips and learn how to cook eye of round roast, you will be making restaurant worthy meals at the fraction of the price. 
What is eye of round roast?
Beef eye of round roast is an inexpensive cut of meat from the hind leg portion of the cow. It is a very lean cut of beef with a very small fat cap.
This cut is also what is typically used to make roast beef. I also love serving this round eye roast with my maple glazed carrots or cheesy funeral potatoes. 
Cost:
Typically this cut of meat runs about $3.50 per pound. Just to put it into perspective a chuck roast is around $5.50 per pound and a tri tip is around $8 per pound! 
Therefore beef eye of round roast is clearly a great economical option when buying meat. 
Nutritional Information:
Typically one serving of eye of round roast is 3 ounces.  For every 3 ounces it has about 25 grams of protein and 140 calories. It is a great high protein lower calorie option because it is so lean. 
How do I make an eye of round roast tender?
Eye of round is notoriously a tough cut of meat because it does not have much fat marbling throughout the roast.
The leaner the meat the more chances it has to become tough if you don't cook it correctly. This is especially true for roasts. 
Preparing the meat:
There are a couple of steps that you need to take when cooking an eye of round roast. 
Let the meat sit out at room temperature for 20 minutes.
Pat the meat completely dry.
Rub with oil.
Season well.
Roast at a high temperature for 15-20 minutes and then turn down heat. 
Use a meat thermometer to ensure the right internal temperature of 135 F and to not overcook.
Let rest for at least 10 minutes.
Slice the meat thin.
How to cook eye of round roast: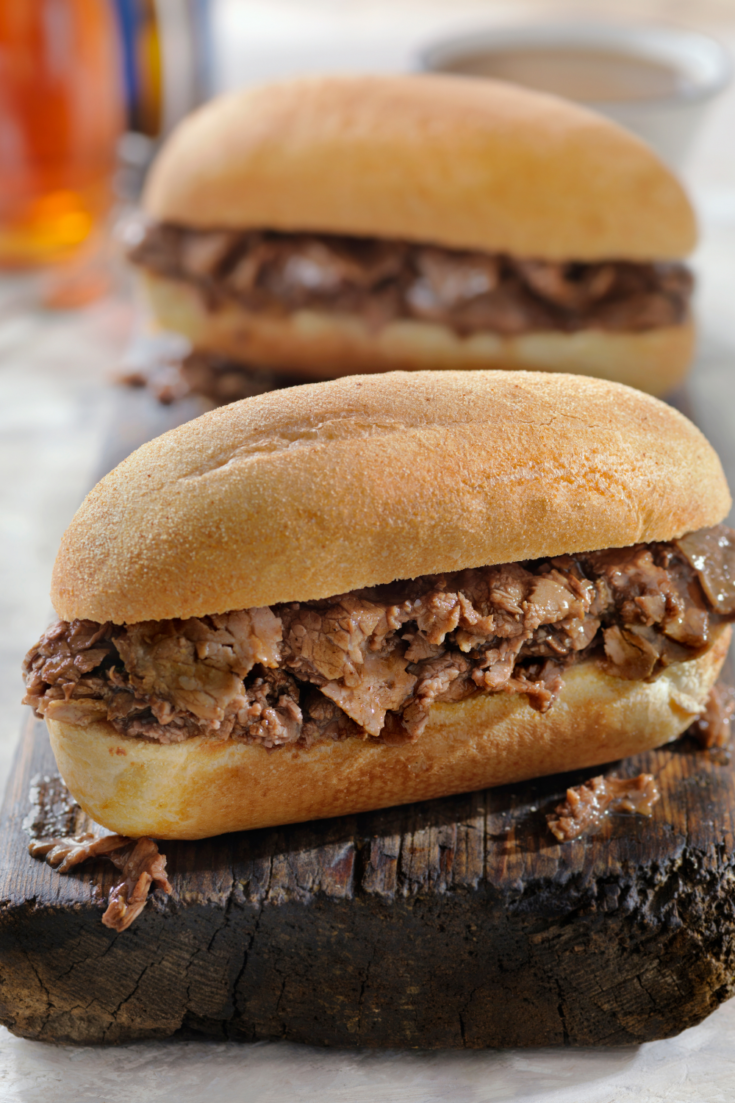 Yield:

serves 6
How to cook eye of round roast french dips
Cook Time:
1 hour
30 minutes
Total Time:
1 hour
40 minutes
These are the best french dips you will ever taste!
Ingredients
4 lbs. Eye Of Round Roast
1 Tablespoon Olive Oil
2 tsp Kosher Salt
2 tsp Garlic Salt
1/2 tsp Black Pepper
1 oz Packet French Onion Dip Mix
2 Tablespoons Worcestershire Sauce
3 Cups Beef Stock, divided
6 Hoagie Rolls, Sliced In Half
Butter, Softened
Optional:
Good Quality Pickles
Provolone Cheese
Horseradish Sauce or Spicy Mustard
Instructions
1. Pat the meat dry with a paper towel.

2. Rub with olive oil on all sides.

3. Season the roast with salt, garlic salt and pepper on all sides.

4. Place the meat on a rack in a baking dish.

5. Cook at 325 F for about 1 1/2 hours.

6. Add 1 cup beef broth after 15 minutes of cooking.

7. Check the internal temperature about 1 hour in. When it's 135 F pull the meat out and let it rest.

8. Tent with foil and let rest for at least 10 minutes.

9. Make the au jus by placing the roasting pan on the stove over medium heat. Remove any excess great.

10. Add the remaining beef stock, french onion soup mix, and Worcestershire sauce to the pan and scrape up all the fond or brown bits with a wooden spoon or whisk. Cook for 5 minutes to combine all the flavors.

11. Sharpen your knife before carving the meat.

12. Slice the rested meat into paper thin slices.

13. Spread butter on hoagie rolls and toast in a hot pan until golden brown.

14. Place the sliced meat on the hoagie rolls. Spoon a tablespoon of the au jus on top of the meat and add optional toppings. Serve with extra au jus for dipping.
Recommended Products
As an Amazon Associate and member of other affiliate programs, I earn from qualifying purchases.
Nutrition Information:
Yield:
6
Serving Size:
1
Amount Per Serving:
Calories:

578
Total Fat:

40g
Saturated Fat:

17g
Trans Fat:

2g
Unsaturated Fat:

19g
Cholesterol:

165mg
Sodium:

1689mg
Carbohydrates:

12g
Fiber:

1g
Sugar:

4g
Protein:

44g