This homemade apple cinnamon cake is packed with delicious apples and cinnamon and topped with a sweet glaze. It's perfect for brunch, dessert or to serve as an afternoon snack. 
It's apple season and if you are anything like me you probably have an abundance of apples. If you are looking for a recipe to use up apples this apple cinnamon cake will hit the spot.
It's deliciously tender and has a sweet flavor of apples and cinnamon. Topped with a quick and easy glaze, it's the perfect Fall treat. In fact it may be my favorite treat to make with apples!
If you are looking for another easy and delicious Fall treat try my Homemade Pumpkin Cinnamon Rolls with Maple Cream Cheese Frosting. 
The recipe is easy to make and you probably have all the ingredients in your pantry. 
Believe it or not this recipe was one that I learned to make in culinary school. I had a World Wide Cuisine Class and on "French week" we made this deliciously moist and tender apple cinnamon cake. 
I had never had a cake that like it and it soon became one of my new favorites! 
What apples to use for cake: 
You want to use an apple that holds it's texture while baking. I prefer a green apple for this recipe since the slightly sour flavor balances out the sweetness of the cake and glaze.
You can also use gala apples which are a great substitute. 
How to make apple cinnamon cake:
This apple cinnamon cake consists of a basic cake recipe. The cake is filled with cinnamon sugar coated apples and then topped with a sweet glaze. 
I prefer to make this cake in a springform pan so that you can easily remove and slice the cake once it is baked. 
Now let's get to it and make some delicious apple cake.
Apple Cinnamon Cake Recipe: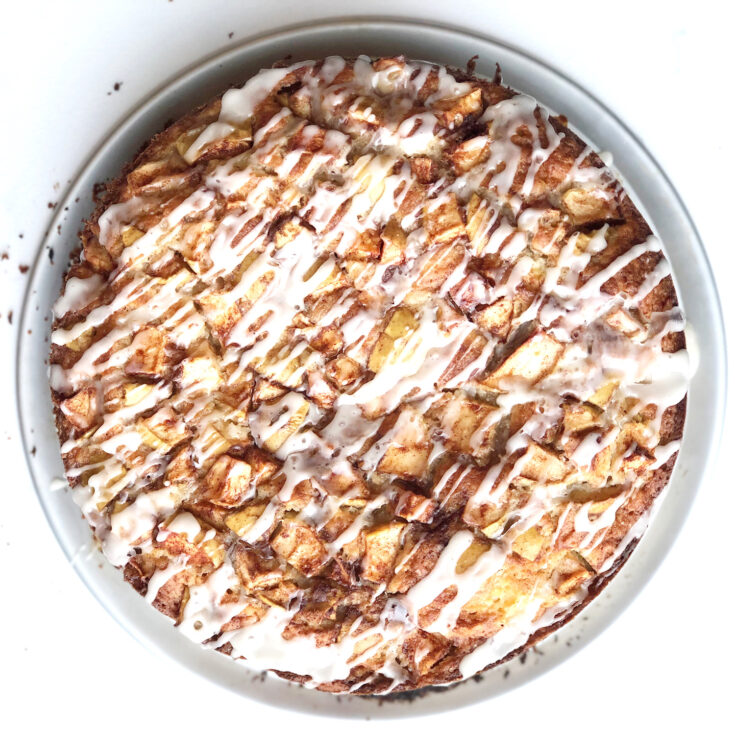 Yield:

10 Servings
Apple Cinnamon Cake
A delicious way to use up all those apples. Serve this cake for breakfast, brunch or an afternoon treat.
Ingredients
3 large green apples (3 cups), diced small
2 teaspoons ground cinnamon
2 tablespoons granulated sugar + 1 1/2 cups
1 cup vegetable oil
4 eggs
1/2 cup apple juice
3 teaspoons baking powder
1 teaspoon vanilla bean paste or extract
1 teaspoon salt
2 1/2 cups all purpose flour
For The Glaze:
1 1/2 cup powdered sugar
2-4 tablespoons apple juice
Instructions
Toss the apples in 2 tablespoons sugar and 1 teaspoon cinnamon. Set aside.
Add the sugar and oil to a mixing bowl.
Add the eggs and mix to combine.
Add half of the apple mixture. Reserve the remaining half to top the cake.
Add apple juice, baking powder and cinnamon and stir to combine.
Add vanilla extract or paste and salt.
Add the flour and stir to combine.
Spray a springform pan with cooking spray. Pour the batter into the pan.
Top with the remaining apples and bake at 350 F for 35-40 minutes.
Make the icing by combining powdered sugar with apple juice. Thin with more juice if needed.
Remove the cake from the oven and let cool for 10 minutes. Run a knife along the sides of the cake and remove the pan.
Drizzle with icing and serve.