A perfect blend between a traditional cinnamon roll and peach cobbler! Try these no rise, fluffy peach cobbler cinnamon rolls with brown sugar cream cheese frosting.
Two of my favorite sweets combined into one! Is it even possible to make peach cobbler flavored cinnamon rolls? YES! Follow along to see how easy it is!
Last weekend I had a few peaches that needed to be used before they were spoiled. So I did what every chef does: rolled up my sleeves and got those creative juices in my brain moving around.
The result: a perfectly tasty peach cobbler-like cinnamon roll. My mind is happily blown!
To give you some background, this wasn't a recipe that I was able to create perfectly with the first attempt.
After a good effort, the result wasn't quite where I wanted to stop. It's like famous quote by St. Jerome — "Good, better, best. Never let it rest. 'Til your good is better and your better is best."
So it was time for Round 2! I had an added obstacle the second time. I had just over one peach remaining, so I had to half my dough recipe as I tried to get the flavor just right.
I was so determined and just couldn't get this cinnamon roll idea out of my head. We love cinnamon rolls and I knew I needed to add this flavor to my collection.
Thankfully the half-recipe of cinnamon roll dough was just perfect for the cup of peaches I was adding. A light and fluffy cinnamon roll stuffed with peaches was born.
Because I wanted to double check this recipe, I made it a third time! This time, however, I used canned peaches. I love having canned foods for times when I am in a pinch, don't you?
Want to know something? You really couldn't tell much difference between the fresh peach and canned peaches.
All three times the dough was light and fluffy, and the peaches were so tender from being baked. The only thing that could have made these cinnamon rolls even more heavenly was the addition of a velvety brown sugar cream cheese frosting. Seriously, you won't want to make cream cheese frosting any other way!
That, my friends, is how my Peach Cobbler Cinnamon Roll recipe was created.
Other awesome recipes that will blow you away: (Hint: You'll want to pin all of these!)
How do I know my yeast is activated?
Yeast activates with liquid and warmth. To activate your dried yeast you want to mix it with a warm liquid. I also like to add the sugar that the recipe calls for since yeast feeds on sugar and can help activate it quicker.
You always want to make sure your yeast is not expired and store it in a cool dry place. I store mine in the freezer or fridge. Here is what your yeast will look like before activation and then after it has been activated. Notice it is foamy and has expanded once activated.
Can I use fresh peaches?
Both fresh or canned peaches can be used. When creating the recipe, I found that there wasn't much of a noticeable difference in taste and texture between the two types of peaches.
How do you roll cinnamon rolls?
On a clean surface, press the dough out into a rectangle. A rolling pin is helpful here, but the dough is soft enough that you don't need it.
Spread the butter across the dough, then sprinkle cinnamon, sugar, and roughly chopped peaches on top. Lightly pressing the peaches into the dough will help them to stay where they should! Starting at the end closest to your body roll and pinch the dough rolling it into a tight log.
To cut the rolls you can use a bench scraper or unflavored floss. I always cut the log in half and then proceed to cut each section in half and then in half again to get evenly cut rolls.
Check out this video on how to roll and cut cinnamon rolls easily.
How do you make peach cobbler cinnamon rolls?
Check out the recipe below for step by step instructions!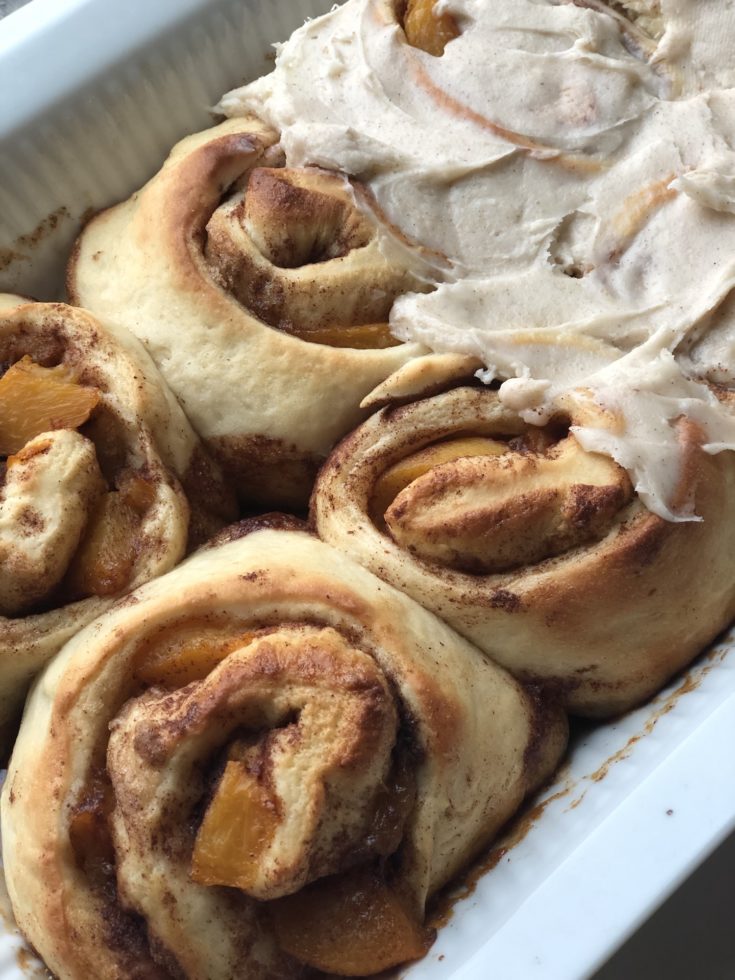 Yield:

16
Peach Cobbler Cinnamon Rolls
Easy, summer breakfast recipe.
Ingredients
For the Dough:
1 ¾ Cups Warm Water
3 Tablespoons Dry Active Yeast
½ Cup Vegetable Oil (+2 Tablespoons to smear on counter)
½ Cup Granulated Sugar
2 Eggs
½ Tablespoon Salt
5 ¼ Cup Bread Flour
Filling:
2 (16 ounce) Cans Sliced Peaches, Drained Thoroughly and Roughly Chopped
1 Cup Brown Sugar
½ Cup Butter
3 Tablespoons Cinnamon
Frosting
½ Cup Butter, Softened at Room Temperature
8 Ounces Cream Cheese, Softened at Room Temperature
4 Cups Powdered Sugar
2 Tablespoons Brown Sugar
1 Teaspoon Vanilla Extract or Vanilla Bean Paste
Optional:
Instructions
In an electric mixer fitted with a dough hook, mix the first four ingredients together. Let sit for 10 minutes.
Add the rest of the ingredients and turn mixer speed on low for 5-7 minutes until dough is silky. (It will be a little sticky.) DO NOT LET RISE!
Divide your dough in half. Smear oil on a clean countertop and roll out the dough to form a large rectangle, about ¼ inch thick. Spread the softened butter on the dough. Top with sugar and cinnamon. Top with peaches. Lightly press the filling down.
Starting on the end closest to your body, roll and pinch to form a seam. Continue to roll the dough until a long log forms.
With a bench scraper cut the log in half and then cut each half in half until you have 16 large rolls or 24 small rolls. Place in a greased 9x13 pan.
Let rise 10 minutes while the oven preheats to 400°F. Bake for 15-20 minutes.
Remove from the oven, cool, and top with cream cheese frosting (recipe follows).

Frosting Instructions:

In an electric mixer, cream butter and cream cheese together until well-combined.
Add powdered sugar and the brown sugar. Turn on mixer to the lowest setting to avoid powdered sugar splattering everywhere.
Add vanilla and mix until combined.
With an offset spatula, spread the frosting evenly over the rolls. Top with optional oats.
Notes
You can also cut the rolls by using unflavored dental floss. If your cinnamon rolls get smashed from cutting, simply reshape while putting them into your baking dish.
Recommended Products
As an Amazon Associate and member of other affiliate programs, I earn from qualifying purchases.