Warm, gooey, pumpkin flavored cinnamon rolls with a maple infused cream cheese frosting is the perfect Fall breakfast idea.
Homemade pumpkin cinnamon rolls are one of my favorite
Thanksgiving breakfast ideas.
The great thing is they are super easy and quick to make and there is no rising time! They literally take less than an hour to make.
This Pumpkin Cinnamon Rolls Recipe features Maple Cream Cheese Frosting, which may just be my new favorite thing on the planet.
The best part about cinnamon rolls is they are great to make with kids. My kids light up when I tell them they can make them with me. It has become such a fun tradition in our home around the holidays. If you have kids get them in the kitchen with this on!
We have to cram in all of our favorite pumpkin dishes before the peppermint and Christmas celebrations begin. I love making these for neighbors on Thanksgiving morning, but they are good any time of the day.
We love making cinnamon rolls in the More Momma house so make sure to check out my Caramel Apple Cinnamon Rolls with Salted Caramel Frosting and No Rise Cinnamon Rolls With Cream Cheese Frosting.
How to make no rise cinnamon rolls: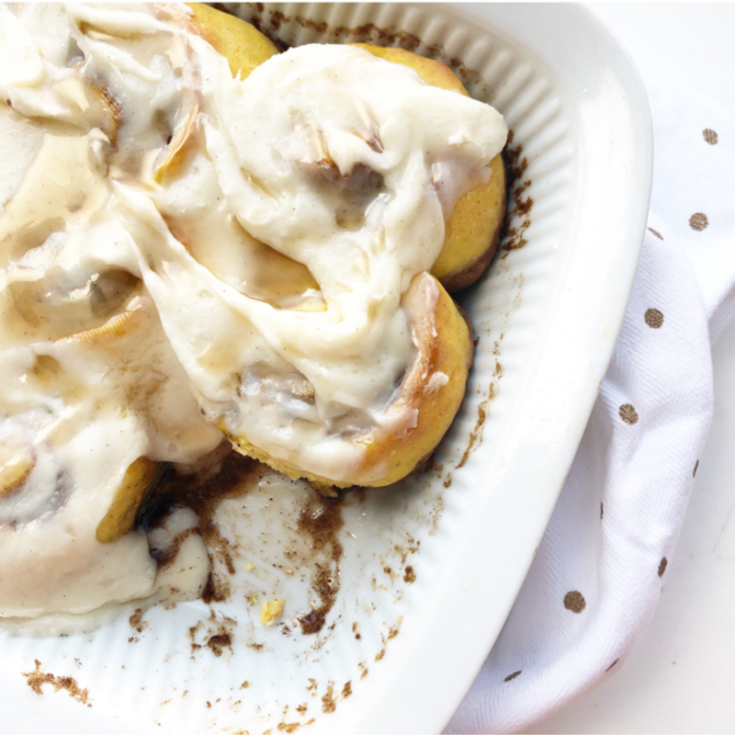 Yield:

12
Homemade Pumpkin Cinnamon Rolls with Maple Cream Cheese Frosting
Additional Time:
10 minutes
These homemade pumpkin cinnamon rolls feature maple cream cheese frosting! They are super easy to make and quick too!
Ingredients
3/4 Cup + 2 Tablespoons Warm Water
1 1/2 Tablespoons Dry Active Yeast
1/4 Cup Vegetable Oil
1/4 Cup Canned Pumpkin Puree
1 Teaspoon Vanilla Extract
1/4 Cup Granulated Sugar
1 Egg
1 Teaspoon Salt
2 1/2 Cups + 2 Tablespoons Bread Flour
For the Filling
1/2 Cup Brown Sugar
1/4 Cup Softened Butter
1 Tablespoon Ground Cinnamon
1/2 Teaspoon Pumpkin Pie Spice
For the frosting
1/2 Cup Butter, At Room Temperature
8 Ounces Cream Cheese, At Room Temperature
4 Cups Powdered Sugar
1 Teaspoon Vanilla Extract or Vanilla Bean Paste
Tablespoons Maple Syrup
Instructions
In an electric mixer fitted with a dough hook, mix the first five ingredients together. Let sit for 10 minutes.
Add the rest of the ingredients and turn on low for 5-7 minutes until the dough is silky (It will be a little sticky) DO NOT LET RISE!
Divide your dough in half. Smear oil on counter and roll out dough into a large rectangle about 1/4 inch thick. Spread the softened butter on the dough. Top with brown sugar, cinnamon, and pumpkin pie spice. Lightly press the filling down.
Starting on the end closest to your body, roll and pinch to form a seam. Continue to roll the dough until a long log forms.
Using a bench scraper cut the log in half and then cut each half in half continuing until you get 12 rolls. Place in a greased pan.
Let sit for 10 minutes while the oven preheats to 400 degrees F. Bake for 15-20 minutes.
Remove from the oven, cool and top with cream cheese frosting (recipe follows).

For the frosting:

In an electric mixer cream the butter and cream cheese together until well combined.
Add powdered sugar and turn on to the lowest setting to avoid powdered sugar getting everywhere.
Add vanilla and maple syrup and mix to combine. Spread evenly over the rolls.
Recommended Products
As an Amazon Associate and member of other affiliate programs, I earn from qualifying purchases.