Pumpkin snickerdoodles are the perfect Fall cookie and the perfect way to taste all the pumpkin spice flavors in a delicious cookie. 
These pumpkin snickerdoodles are soft and fluffy and full of pumpkin pie spice. They blend the perfect soft sugar cookie with cinnamon and pumpkin pie spice.
Pumpkin snickerdoodles are our favorite cookie for the holiday season. Make a batch for family or friends or serve as a delicious dessert for Thanksgiving. 
How to make the best snickerdoodle cookie:
Use real butter. My favorite butter to use for this snickerdoodle recipe is Kerrygold butter. It has amazing flavor and can definitely make a difference in the taste of your cookies. 
Cream the butter with the sugars. This will help to create a fluffy cookie. 
Use cream of tarter: Cream of tarter is a leavening agent that helps the cookie to be chewy. I also use baking powder and baking soda to create a fluffy well risen cookie. 
Don't over cook the cookies: Snickerdoodles should be soft and chewy. You don't want to overcook these cookies or they can become crispy and hard. 

Flavored Snickerdoodles: 
Snickerdoodles are unique because they are coated with cinnamon and sugar. This not only creates a great flavor, but also it creates a crust on the outside of the cookie and gives great texture and mouth feel. 
You can be as creative as you want with snickerdoodles and change up the flavors like we did with this pumpkin spice snickerdoodle recipe. 
Use different spices, citrus zest, or even herb to mix with the sugar coating. 
Here are some other options to change up the flavor of your snickerdoodles
lime zest and sugar
orange zest and sugar
lemon zest and sugar
cocoa powder and sugar
lavender and sugar
vanilla bean and sugar
Check out some of my other favorite cookie recipes:
Easy Classic Chewy Chocolate Chip Cookies
Gluten Free Snickerdoodle Ice Cream Sandwiches
Pumpkin Snickerdoodle Cookie Recipe: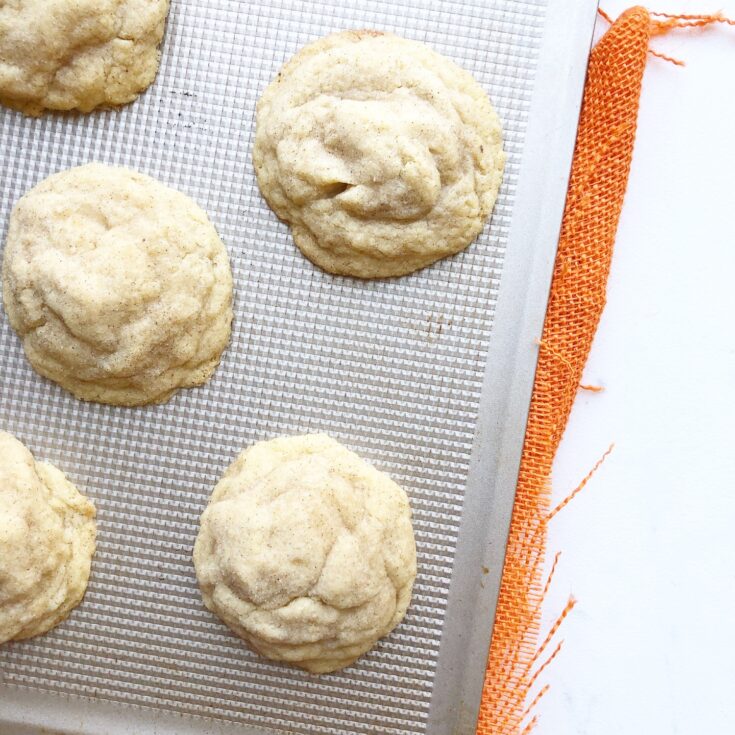 Yield:

1 dozen
Pumpkin Spice Snickerdoodles
Additional Time:
10 minutes
Delicious cookies with pumpkin pie spice.
Ingredients
1/2 Cup Unsalted Butter
¾ Cup Granulated Sugar
1 Egg
¼ Teaspoon Baking Soda
½ Teaspoon Baking Powder
½ Teaspoon Cream of Tartar
¼ Teaspoon Salt
1/2 Teaspoon Ground Cinnamon
1/2 Teaspoon Pumpkin Pie Spice
½ Teaspoon Vanilla Bean Paste or Vanilla Extract
1 3/4 Cup All Purpose Flour
Coating:
½ Cup Granulated Sugar
1/2 Teaspoon Ground Cinnamon
1/2 Teaspoon Pumpkin Pie Spice
Instructions
Preheat the oven to 350°F.
Place the butter into a kitchen aid mixer and cream for 1 minute.
Add the sugar and cream for 1 minute.
Add the egg and mix to combine.
Add baking soda, baking powder, cream of tartar and salt.
Add cinnamon, pumpkin pie spice and vanilla. Mix to combine.
Add the flour and mix to combine.
Combine coating ingredients in a small bowl and set aside.
Grab about 1/4 cup sized amount of dough and roll into a ball. Place into the sugar mixture. Roll to coat.
Place the cookie dough ball on a parchment lined baking sheet.
Bake for 10 minutes.
Recommended Products
As an Amazon Associate and member of other affiliate programs, I earn from qualifying purchases.