These delicious air fryer beef kofta kebabs are full of herbs and spices and pair perfectly with homemade tzatziki. Crisp, mouthwatering and an easy, healthy weeknight dinner. 
Kofta kebabs are the perfect air fryer recipe to make with ground beef. They are deliciously seasoned with fresh herbs and spices and become crisp and tender in the air fryer. These kofta are a healthy and delicious quick weeknight dinner. 
What is kofta or kefta:
Kofta is a middle eastern ground meat kebab. They typically consist of ground beef and lamb and are full of delicious Middle Eastern spices.
There are a couple of versions of kofta depending on which country you are in. 
This easy air fryer beef kofta kebab recipe is a cross between a Middle Eastern kebab and a Greek kebab.
By combining fresh herbs like parsley and mint with delicious spices like cumin and garlic, these kebabs are super flavorful and pair perfectly with my homemade tzatziki. 
Tzatziki is a Greek yogurt sauce made out of yogurt, cumin and garlic. 
What to serve with kofta kebabs:
This dish goes perfectly in homemade pita bread or served with delicious rice pilaf.
I love serving them with a sauce such a tzatziki or a simple tomato sauce. 
How do you make kofta kebab:
Kofta kebabs are made by easily combining all the ingredients and forming kebabs. No need for skewers for this recipe either!
Here is how to make them.
Combine ground meat, (in this case ground beef) with minced onion, garlic, parsley, mint and spices.
Next add a binder such as an egg to hold the kebabs together.
Typically you would add some sort of bread crumbs, but we are making these gluten free and I find that they stay together just fine with just the egg. 
Once the kebab mixture is mixed, form oval shaped meatballs with your hands and cook them in an air fryer. 
How to cook in the Air Fryer:
An air fryer is a kitchen appliance that is essentially a convection oven. Therefore it uses hot air and a condensed space to cook food quickly, while making it crispy. 
Tips for use:
Preheat the air fryer for a few minutes before you put in your food.
Spray your food with cooking spray to get a nice, crispy crust.
Use the crisper basket and/or rack to crisp the whole surface area of the food.
Don't overcrowd the basket.
Save the sauce for the last part of cooking so as not to dry it or burn.
Shake the basket half way through for even cooking. 
And remember the air fryer is a great way to make recipes healthier. If you need some other inspiration check out my Air Fryer Brussels Sprouts with Honey and Sriracha or Air Fryer Chicken Legs- Drumsticks.
Air Fryer Kofta Kebab Recipe: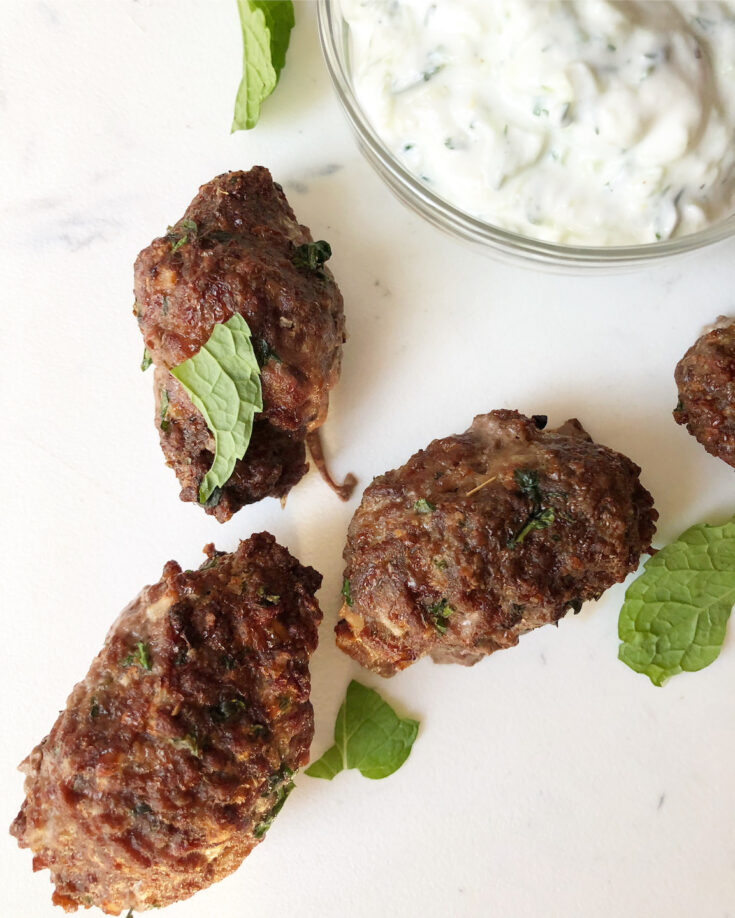 Yield:

Serves 4
Kofta Kebab in the Air Fryer
Crisp, tender kofta kebab are perfect in the air fryer.
Ingredients
1 pound ground beef
1/4 cup white onion, grated
1/4 cup parsley, finely chopped
1 tablespoon mint, finely chopped
2 cloves garlic, minced
1 teaspoon salt
1/2 teaspoon cumin
1 teaspoon oregano
1/2 teaspoon garlic salt
1 egg
Instructions
Add ground beef to a mixing bowl.
Next add onion and parsley. Add mint, garlic and salt stir to combine.
Add cumin, oregano and garlic salt.
Mix to combine.
Mold the kebabs with your hand and place in the air fryer basket.
Turn on the air fryer and cook for 18 minutes.
Serve with tzatziki sauce.